PUBLISHING CRM
Boost Ad Revenue & Bookings
The Magazine Manager's publishing CRM is specifically designed to help sales reps acquire more ad dollars. Our proposal templates are easy to generate and convert into contracts, insertion orders, and invoices.
Magazine CRM Features
CONTACT MANAGEMENT
Contacts and callbacks are managed in a collaborative publishing CRM.
CUSTOMER SEARCH
Our drop-down custom search fields helps you find accurate data within seconds.
CALENDAR & EVENTS
Sync with your web-based calendar to keep sales activities organized.
NOTIFICATIONS
Automated alerts keep deadlines, including material closings, top of mind.
CALLBACK LISTS
Accessing contact lists from a flexible template makes follow-ups an effortless process.
AD PROPOSAL TEMPLATES & OFFERS
Quickly respond to RFPs to make winning new business easier.
EMAIL MARKETING
Between built-in email and third-party platform integrations, your advertisers stay engaged.
DASHBOARDS & REPORTS
Insightful reports and dashboards are built with our drag-and-drop interface.
The Industry's Most Powerful Publishing CRM
The Magazine Manager lets you to search, categorize, and organize client data in a way that makes follow-ups easy.
All Your Data in One Click
Powerful 360 View allows you to see contact, address, orders, email, proposals, and subscription data with one Click.
Boost Productivity and Efficiency Using The Magazine Manager's Chrome Extension
With Magazine Manager's Google Chrome extension, connect a user's Gmail or Outlook account to the CRM to allow them to see Magazine Manager notes within their email, add notes to Contact Records through their inbox, and even copy emails and email attachments directly into the CRM.
A Flexible CRM For Magazine Publishers
Search for customers by name, phone number, email, company, address, and dozens of other custom fields. Color-coordinated icons also indicate which contacts are agencies and which are current advertisers.

Identify who is visiting your website and who is downloading your media kit. Our unique marketing automation software uncovers potential advertisers that can be directly imported into The Magazine Manager CRM with just a click.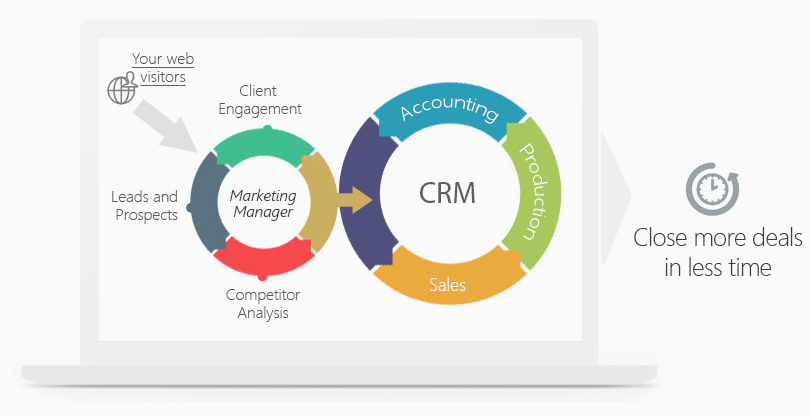 Learn More →