When it comes to magazine media and digital publications, reliable software tools are a necessity. From publishing CRM and magazine design, to circulation and subscription management, this ultimate guide to magazine software is an overview of the most popular software tools in the publishing industry.
Magazine CRM, Billing, and Production Management Software
The Magazine Manager. The Magazine Manager by Mirabel Technologies was the first web-based CRM made specifically for the publishing industry. The Magazine Manager is an enterprise-level magazine software used in more than 20 countries, boasting the most positive reviews by software industry review site Capterra. The system unifies sales, billing, production, and digital marketing data in a single platform. The popularity of the product stems from a rich features suite and its understanding of the publishing vertical. Its users point out that the integration of publishing production and order data gives the publishing CRM a significant advantage over generic customer relationship management platforms.

Price: Paid version begins at $75 per month per user and is billed annually or monthly, with discounts offered based on user volume.
Audience Development and Lead Generation Software
Mirabel's Marketing Manager. The sister product to The Magazine Manager (and The Newspaper Manager), Mirabel's Marketing Manager is a marketing automation and audience development software that is specifically designed for publishers. It includes a robust email marketing program with a drag-and-drop Email Builder; templates; email list segmentation with built-in email verification tool, Clean Your Lists; spam score; send time optimization and scheduling; and more.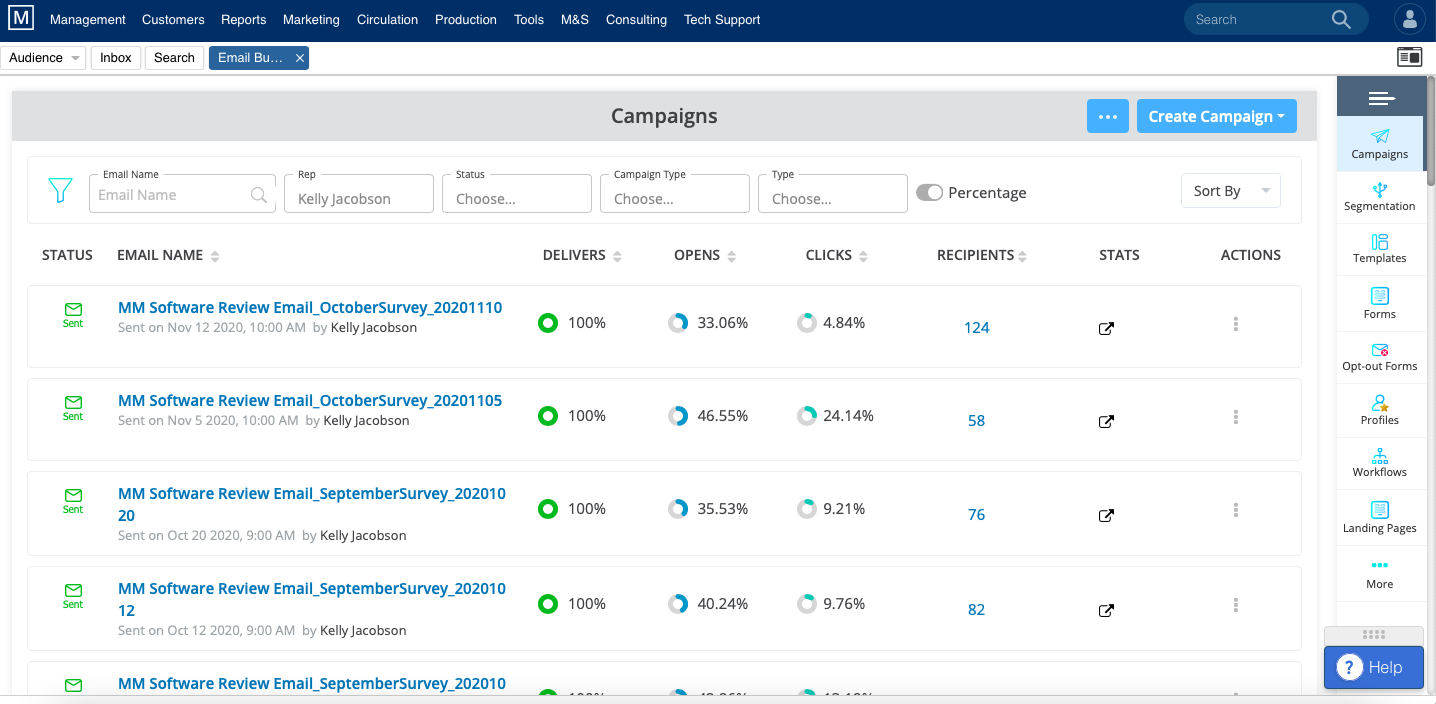 To complement the email marketing capabilities, Mirabel's Marketing Manager includes marketing automation. The Landing Page Builder, Form Builder, and Workflow Automation assist in lead generation and content marketing. The software also includes website visitor tracking, competitor analysis, and traffic and conversion analytics.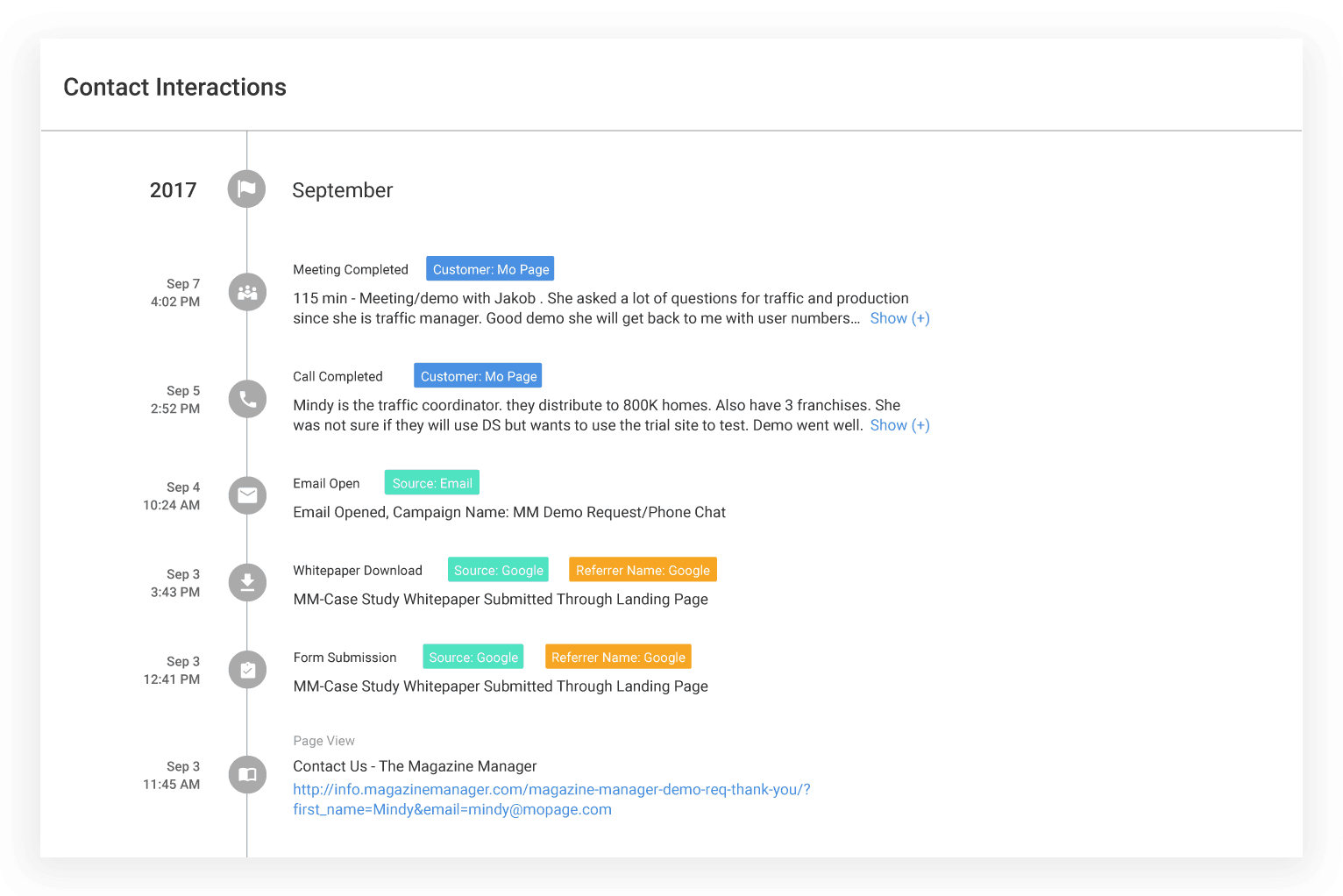 Unique to Mirabel's Marketing Manager is a marketing intelligence feature that feeds from a 50-million contact prospecting database.
The appeal of Mirabel's Marketing Manager lies in the combination of power plus affordability and the ability to seamlessly access order and subscription data from The Magazine Manager and The Newspaper Manager for existing clients to get the most out of the entire magazine production software.
Price: Free trial for 14 days. Credit card required. Paid version begins at $299 per month and is billed annually or monthly.
HubSpot. HubSpot is an industry leader in marketing automation and lead generation. The orange-clad company is known as the inventor of inbound marketing.
‍
Positioned as an "inbound marketing, sales, and service solution," HubSpot is a robust  platform that offers nearly every digital tool an inbound marketer could need. The free Marketing Hub features email marketing; forms; landing pages; contact management; Facebook, Instagram, Google, and LinkedIn organic and paid ad integrations; and traffic and conversion analytics.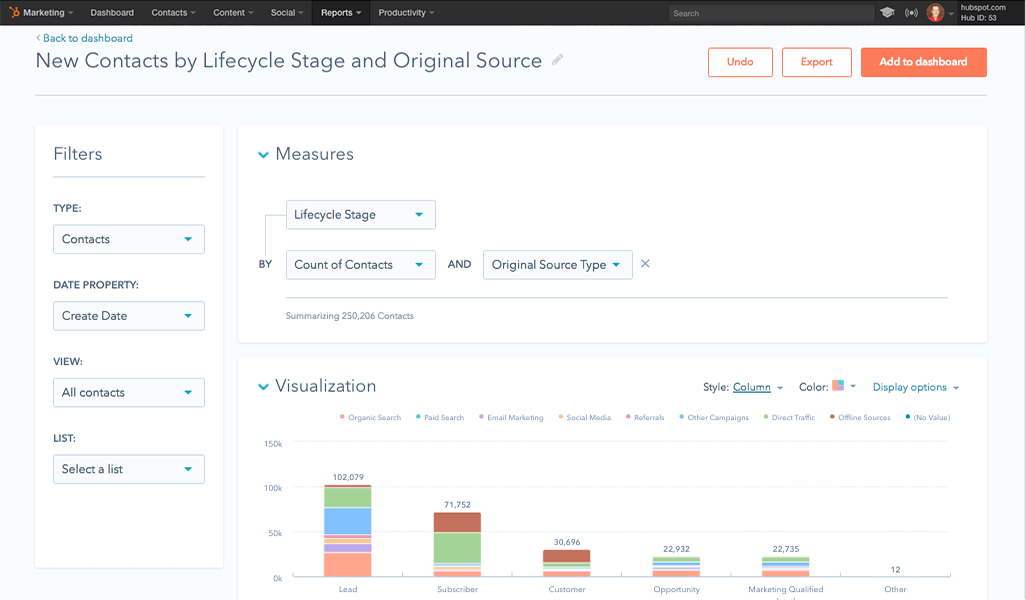 If you can afford the price tag for add-ons and extra tools, HubSpot's paid Marketing Hub offers workflow automation; account-based marketing; ad retargeting strategies; blogging; revenue attribution; and other features for the well-versed marketer.
‍
HubSpot's robust email marketing tools make it a popular choice in the publishing industry; however HubSpot's steep learning curve and hefty price tag are often beyond the budgets of many publishers.
The marketing automation software is a strong solution for large publishers who can dedicate multiple staff members to managing its many tools. Yet, a common complaint is small and midsize publishers pay for the entire suite but only use the email and landing page features.
Price: Free version available. Professional version is $800 per month and Enterprise is $3,600 per month. All paid versions are billed annually, and a discount is offered for Hub bundles.
ActiveCampaign. ActiveCampaign offers email marketing, marketing automation, and other key features for small businesses. While not made specifically for publishing, ActiveCampaign is often a popular choice for affordable marketing automation software in the magazine media industry. It includes the basics: email marketing tools, forms, and marketing automation.
‍
If you've got room in your budget to upgrade, users also have access to Facebook and other integrations, lead scoring, SMS marketing, dynamic content, conversion and custom reports, web design services, and more.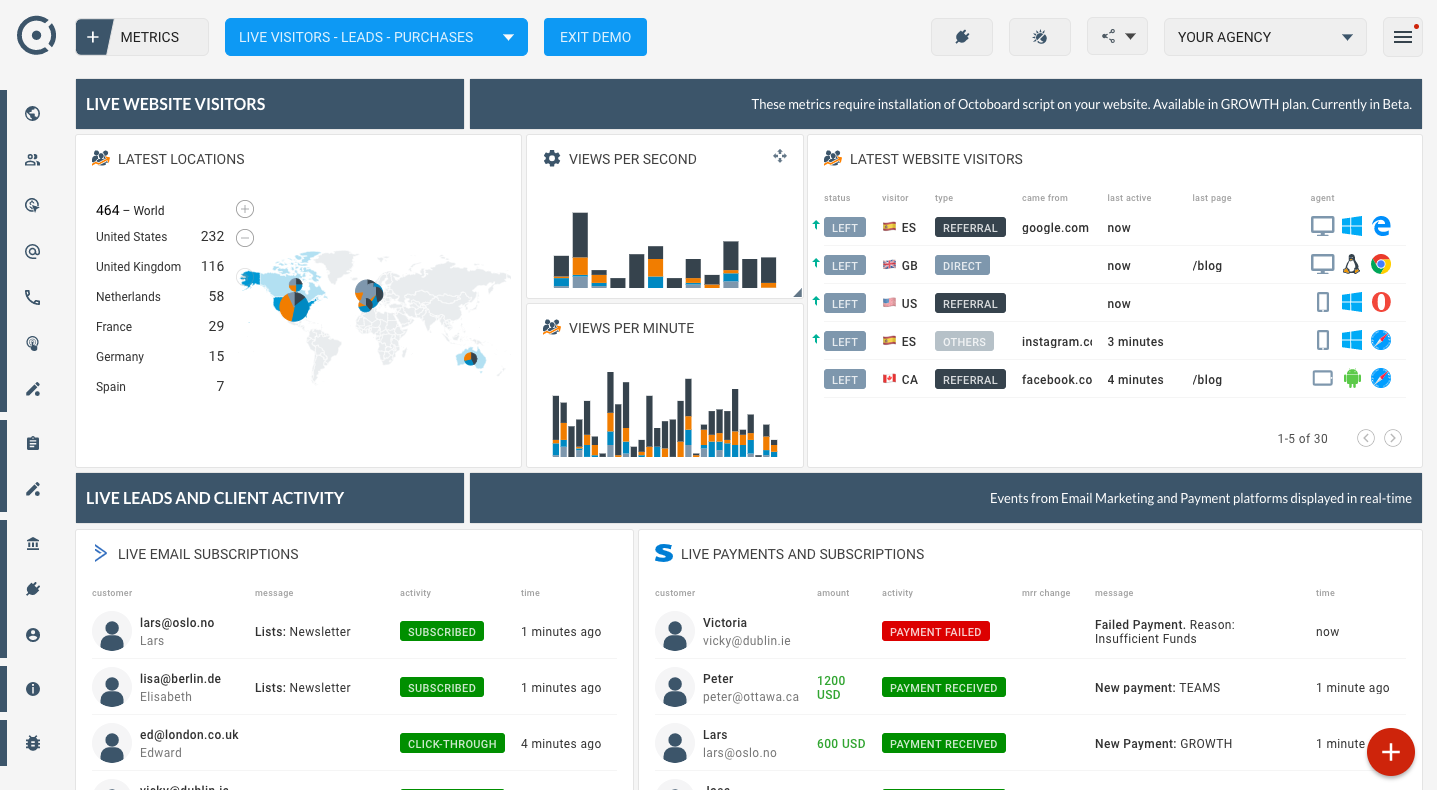 Price: The Lite version is $29, Plus is $49, and Professional is $149. All versions are per month, per user and billed annually
Mailchimp. Mailchimp is almost synonymous with email marketing. As a traditionally popular option for low-cost email marketing, the platform recently expanded its target audience by adding more tools and repositioning itself as an "all-in-one integrated marketing platform for small business."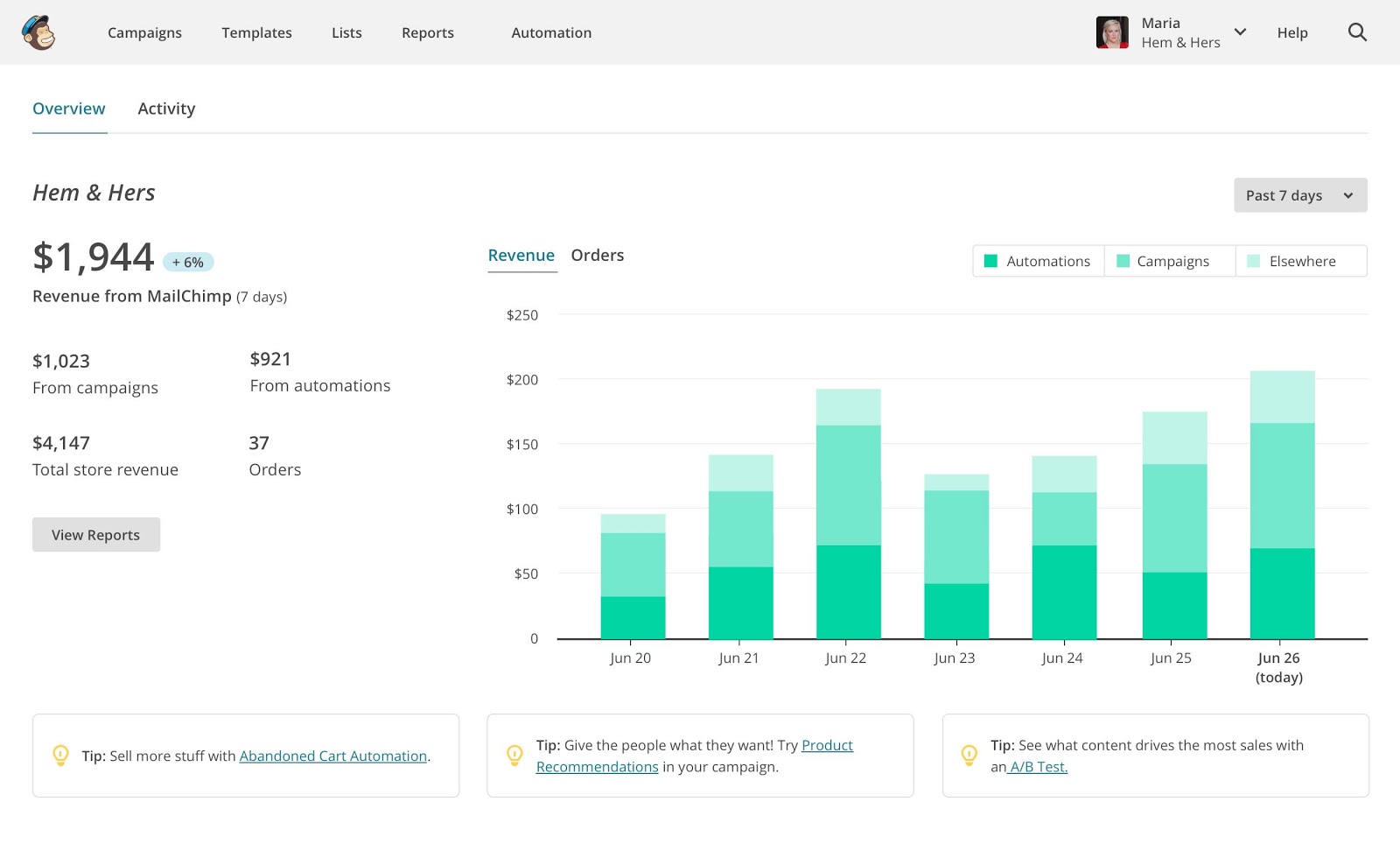 In addition to campaign management, list segmentation, templates, analytics, and A/B testing, Mailchimp now offers forms, landing pages, behavioral targeting, dynamic content, integrations, a website builder, and more.
Used predominantly by small publishers, Mailchimp's downside is that, unlike HubSpot and Mirabel's suite of SaaS products, it doesn't get high marks for customer support. The marketing automation platform is largely a do-it-yourself program and is priced accordingly.
Price: Free version available (for up to 500 contacts). The Essentials version is $13, Standard is $20, and Premium is $350. All paid versions are billed monthly or via pay-as-you-go credits. Discount offered for nonprofits and charities and for two-factor authentication.
Flat Planning Software
Mirabel's DigitalStudio. Mirabel's DigitalStudio is a pagination and flat planning software. Fluidly connecting through The Magazine Manager and its media sales CRM, this flat planning software works well for on-the-fly inventory changes and digital asset management. Accommodate ad units, positioning requests, and last-minute updates as the final layout of your magazine takes shape. The analytics dashboard tracks digital impressions, including ad clicks, page views, social media shares, and website visits from digital readers and advertisers.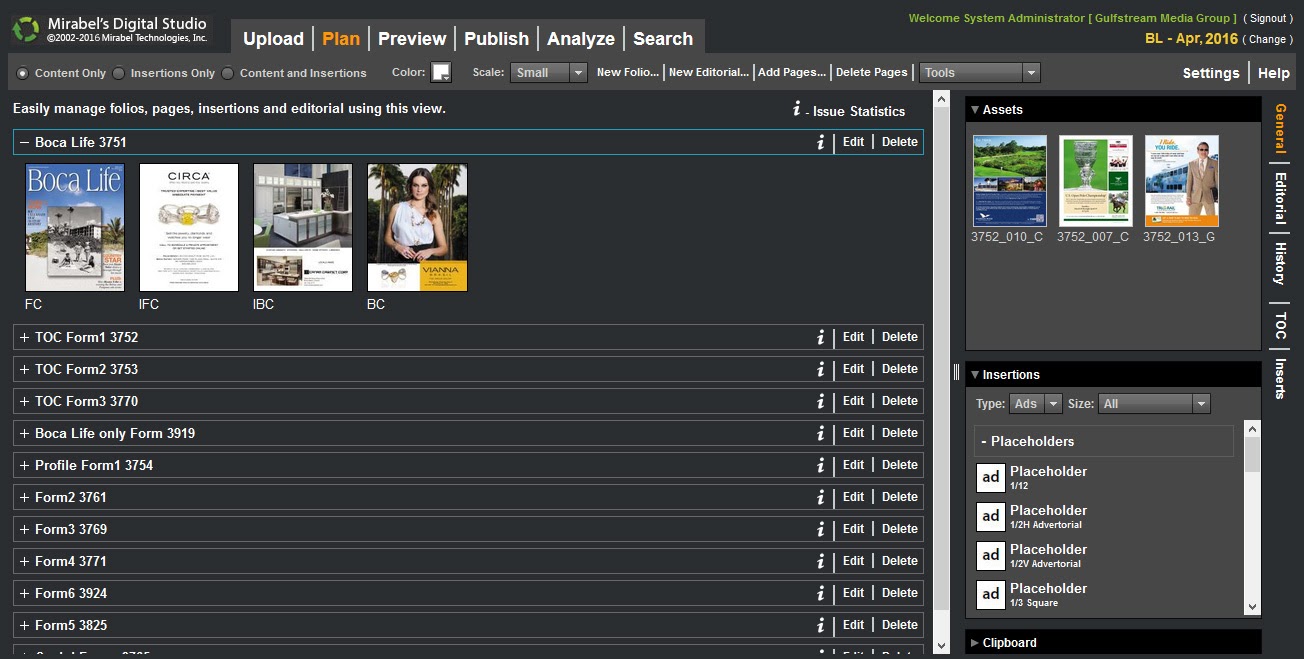 A fun feature of DigitalStudio is its integration with Magazine Central, the tablet news app for Androids and iPads. Readers can browse through an extensive library of digital editions, and you can brand an app to complement your magazine.
Price: Included in pricing for The Magazine Manager. If users upload a digital edition, it's $1 per page (including annual archiving fees). If users upload PDFs for tear sheets, it's 1 cent per page monthly for archiving.
Between magazine-specific CRMs to digital flat planning platforms, this comprehensive guide covers almost every type of magazine software you need as a publisher.
Blinkplan. Marketed as "everyone's favorite magazine flat plan app," Blinkplan is an online tool designed to help you edit pages and share flat plans. A must for remote magazine staff, Blinkplan allows users to collaborate on a flat plan and receive real-time updates and notes. The flat planning software features a multi-page drag-and-drop to rearrange pagination; color-coded categories to differentiate content types; and a content counter that displays how much of your magazine is ads, editorial, and so on. Export your flat plan as a PDF, upload thumbnails, undo any mistakes without rearranging, and clone pages — all with ease.

Price: Free trial for 15 days (with option for extension). No credit card required. Paid plans include Tiny at $15, Small at $20, Standard at $29, and More at $39.

Circulation Management Software

ChargeBrite. New from Mirabel Technologies, ChargeBrite is the company's latest revolutionary software system for the publishing world, honed and crafted from decades of working with publishers on more than 17,000 media products. ChargeBrite automates the entire subscription process — from initial set-up and renewals to receipts, reminders, and more — all with customizable pricing plans and billing options perfect for whatever your publication needs (or may want to experiment with). Whether your pricing plan is Flat Fee, Stair Step, Per Unit, Tiered Pricing, Volume Pricing, or Free Trial, ChargeBrite can handle it for you.

Price: ChargeBrite starts at $149. And with marketing and sales integration built into Marketing Manager's powerful CRM, ChargeBrite is just one more valuable tool on your utility belt.
SimpleCirc. SimpleCirc's scrollable list of basic circulation management features gives users a glimpse into the popular software choice for publishers. It offers "powerful subscriber management," online ordering, digital content, USPS address verification, reporting, back issues, and other tools for circulation management.
‍
Where SimpleCirc differentiates themselves from the competition is in their pricing. There's no additional charges or extra fees for add-ons or multiple users.

Price: "100% free until you are successfully managing your subscribers and completely satisfied." The least expensive plan is $99 per month for up to 2,500 active subscribers. Following that, plans range from $119 per month for up to 5,000 active subscribers to and $599 per month for up to 80,000.


QuickFill. According to their website, back in 1989, "a publisher, a circulation systems guru, a publishing accounting expert, and a computer systems analyst brought together the best practices of circulation management in QuickFill."
‍
QuickFill has a reputation for being one of the most robust products on the market, as it's specifically targeted to the media industry. It existed years before software became web-based; however, its price point is higher than its new competitors. Marketed as a publisher's first choice for subscription fulfillment software, QuickFill handles marketing, fulfillment, and accounting for online content, magazines, audited publications, newsletters, webinars and web conferences, and more. Their features include data entry, marketing reports and branding, billing, and so on. However, unlike Simple Circ, support to use these features and upgrades to latest versions of the software will cost you extra.

Price: QuickFill pricing depends on whether or not it's hosted or in-house. For 1-5 users, hosted QuickFill is $100 per month per user (and $60 per month per user if more than 6 users).
SubscriptionFlow. SubscriptionFlow breaks down their capabilities into four categories: Subscription management, billing and invoicing, payments processing, and analytics and reporting. Using the power of AI, this subscription management software automates billing. It also integrates with complementary applications like publishing CRMs and payment gateways.

Price: The Startup plan is $99 per month for 3 users, with plans increasing up to a customized Enterprise plan.

RunMags. Publishers across the world use RunMags as an affordable solution for circulation management. The magazine publishing software offers seamless contract management, self-service ecommerce, subscription sales and circulation, billing and payments, and email marketing.
‍
They're developing a Content Factory for content management capabilities. RunMags even integrates with affordable publishing CRMs and payment gateways for an all-in-one solution to publisher pain points.

Price: The Team plan runs at $75 per user per month, the House plan costs $150 per user per month, and the Enterprise plan is available for $225 per user per month.

Magazine Graphic Design Software

Adobe InDesign. Adobe InDesign is a desktop publishing and typesetting software by Adobe Systems. Used as an all-in-one magazine design solution, this versatile, popular tool can create and publish print and digital media materials.

According to Windows Report, "Adobe's InDesign lets you insert audio, video, animations and slideshows on the pages of your magazine to deliver a truly immersive experience. Thanks to InDesign's built-in collaboration tools, editors can quickly share feedback with junior writers, and all the editing history is kept safe for further analysis. If you work on multiple projects, you can easily share fonts, graphics and content across your projects for increased productivity and efficiency."

InDesign also comes with access to 100 GB of cloud storage, Adobe Portfolio, Adobe Fonts, and Adobe Express. It's also offered as an extension for Issuu, a popular magazine creator software.

Price: For an annual plan, it's $20.99 per month. To add Adobe Stock for free images, it's $29.99 per month after a 30-day free trial.

QuarkXPress. Even though Adobe took the distinction of "dominant industry player," QuarkXPress still has a large following in the graphic design industry. As one of the leading graphic design and page layout software for publications, QuarkXPress is an affordable alternative to Adobe InDesign.
‍
This magazine design software features images, vectors, typography and text, adaptive layout conversion, text stroking and shading, shape tools, frame gradients, transparency blend modes, column clipping, text outlines, and layer mixing modes. According to Windows Report, "The composition zone feature makes [QuarkXPress] the only desktop app with multi-user capabilities by allowing more users to edit different zones on the same page of the magazine." It also creates Adobe Flash Player content, mimicking the interactive magazine trend of other design softwares.

Price: For a one-year subscription of QuarkXPress, it costs $259. QuarkXPress offers customized pricing for government, education, and nonprofit businesses, as well as a student license.

Digital Editions

Issuu. A popular choice for small publishers, Issuu is almost synonymous with digital editions. It's marketed as an "all-in-one content creation and distribution platform" with features similar to GTxcel. The publishing software also renders PDFs, images, and text into mobile-ready articles.
‍
Issuu also offers templates for users to customize to their branding. Their templates convert to easy-to-read digital editions across desktop, mobile, app (such as Apple News), Facebook, Instagram, Twitter, Pinterest, and other social media channels. They even offer tailored content, including gifs, for Facebook and Instagram Stories and Twitter- and Pinterest-prepared videos.

The publishing software also offers an analytics dashboard to track advertising spend and the monetization of digitizing your magazine. It also boasts an SEO feature by optimizing digital content for search engines and mobile, including Google AMP without the extra coding.

Price: Free version available. Paid plans begin at Starter for $19 per month; Premium for $40 per month; and Optimum for a customized price. All paid versions are billed monthly or annually.

GTxcel. GTxcel is a cloud-based publishing platform that "automatically renders static documents, including PDFs, into responsive, easy-to-consume interactive articles." GTxcel allows users to track analytics and integrate brand colors, fonts, and logos into templates.
‍
The publishing software also converts print ads to digital, creates new ad inventory, and coordinates with existing online ad campaigns. Its designs are programmed with accessibility in mind and can be re-published across social media platforms.
Price: Must be requested.

FlipHTML5. This interactive HTML5 digital publishing platform for magazines ranks as one of the most popular, affordable options. FlipHTML5 offers customizable templates, an Online Editor with multimedia functionalities, custom domain for marketing, self-hosting, and an integration with Google Analytics. This magazine design software also offers social sharing and subscriptions.

Price: Free version available. Paid versions begin with Pro at $12.50 per month. Platinum is $25 per month, and Enterprise is $83.50 per month.

BlueToad. "Stand out in the digital forest" with BlueToad. This popular affordable solution to magazine design offers a Content Delivery Platform, a "robust publishing system built for creating beautifully responsive digital editions and web content.

Price: Unlike its competitors, BlueToad charges per page. (Contact BlueToad for pricing options.)

If you'd like to know more information about The Magazine Manager, Mirabel's Marketing Manager, DigitalStudio, or ChargeBrite, request a free demo.
SEE FOR YOURSELF
The Magazine Manager is a web-based CRM solution designed to help digital and print publishers manage sales, production, and marketing in a centralized platform.