Nowadays, no single revenue stream is enough to sustain, let alone grow, a digital publication. Instead, online publishers are relying on a combination of revenue streams to ensure they can bring in sufficient capital.
And according to former head of Hearst magazines, David Carey, there just may be a magic number: "You need five or six revenue streams to make the business really successful."
While there are numerous potential revenue sources, most companies will find success by creating their own "mix of six" streams that are suited for their individual publications.
In the world of digital publishing, there are so many ways to monetize your content that it can be overwhelming. Here's a simple breakdown comparing potential sources of revenue between print and digital publications in 2021: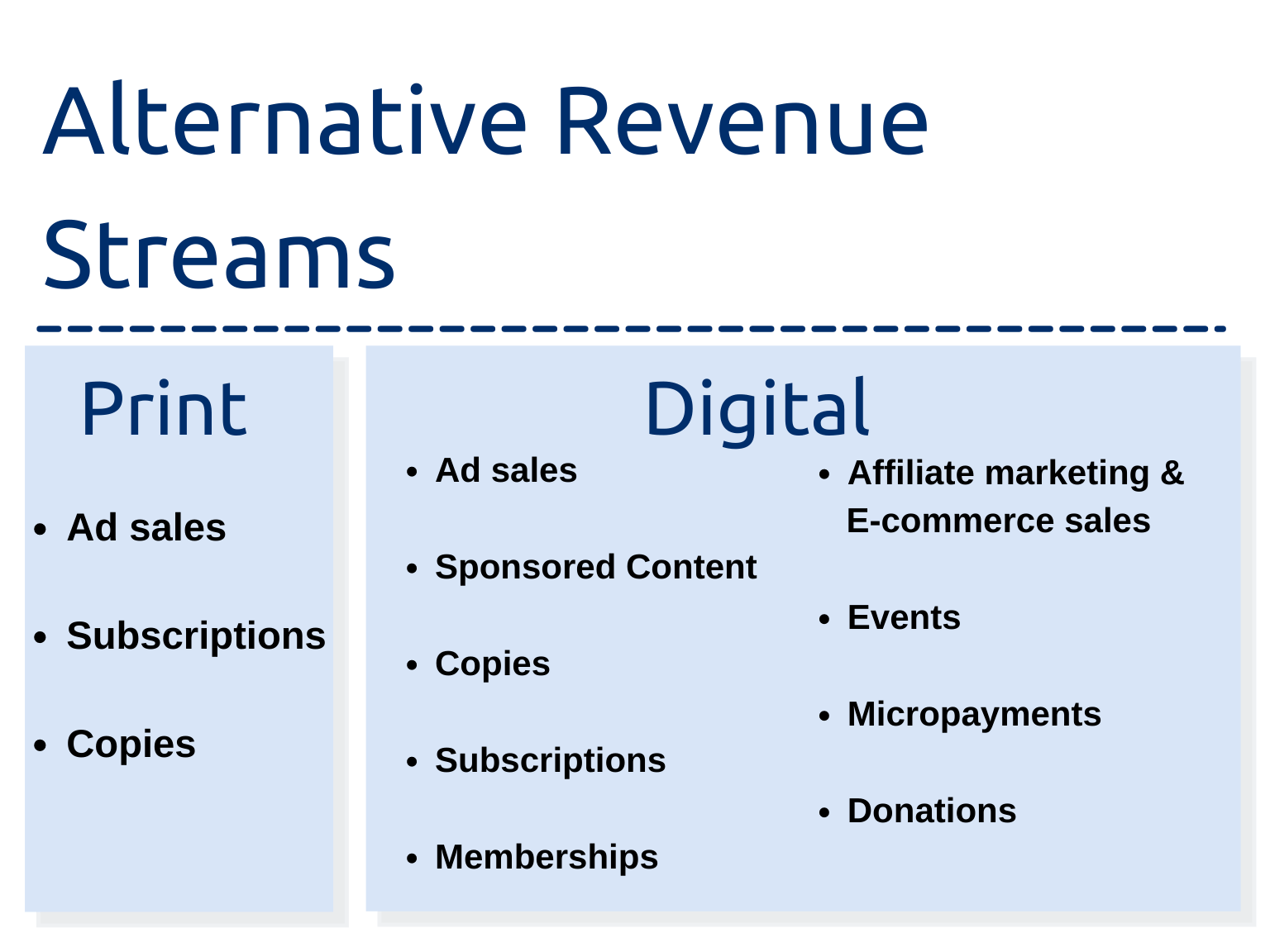 While most companies' monetization strategies will include a combination of some, if not all of, these revenue streams, it's important to have an understanding of each opportunity and current revenue trends to know which combination will work best for your publication — what's your mix of six?
Alternative Revenue Streams
Here is a comprehensive list of the most common ways companies bring in money and the current revenue trends in the publishing industry.
Ad Sales
While ad sales have always been the "bread and butter" revenue stream for print publications, there is ample opportunity to incorporate ads into online magazines and digital publications. In fact, over the last year, digital advertising has increased by 8.8% despite the industry's overall revenue decreasing — and it's clear why.
With the ability to hyperlink display ads out to advertisers' websites and the capability to incorporate multimedia such as audio and video, digital advertisements can not only do the job of print ads, but also take it a step further by directly connecting the reader to the advertisers.
Digital ads are critical to being successful in the digital world, and they're going to continue to be. According to a Zenith forecast, digital advertising will grow by another 10% in the year to come; by 2023, digital advertising will reach 58% of the market share.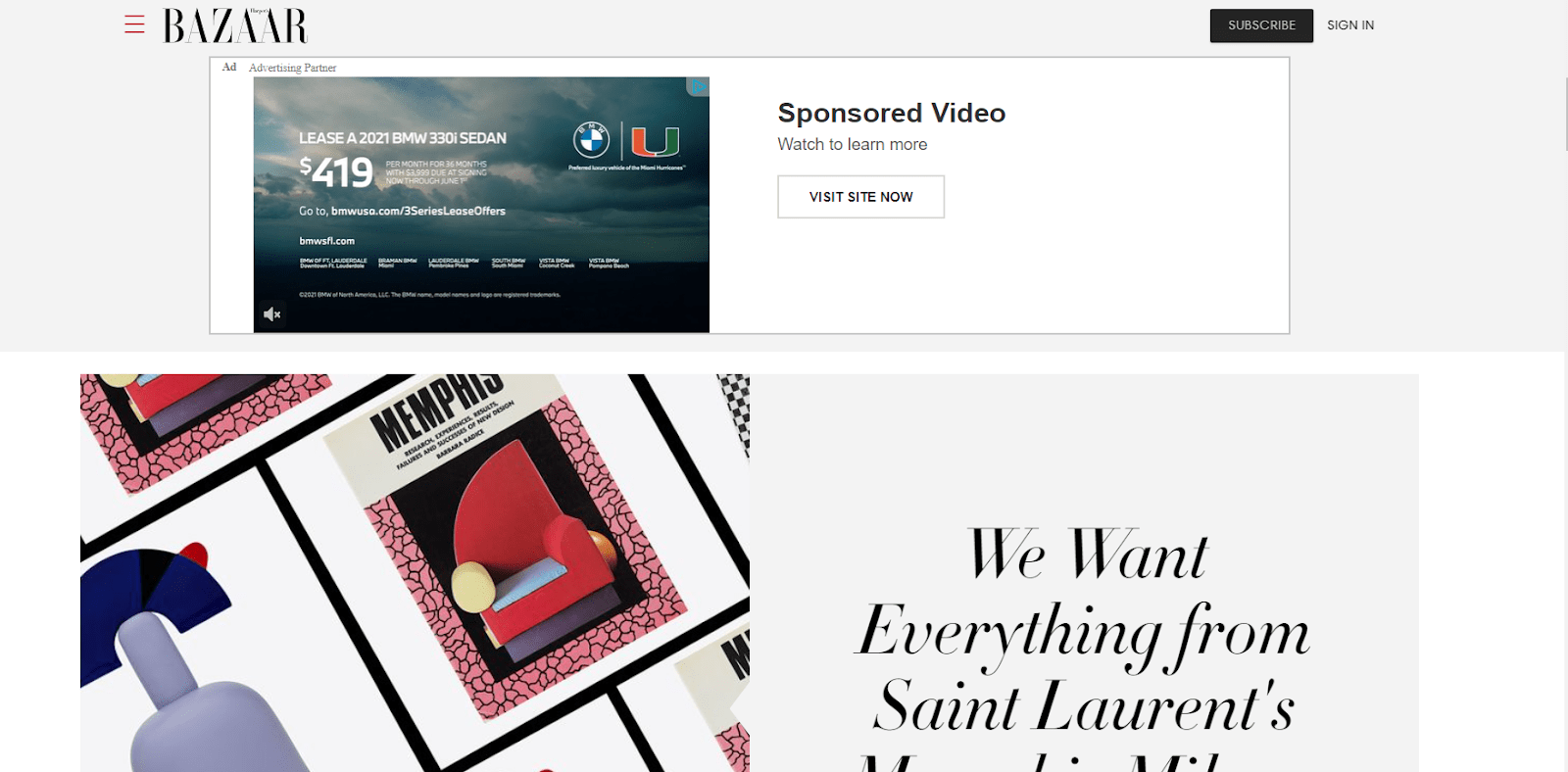 A perfect example: On the Harper's BAZAAR homepage, BMW paid for a banner video ad featuring a brief promo for the 2021 330i sedan. 
Sponsored Content
A type of advertising, sponsored content, or native advertising, differs from traditional ad sales in that it allows advertisements to be presented in the same formatting as the rest of the content.
Unlike the traditional advertisements mentioned above, sponsored content can be presented in a variety of ways, from a longform blogpost to a video. This lets sponsored content meld seamlessly with the rest of the publication, which, unsurprisingly, results in a much higher click-through rate than with classic ads — 40 times higher to be exact.
The key is to incorporate the content in a non-intrusive way so as not to deter the reader. Sponsored content should offer products or services that are relevant to the publication's readership. For example: A sponsored article about boat shows featured in an online beauty magazine would stick out like a sore thumb and may even be off-putting to readers.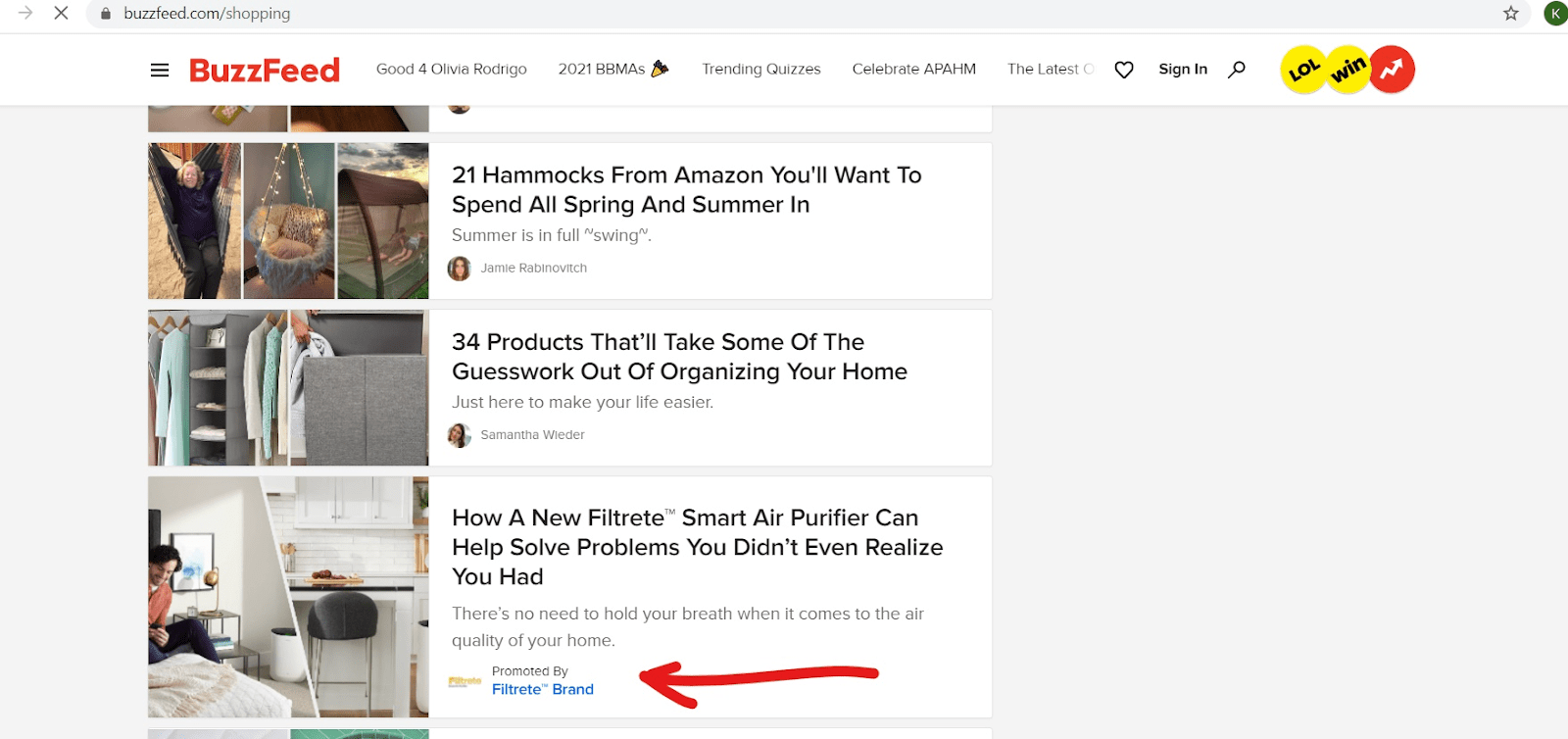 Under BuzzFeed's shopping section, you'll find lots of sponsored content. Here, Filtrete carefully crafted an article promoting their air purifier to perfectly blend in with the other content. 
Subscriptions
Probably one of the most obvious ways to make money in publishing is through subscriptions, and, luckily for digital publications, the subscription business is booming.
Over the past year, digital publications saw subscriptions increase by 16% as consumer behavior and market demand changed, and publishers can expect this trend to continue. According to a Reuters report, 76% of a sample of editors, CEOs, and digital media leaders rated the revenue focus on digital subscriptions as important or very important, ahead of display advertising.
With the digital landscape set, now's the perfect time to lean into subscriptions. Though it's important to note that online subscription prices should remain competitively priced.
In fact, because most readers expect digital content to be free, a strategy that many websites and digital publications employ is to offer limited access for free and complete unrestricted access with a subscription. Then, by consistently putting out great content, they are able to foster customer loyalty and readers will be more likely to subscribe. Some publications even offer subscriber-only content as a way to draw in more subscribers.
Remember, subscriptions aren't limited to digital magazines — they can include access to a website, weekly newsletters, and more!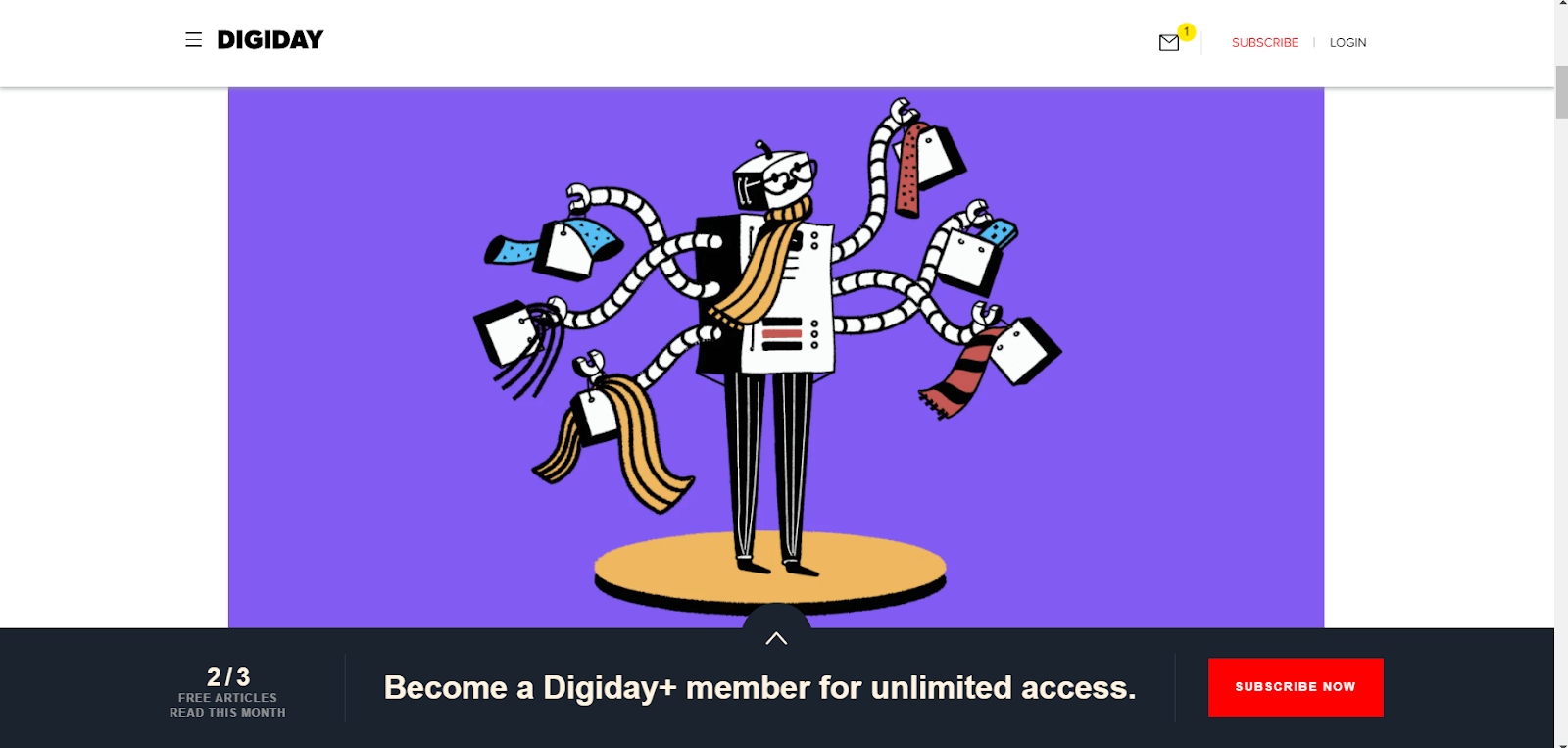 In this example, Digiday offers access to three free articles a month … but with a subscription, I would have unlimited access to the site's content. Clearly this method is effective because I am strongly considering subscribing. 
Memberships
Similar to the subscription revenue model, memberships are a good way to bring in recurring revenue. For example, members may pay monthly or yearly dues in exchange for special content, free tickets, early access to ticket sales for events, access to archived content, etc.
This sounds a lot like a standard subscription, doesn't it? Well, while there are definitely many similarities, there is a stark difference between subscriptions and memberships.
To understand that difference, let's start by defining the two:
Subscription model: subscribers pay for a service or product (i.e. access to digital content, monthly copies of a publication, weekly newsletters, etc.)
Membership model: member dues allow not only similar access to content, but also they allow access to a community where members can share connections, experience, time, and resources.
The main difference here is that memberships are more than transactional, they're relational. Whether you're a local publication or a large widespread magazine, a membership program can be all-around mutually beneficial.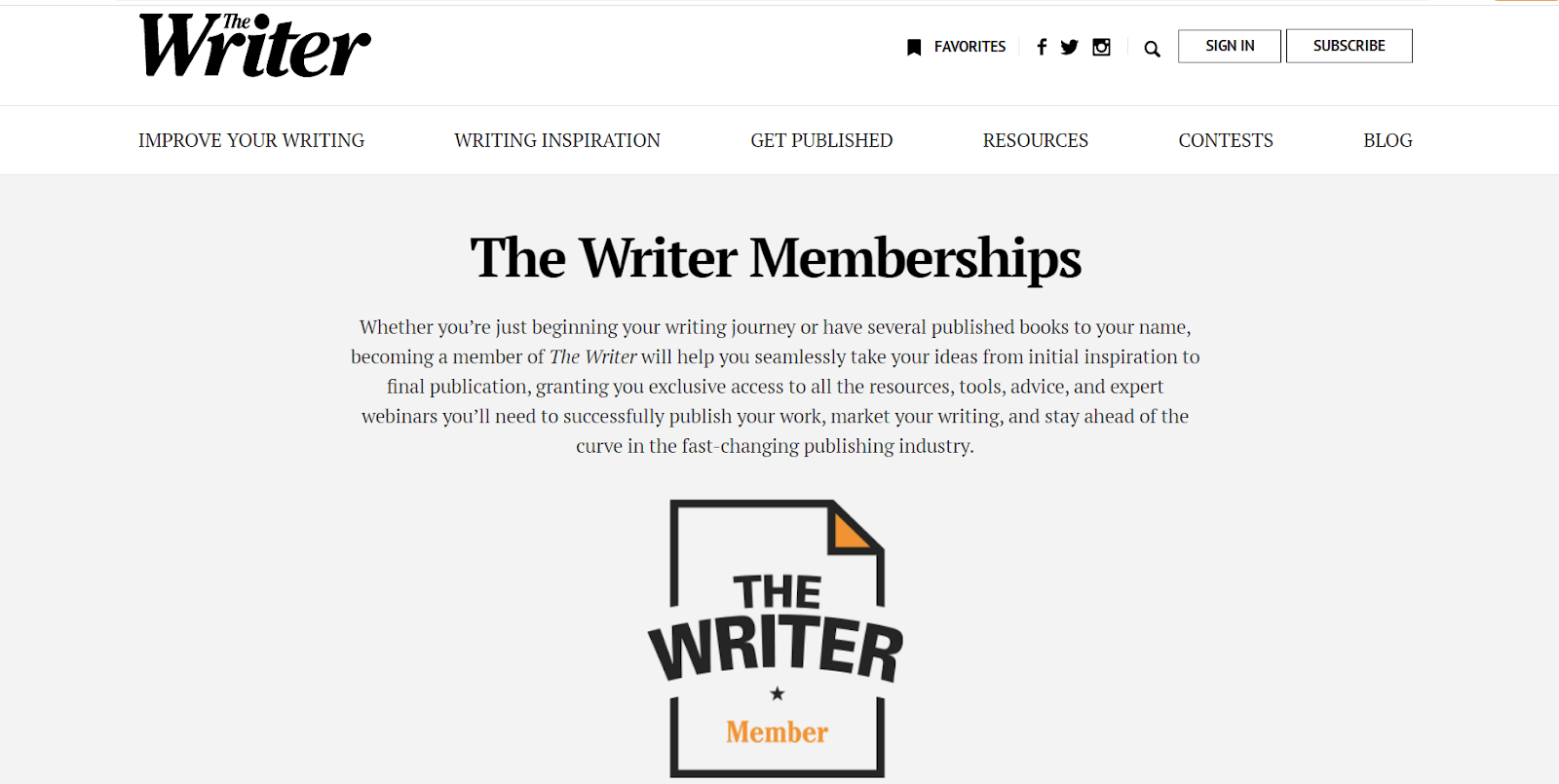 The Writer offers both subscriptions and membership programs. With a subscription, readers have access to the many articles available on the site, but with a membership, members have access to webinars, resources, tools, and a whole community of writers and editors. 
Copies
Similar to selling print magazines at a newsstand, many online retailers, like Barnes & Noble or Amazon, offer the option to sell individual issues of digital magazines. In fact, for many publications, single copy sales account for roughly 10.4% of their total revenue.
Not only is this yet another way to bring in revenue, but it's also a good way to let readers be exposed to your magazine. Selling individual copies of your digital magazine is perfect for the readers that are unfamiliar with your publication or who aren't willing to commit to a six- or 12-month subscription.
It could potentially even convert these casual readers into subscribers.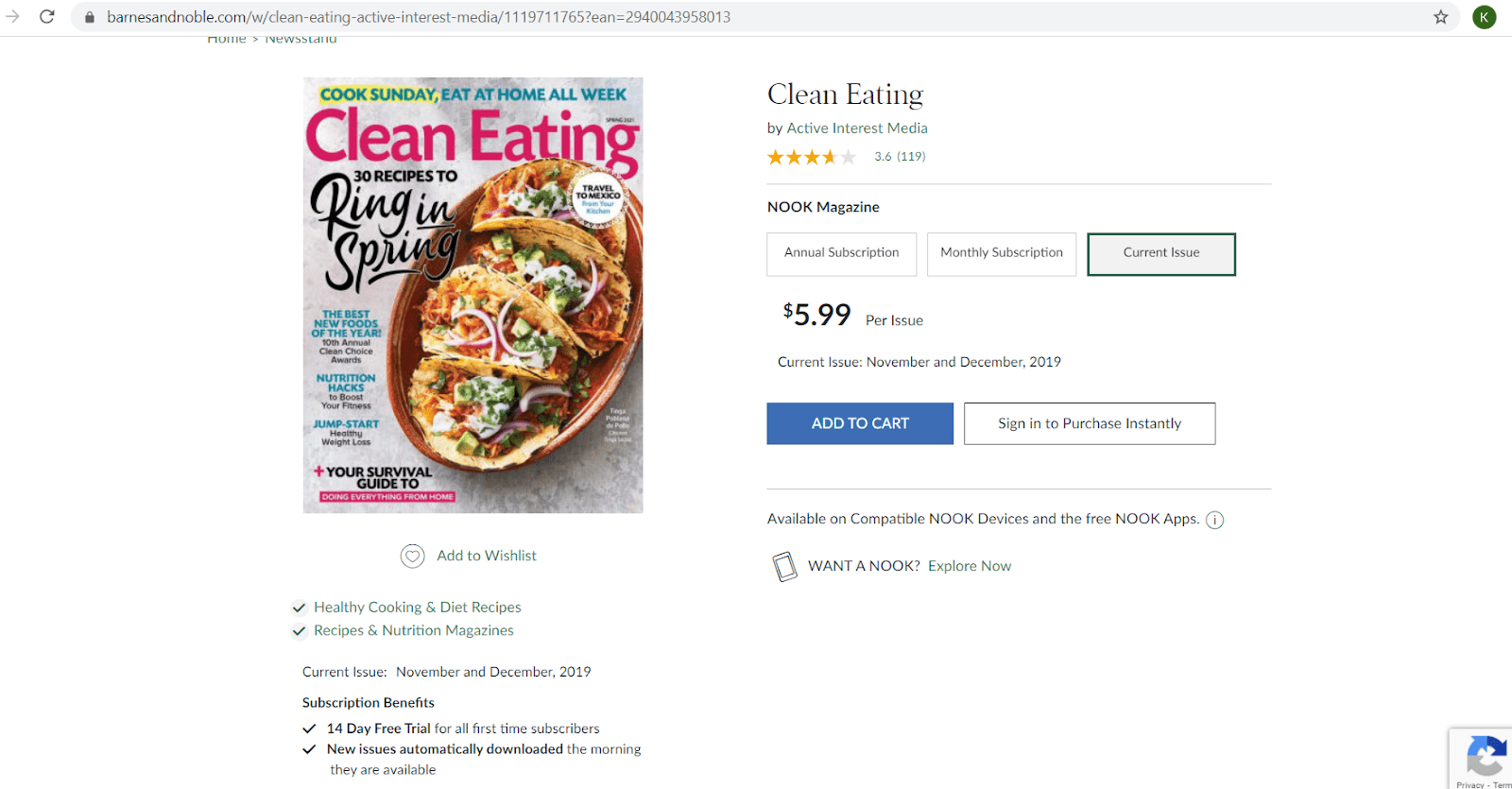 On Barnes & Noble's website, shoppers have the option to purchase a single copy of the current issue of a magazine if they aren't ready to subscribe. 
Affiliate Marketing & E-Commerce Sales
In the last few years, the use of affiliate marketing for e-commerce has become the fastest growing monetization technique in the digital world.
As companies like Rakuten, Skimlinks, Amazon Associates, and Shareasale continue to grow, more and more publishers are turning to affiliate linking as a means to bring in revenue. In fact, according to Findstack, statistics show that roughly 80% of brands use affiliate programs, and out of those that do, 94% of them use more than one affiliate network.
So what exactly is affiliate marketing? To put it plainly, affiliate marketing is a promotional model that connects a marketer with a company that has products or services to sell.
So it's easy to see why affiliate marketing has taken off: In a world that is becoming increasingly digital, placing a link to a product inside a blog post or article is not only simple enough for the publication, but a natural next step to engage and fulfill the needs of their readers.
Some publishers are taking it so far as to become their own editorially driven marketplaces by becoming one-stop shops for online retail and content. A prime example of this: The BuzzFeed Shopping tab, which led to a commerce revenue jump of 67% from 2019 to 2020!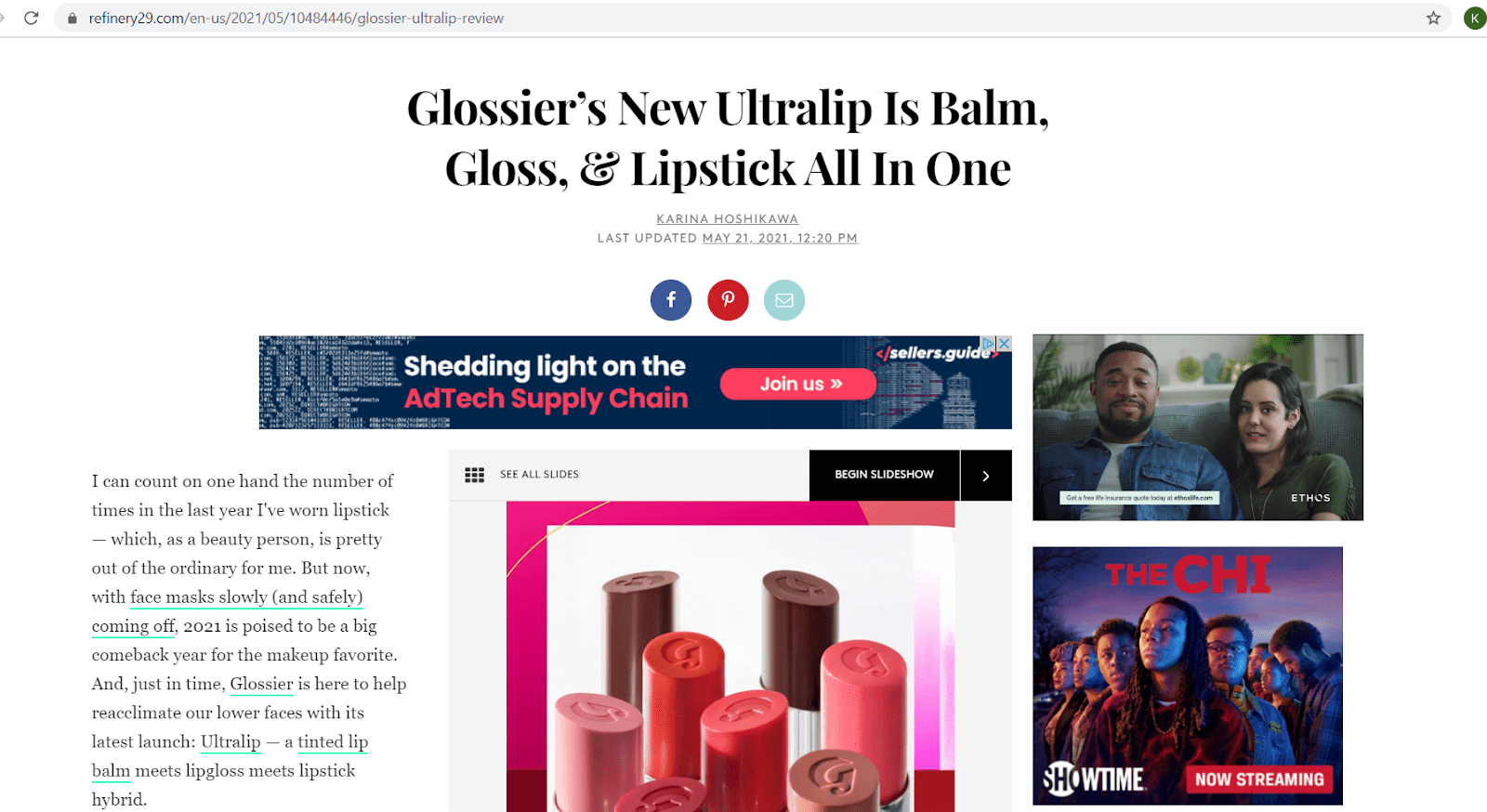 In this example, a writer at Refinery29 wrote an article highlighting Glossier's all-in-one Ultralip. Once you click on "begin slideshow," the reader is presented with all the available lip shades and links to where they can purchase them.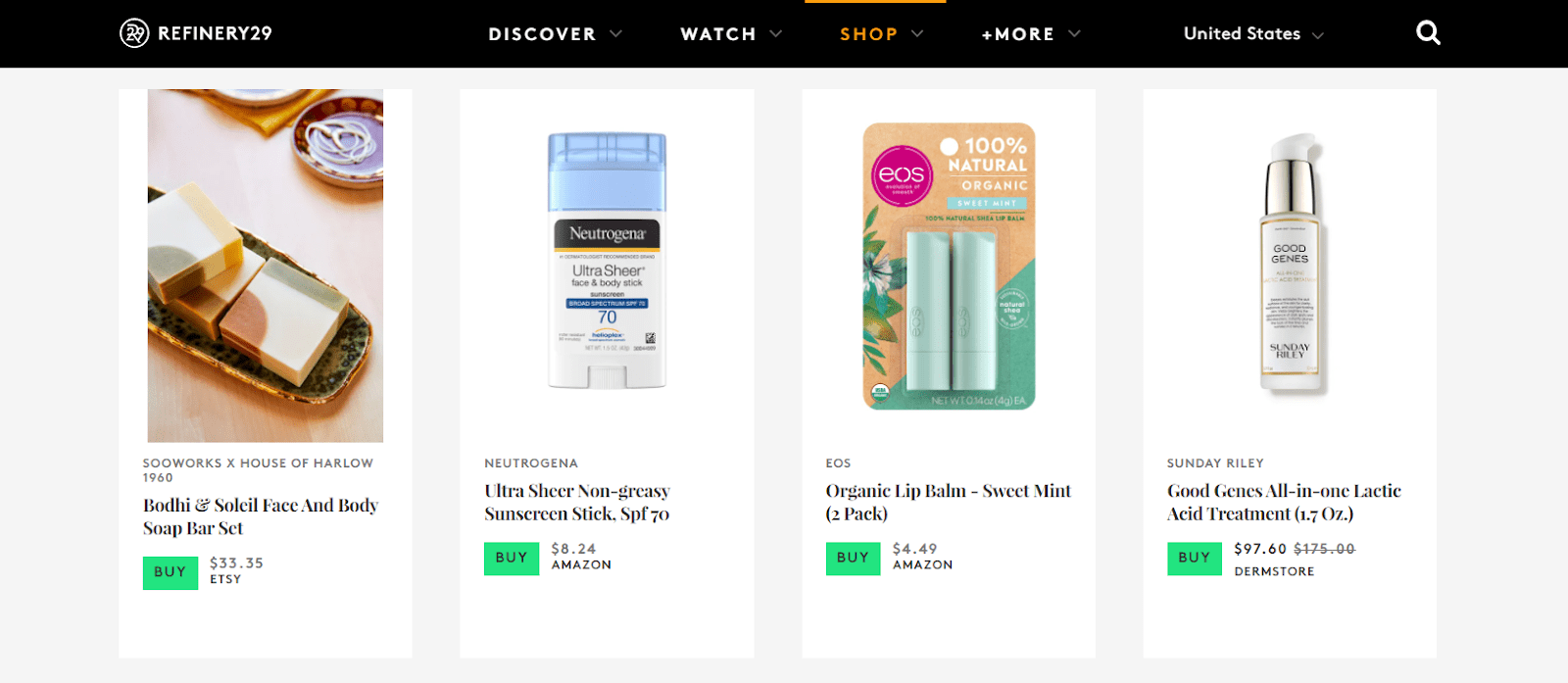 Refinery29 is also a perfect example of a publication becoming an editorially driven marketplace. In addition to articles featuring specific products, the site now includes a SHOP tab where readers can scroll through products without having to wade through content. 
Events
One common way that publishers bring in money is through events. Whether it be holding conferences, promoting local events, or even simply hosting a webinar, there is definitely money to be made through events. For some publications, live events can even account for up to 20% of their total revenue.
Here are some ways to make money through events:
Sponsorships: The primary way that publishers make money through events, sponsorships give advertisers the chance to directly connect with their desired audience. Sponsorship packages can work for any type of event, in-person or virtual.
Ticket Sales: An obvious way to bring in revenue is through ticket sales, whether it be selling tickets to an in-person event, like a conference, or charging for access to virtual events.
On-Demand Events: Because not everyone can make every event, some publications offer video or audio recordings of an event that has passed on an on-demand platform. This is perfect for those people who missed it or want to watch it again.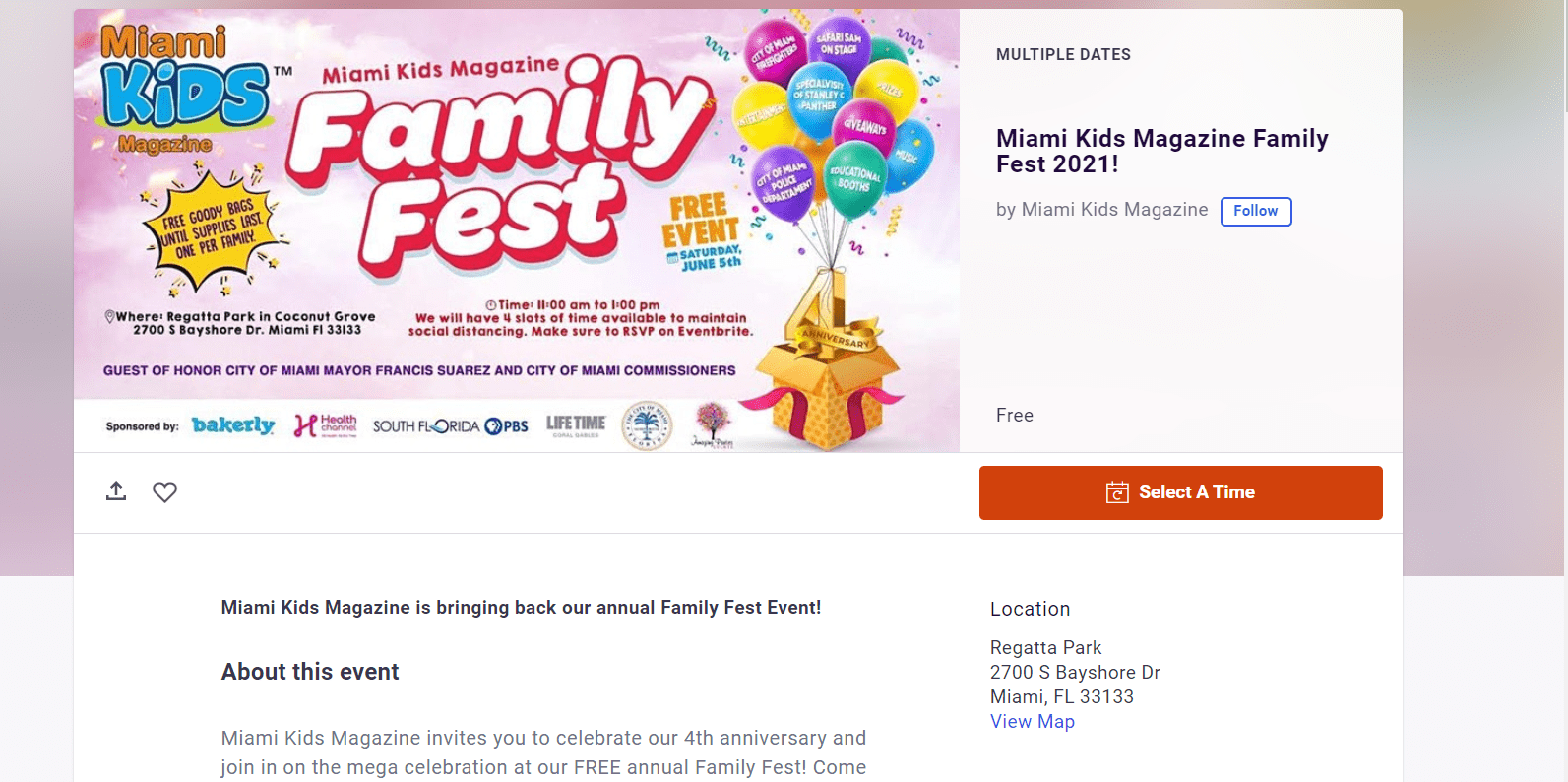 Every year, Miami Kids Magazine holds their free "Family Fest" event. Although the event is free, the magazine is able to bring in money through numerous sponsorships from companies like PBS and Bakerly.
Micropayments
One possible, albeit controversial, revenue stream is the use of micropayments as a means to bring in revenue. But how would a publication use micropayments?
Let's start with defining the word. To put it simply, micropayments are what they sound like: very small transactions (usually less than $1) to purchase goods, products, or services.
For online publications, the potential for micropayments lies in the opportunity to pay-per-article, pay-per-video, or "pay-per" any piece of content. However, in the era of subscriptions and paywalls, this use of micropayments in publishing is highly debated.
Many people in the industry assume that micropayments simply don't work under the reasoning that readers don't want to pay on an article-by-article basis. Other people view micropayments in publishing as a failed experiment, especially after micropayments-for-news pioneer Blendle pivoted toward subscription-driven revenue.
But there may be hope for micropayments yet. According to Digiday, roughly 5% of digital readership become full-subscribers. With only a fraction of a publisher's audience giving in to subscriptions and paywalls, it begs the question: How can a publisher monetize the remaining 95%?
The answer may lie in micropayments. One way to employ this system would be to offer content on an article-by-article basis in addition to offering a full subscription. Those readers that aren't ready to commit to a full subscription may be willing to pay-per-article. 
Donations
From reader patronage to government non-profit funding, donations have long been a reliable source of funding in the publishing industry — especially for local or news publications. And now, some publishers are considering a donation model as a source of revenue over a subscription model.
With a donation model, anyone can access content across all platforms. Readers are simply encouraged to make donations to support the publication.
Take The Guardian for example, a UK-based newspaper that offers all of its content for free. Readers are encouraged to support the publication by making charitable contributions. For those more dedicated Guardian readers, they can take it a step further by subscribing to gain premium access to the Guardian Live App and ad-free reading.
As more and more publications flock to subscription models to bring in revenue, many readers are faced with the dreaded subscription fatigue: the tiring of customers from signing up for an ever-increasing number of subscriptions. This fatigue can lead customers to pick and choose the subscriptions they are willing to and can afford to pay for, and if your content is entirely barred behind a paywall, your magazine could be missing out on a large group of possible readers.
Implementing a donation model could not only increase readership, but also build goodwill and loyalty with your readers. Coupling this model with a subscription for premium content may be a way to capture a larger audience and increase revenue.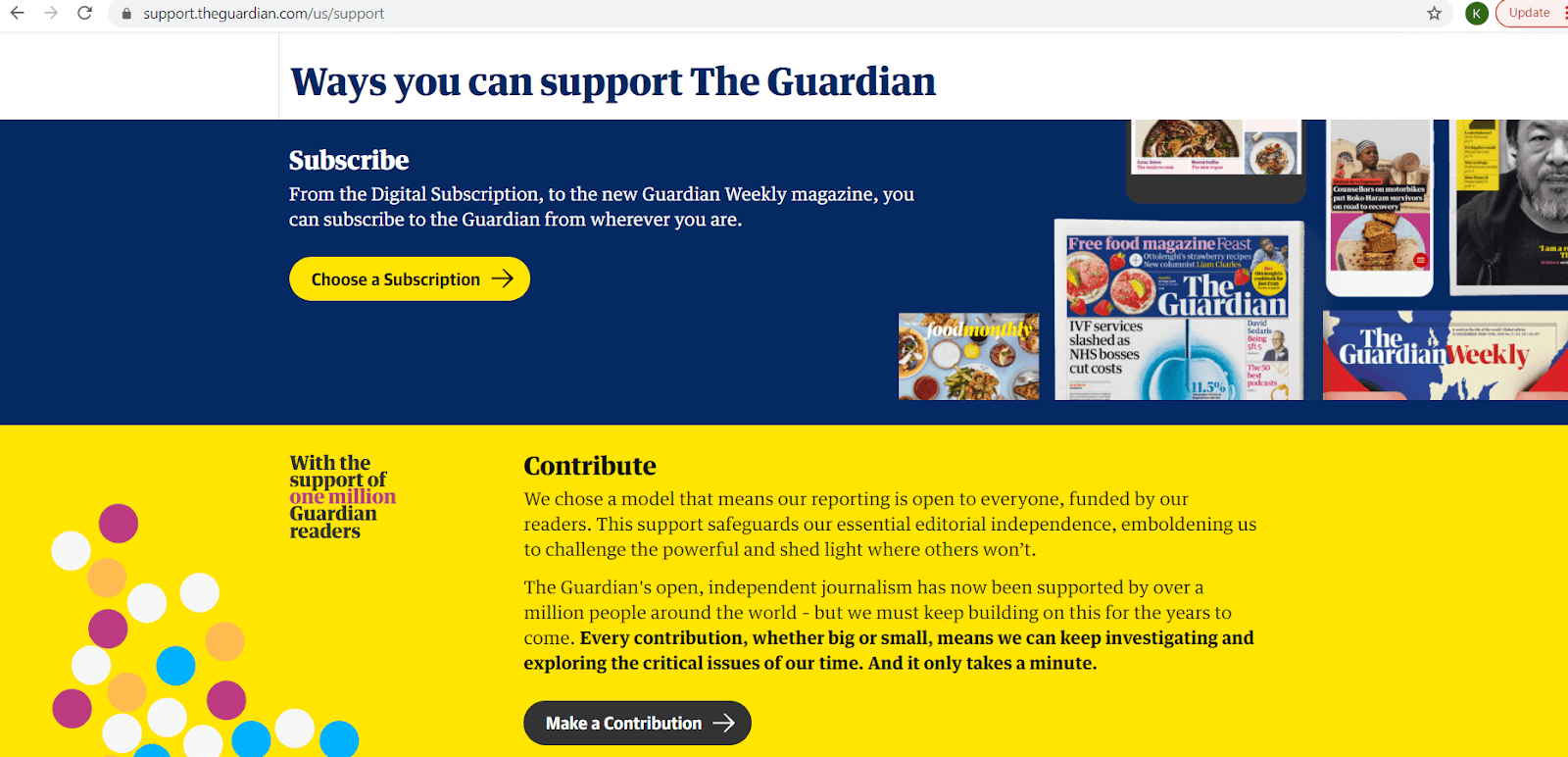 On The Guardian's support page, readers are prompted to either contribute to the site or subscribe to gain access to exclusive content. 
Putting It All Together
There are many different ways to bring in revenue for publications, but it's clear that no single stream is sufficient. The trick is to create a portfolio of complementary streams that, working together, can increase revenue and readership.
Unfortunately, there is no magic formula of revenue streams that works for everyone. So it's up to you to determine what "mix of six" will work best for your publication, your company, and your audience.