If you think about it, it makes a sense. Publishers are great writers with a keen eye for graphic elegance. Plus, there's one more thing we know about you, publishers: you're sick of competing with Google and Facebook.
A Perfect Fit
While machines can promise oodles of impressions through ultra-targeted, dirt-cheap, ad space (ugh!), a string of computer code can't write a content masterpiece nor redesign a logo with class (well, today anyway). Therefore, if you're going to get beat up by programmatic advertising, you might as well make money from it. After all, somebody must create the engaging ads and content, so it might as well be you. Besides, in today's economy, who wouldn't want to diversify their revenue model?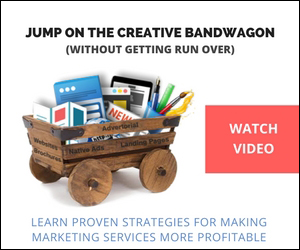 Now What?
If you work with lots of agencies, your new venture could be the pink elephant in the room. However, it doesn't have to be. It may feel awkward competing with some of your advertisers (theoretically), but the truth is you can handle it. Publishers possess a mental toughness so you are perfectly suited for the creative business.
If you think about it, publishers take a lot of heat from both sides of the table – just like a grilled cheese sandwich. You have tolerated hate-mail from your readers over the years and you have tolerated hate-mail from your clients screaming "where's my ROI".
That's why working in creative services will still feel like a grilled cheese sandwich. There will always be some troll negatively commenting on your content, and you'll always have clients with "amnesia" – miraculously forgetting that they just approved the assets you developed.
Good News
While all of this may sound very negative, it's quite the contrary. If you are new to creative services, you will still have the same job! Your writers will still be writers (except they marry church and state) and your sales reps will essentially still be sales reps. The only difference is they'll be called "account executives" and they'll inform clients what they should want with annoying buzz words and advertising clichés.
"Your cross-channel marketing strategy should maximize consumer engagement amongst target segments by inspiring user-generated content from your native content with cross-device appeal," said pompous, semi-hipster Account Director who mysteriously still has his British accent after living in New York for 20 years.
Nevertheless, publishers, even if your business starts morphing into the "annoying agency", there are still some strategies that may be worth considering. Regardless of your talent, salesmanship, and entrepreneurial skill-set, you may find some of these survival skills are worth further cultivating:
1. Brief Writing
It's amazing how one piece of paper could save you from multiple revisions and a reduced profit margin (especially if you are hired on a flat-rate or retainer basis). Writing a creative brief, or a marketing brief is a proven vehicle for confirming objectives, strategies, benchmarks, and even budget. It also has the miraculous ability to kill stupid ideas that emerge from left-field (yes, there are stupid ideas).
Essentially, each time a terrible idea emerges, you can compare it to your approved brief. If it has nothing to do with the agreed-upon strategy, you don't look defiant by not doing it.
2. Partnership Alignment
You are probably already great at doing this but be prepared to keep up with even more people, especially those with random skill sets. Do you have a friend who animates video in Smoke or builds apps for Windows phones? Good! Stay in touch with her! When you can't offer some specific capability, it looks good if you know someone who can. Chances are, they'll even return the favor.
3. Maximizing Tech Investments
When you start offering creative services, your technical needs will change. There are ways to handle this affordably, and ways to handle this not-so-affordably.
First, you'll want your publishing CRM to be flexible. If your publishing clients hire you for creative development, your CRM should be able to bill for both ad space and marketing services. Otherwise, you'll be stuck spending more time and money on invoicing.
Secondly, if your publishing CRM offers prospecting and or marketing capabilities, you could save yourself a big chunk of money. Yes, you can use Google Analytics to view SEM campaign analytics. And yes, you can view email performance in your email system. However, you'll probably want to review your digital marketing campaigns more holistically in one portal.
Unfortunately, these holistic types of marketing systems can be expensive, but you have other options. If your CRM vendor also offers marketing tools, it's worth having a conversation with them.
4. Analytic Savviness
Along the same lines, clients love seeing metrics. Even though your creative material looks fantastic, clients want to justify why they're paying for it. If you have the tools to calculate cost-per-conversion, and you can show how every effort has been A/B tested, your clients will think you're a superhero.
5. Database Cleanliness
Some systems claim to do it all: circulation, marketing, client management, publishing - but beware! Integrating audience development data and client data can turn into a mess, so you'll want to think about what you're mixing carefully.
As you know, audience development is a complex science, and your readers and clients probably have different needs. Marketing clients may also need their own prospecting database, so some separation between systems and databases can be a beautiful thing.
6. Reselling
Speaking of databases, your clients may need a more hands-on way to monitor the performance of their marketing activity. If your marketing software vendor offers a reseller agreement (such as Mirabel's Marketing Manager), you can give your clients the steering wheel and charge them for it. After all, you did the tracking code and campaign parameter set up, and they can still extract the lead data for their own sales efforts.
7. Technical Curiosity
Are you still building landing pages in WordPress? May I ask you why?
You may love WordPress (and that's okay) but my point is there are lots of shortcuts out there for marketing if you can find them.
Chances are, you don't love researching tech products, but if someone on your team does, consider it an asset. Case and point: if you've ever used Instapage or Unbounce instead of WordPress, you'll agree with me on this.
8. Proactively Seek Feedback
Whether you're shooting a video or developing a brochure, the earlier you get feedback, the better. If they didn't say anything about the storyboard or mockup you emailed, it's because no one looked at it.
Clients always have an opinion when it comes to creative, and creative development is very time-consuming. If you're going to get disappointing feedback, it's better if it happens at step one versus step ten.
At the end of the day, there are plenty of other great skills to help you with your creative services division. Consider this just a start.
Nevertheless, hearing from a former agency person who also worked at a newspaper can't hurt - especially if she can make fun of herself (another great survival skill).
To learn more about Mirabel's Marketing Manager, please contact us or request a free trial.

SEE FOR YOURSELF
The Magazine Manager is a web-based CRM solution designed to help digital and print publishers manage sales, production, and marketing in a centralized platform.