Advertisers are optimistic about their economic future, with three in five planning on spending more in 2023.
E&P has that and other highlights from a recent Borrell Associates survey of almost 2,000 local advertisers and ad agencies. In addition to the 62% spending more on advertising this year, more than half (55%) are purchasing digital advertising from a media company.
In looking at the media types purchased in 2022, social media topped the list with 30%, followed by events/sponsorships (49%), radio (47%), website ads (45%), and SEM (40%). Newspapers (39%) came in 6th, with E&P adding "the good news for these publishers is that the retention numbers for this media are almost the reverse of radio, with 24% of newspaper advertisers stating they will stay or increase their investment and only 12% claiming they will drop the media."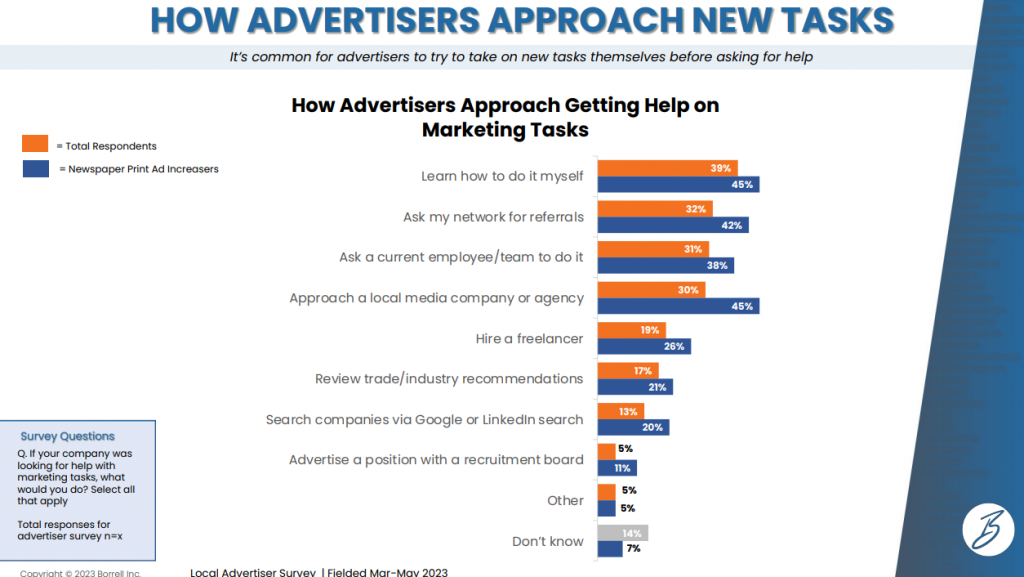 (Source: Borrell)
In his interview with E&P, Corey Elliott, Borrell's Executive Vice President of Local Market Intelligence, highlighted how lost local advertisers are in terms of marketing investments, with the largest segment of respondents (39%) taking it upon themselves when looking for marketing help. For those who purchase ads from a local newspaper, that percentage rose to 45%.
"I swear to God, it's less about the media and more about the marketing," Elliott told E&P Reports. "If you can provide me with a transparent, complete marketing plan, I'll follow you off a cliff!"
SEE FOR YOURSELF
The Magazine Manager is a web-based CRM solution designed to help digital and print publishers manage sales, production, and marketing in a centralized platform.