(Banner Image: Prowly)
Prowly recently released The State of PR Technology 2023, an overview of both PR practices, trends, challenges, and general states-of-mind.
"With 41% of PR professionals reporting they struggle to demonstrate the value of their work, it's no wonder they're turning to technology for help," the report says in its introduction. And like so many other sectors, the turn to AI gets particular focus in this report.
67.8% of respondents are utilizing AI, with most using ChatGPT for idea generation (77.8%) and content creation (72.4%) because, as the report speculates, "PR software hasn't been offering this type of support until recently, so it had a market niche to fill." Additionally, 53% were using the generative AI for research, 10% for reporting, and 8% for monitoring.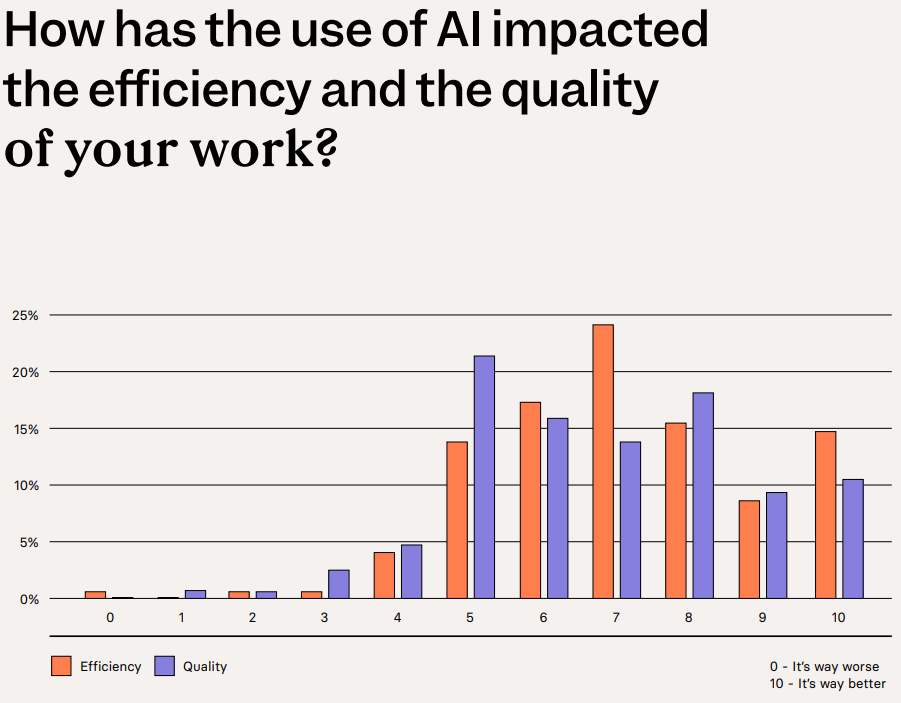 (Source: Prowly)
The survey asked how AI has impacted the efficiency and quality of the work PR professionals are doing, and "while some acknowledge a positive impact, a significant portion of respondents chose ratings in the middle range, indicating they perceive AI as only having a moderate influence on the quality of their work." In addition, they gave an overall Satisfaction Score of 47% for AI's ability to do PR tasks, with the largest segment (27.9%) giving it 3 out of 5 stars.
"While there is some level of confidence among PR practitioners in utilizing AI for PR tasks, a significant portion of respondents still feel uncertain or lack the highest level of confidence in their abilities," the report says. "This marks a need for further education, training, and support that will increase confidence levels for PR practitioners using AI. If PR professionals can learn to leverage AI more effectively, they will ultimately enhance their capabilities and efficiency in the PR field."
76.6% said the automation of repetitive tasks was the biggest perk of bringing AI to PR, with 61.4% pointing to increased efficiency and productivity. As for the biggest threats that AI poses to PR, 63.9% pointed to manipulation and fake news, 56.1% said "loss of the human touch," and 50.6% said unification and lack of creativity.
"Some do remain hesitant to fully engage with AI at this point," the report concludes, "but we predict that time will bring more experience and confidence."
"Early adopters will see wins that PR teams on the sidelines will notice."
SEE FOR YOURSELF
The Magazine Manager is a web-based CRM solution designed to help digital and print publishers manage sales, production, and marketing in a centralized platform.