It's been just over a week since I've written about generative AI tools, which means the technological capabilities have probably lapped themselves multiple times over.
Recently, Morning Consult surveyed more than 2,200 people about what AI products and services they'd ultimately be interested in. And while almost half (49%) responded that they'd be very or somewhat interested in "AI-powered online search" — the product/service that drew the most interest, and one that's certainly getting a lot of the attention in our circles — there were other surprises along the way.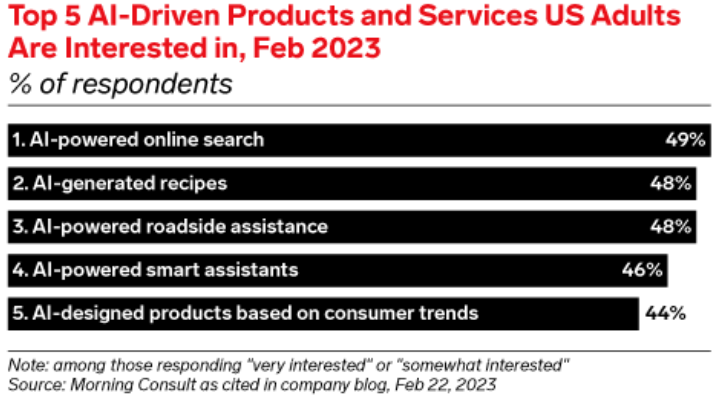 (Source: Insider Intelligence)
Both "AI-generated recipes" and "AI-powered roadside assistance" interested 48% of respondents to round out the survey's Top 3.
Interestingly, roadside assistance and the 13th-highest ranked "AI-assisted financial planning advice" were the two responses with the highest share of consumers who said they'd likely pay for those products/services.
"Brands looking to incorporate AI-powered or -assisted products or services into their business will have to first address consumers' high levels of distrust and concern with AI," writes Morning Consult.
"But there's already a healthy amount of appetite for AI products and services — even for the ones that haven't quite gone mainstream."
SEE FOR YOURSELF
The Magazine Manager is a web-based CRM solution designed to help digital and print publishers manage sales, production, and marketing in a centralized platform.