New research from Toolkits and the National Research Group is shining light on subscriptions to digital publications at a time when so much of the subscription conversation is based on streaming services. Paired with previous data about the rise in newspaper subscriptions, that light is indeed showing rays of hope.
Of the more than 2,500 U.S. consumers aged 18-64 surveyed this year, 19% currently subscribe to a digital publication. (An equal percentage were previously subscribed.) In terms of the types of digital publications currently subscribed to, 37% are news and current affairs, 33% are media and entertainment, 26% are sports, 22% are cooking, another 22% are lifestyle, and 20% are hobbies and niche interests.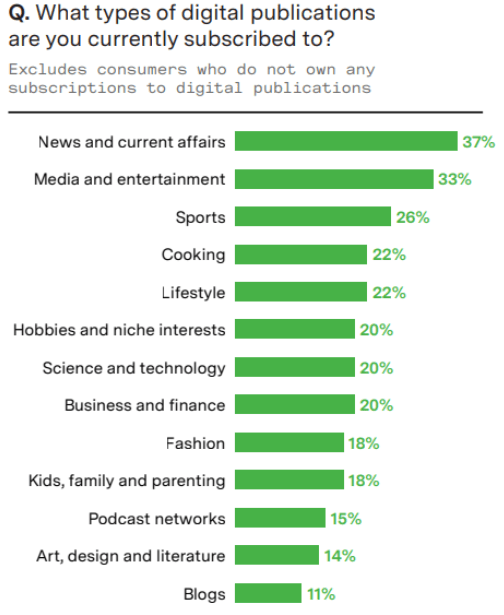 Source: NRG & Toolkits' "Succeeding with Subscriptions"
"Publishers' digital subscription products have steadily grown in popularity and are expected to generate over $11 billion in revenue by 2025," the report says. "Competing with a sea of free-to-access content, publishers charging for content must constantly evolve and adapt their products and their value propositions to keep up with rapidly changing consumer expectations, demands, and behaviors."
Of those who have paid subscriptions, 69% pay for more than one, 48% have between 2 and 5 subscriptions, and 21% have 5 or more. "Competition," the report says, "is likely to intensify among publishers to both grow their subscriber bases among the 73% of consumers who don't currently pay for subscriptions, as well as fight for the attention of the 19% who do."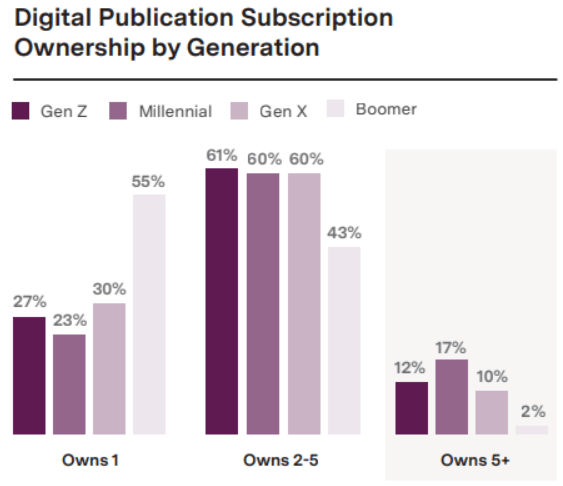 Source: NRG & Toolkits' "Succeeding with Subscriptions"
The report pays particular attention to the generational ownership of subscriptions. "The good news for publishers," the report says, "is that younger generations — despite their lower income — claim to subscribe to a greater number of digital publication products than older generations. Whether these generations see the value in these digital products more readily or are simply becoming more accustomed to having to pay for them, this data implies a readiness from younger consumers to adopt paid content." 
With 77% of subscribers being "completely satisfied" or "mostly satisfied" with the value for money received from their digital publication subscriptions, the report says one key takeaway could be that publishers are undercharging. "High overall satisfaction levels among subscribers suggest some publishers should consider if their audiences would pay more for their products," the report says. "While it risks triggering churn, publishers with highly satisfied subscribers could be leaving money on the table by underpricing their products."To find out more, including further research on churn mitigation, see the report at toolkits.com.
SEE FOR YOURSELF
The Magazine Manager is a web-based CRM solution designed to help digital and print publishers manage sales, production, and marketing in a centralized platform.