If there was a Venn diagram showing people looking for a solid news aggregator in one circle, people looking for a social media alternative in another circle, and people looking for an entry-level experience into what AI learning is capable of in a third circle, the ensuing, massive intersection would be the all-too-timely bullseye that the founders of Artifact are hoping to hit.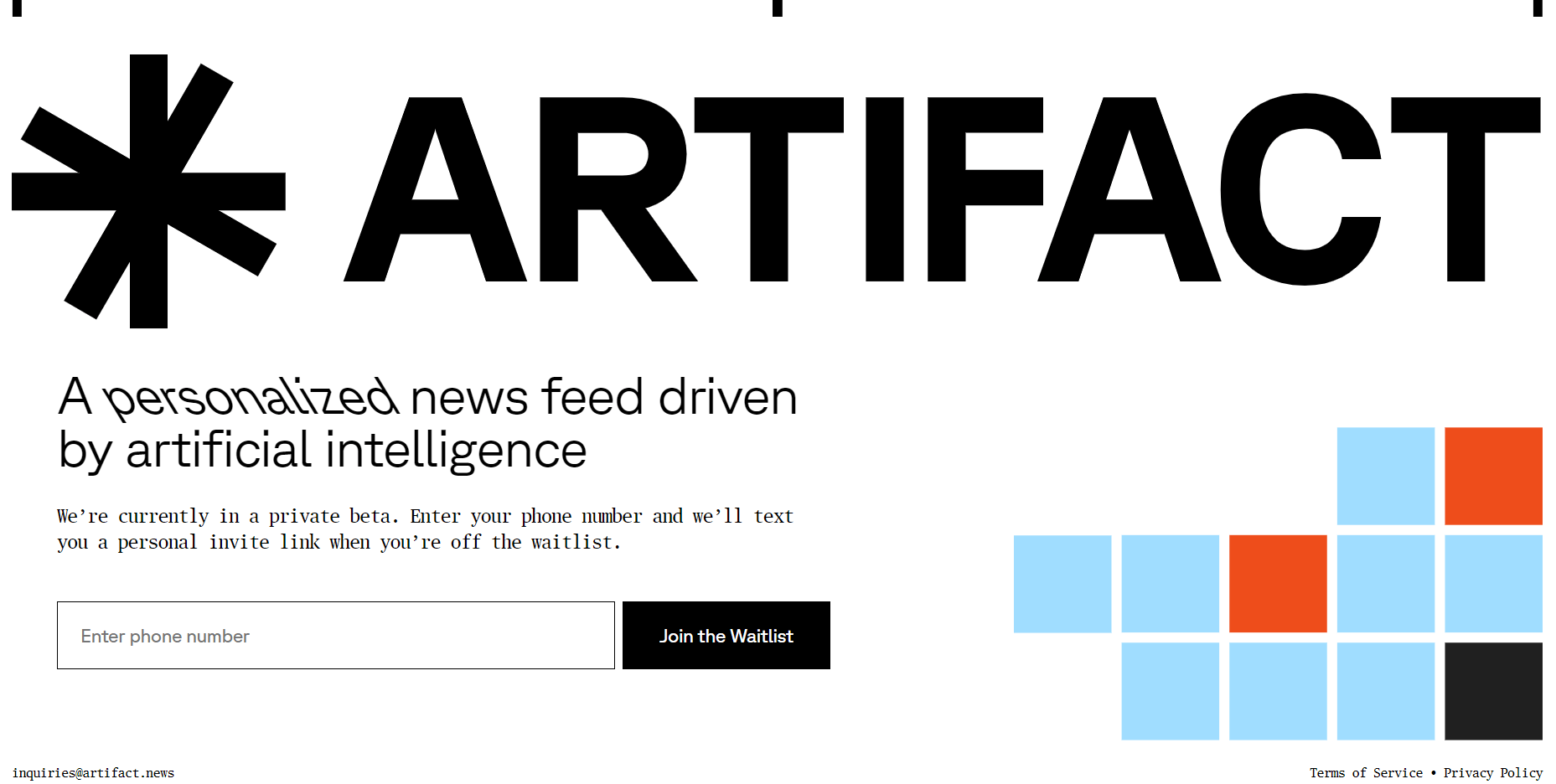 Artifact's Homepage (https://artifact.news/)
Created as a "personalized news feed driven by artificial intelligence," Artifact opened up its waitlist on Tuesday. Early-entrant Casey Newton of The Verge describes the private-beta version as "kind of TikTok for text, though you might also call it Google Reader reborn as a mobile app, or maybe even a surprise attack on Twitter." 
You start by picking a few articles of interest — from publishers ranging from The New York Times to niche bloggers — and Artifact begins curating your future feed, the same way "watching videos on TikTok's For You page tunes its algorithm over time," Newton writes. Eventually, users will be able to not only follow other users and see a feed of their posted articles, but also DM friends to continue conversations about posts.
A news aggregator is in no way a new idea — this July will mark the 10-year anniversary of popular Google Reader's demise, after all — but for Artifact's creators, Kevin Systrom and Mike Krieger, the technology had to be just right for their particular vision to succeed. Both left Facebook in 2018 after co-founding Instagram, and it took that experience for the once-skeptical Systrom to appreciate that machines could improve upon recommendations. 
As told to The Verge, the "breakthrough" was Google inventing the transformer — the T in the name of the AI-game-changer, ChatGPT — which "offers a mechanism for systems to understand language using far fewer inputs than had previously been required." As machine-learning systems improved, it was utilized by Facebook, Twitter, and most effectively by TikTok because, as Newton writes, it showed content "using only algorithmic predictions, regardless of who your friends are or who you followed."
"I saw that shift and I was like, oh, that's the future of social," Systrom told The Verge. "These unconnected graphs; these graphs that are learned rather than explicitly created. And what was funny to me is as I looked around, I was like, man, why isn't this happening everywhere in social? Why is Twitter still primarily follow-based? Why is Facebook?"
As for putting all of that into practice in the news industry, Artifact's founders have said they're intent on serving high-quality news and removing posts that are false. "Its machine-learning systems will be primarily optimized to measure how long you spend reading about various subjects — as opposed to … what generates the most clicks and comments — in an effort to reward more deeply engaging material," Newton writes. And, of course, how advertising or revenue-sharing fits into Artifact's business model is a question only time will tell as well.
Publishers — how have news aggregators helped your publication? Are you interested in the promise of Artifact's mission? Let us know in the comments below.
/banner photo from Artifact (via Engadget)
SEE FOR YOURSELF
The Magazine Manager is a web-based CRM solution designed to help digital and print publishers manage sales, production, and marketing in a centralized platform.