"Great content generates powerful business results — and marketing leaders know it."
So begins Deloitte Digital's latest research, a study entitled "Gen AI Powers Content Marketing Advantage For Early Adopters," which puts particular focus on the current benefits of this technology-of-tomorrow.
"Leaders recognize that yesterday's ways of producing content aren't meeting today's customer and business demands," the report says. "Businesses need to address new opportunities across owned, direct and in-house channels — creating demand for more digital content in more places with more personalization."
The report found that while demand for marketing content grew by 1.5x this year, marketers were only able to meet that demand 55% of the time. As such, 26% of companies surveyed are already "collaborating with Gen AI" for content, with another 45% planning to do so by 2025.
"While [early adopters] report that Gen AI is involved in the development of 46% of content, most say they are focused on using the technology to improve and adapt marketing content rather than generate complex or complete content," the report says. "The reason? More than 3 in 4 early adopters remain significantly concerned about potential brand risks introduced by Gen AI, including intellectual property and legal jeopardy, cultural sensitivity mistakes, impersonal experiences and lower creative quality."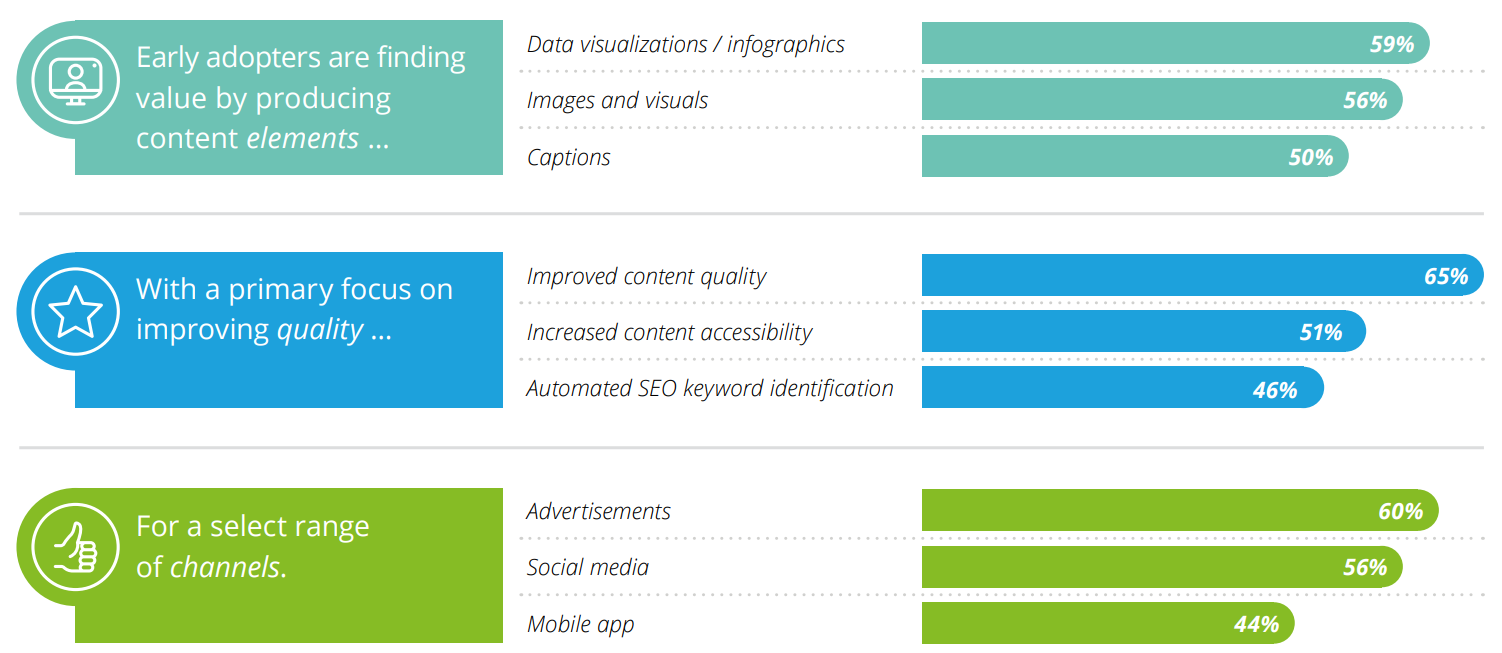 (Source: Deloitte Digital)
In comparing "early adopters" and "future adopters," the research found that the former was "experiencing greater improvements than future adopters expect." With quality content and tagging, for instance, 60% of early adopters saw higher quality (compared to 46% of future adopters who expected higher quality). Similarly, employee productivity was higher for 59% of early adopters (vs. 38% of future adopters expecting higher productivity) and the volume of produced content was higher for 57% of early adopters (vs. 46% of future adopters expecting higher volume).
"Early adopters report their companies topped revenue goals by an average of 14% in the prior year — whereas companies with no Gen AI plans beat expectations by just 2% on average," the report says. "Gen AI is generating positive ROI for all early adopters surveyed. On average, these companies have already experienced a 12% return on Gen AI investments."
SEE FOR YOURSELF
The Magazine Manager is a web-based CRM solution designed to help digital and print publishers manage sales, production, and marketing in a centralized platform.