Apple's announcement yesterday that it will be releasing an augmented reality headset next year has brought AR realities front of mind.
(And not just because of the eyebrow-raising $3,499 it'll cost to put that Apple Vision Pro on one's head.)
Prior to Apple's reveal, the future of AR saw two other illuminating forecasts recently, as both AR's audience as well as its mobile revenues were predicted to see exciting growth in the next few years.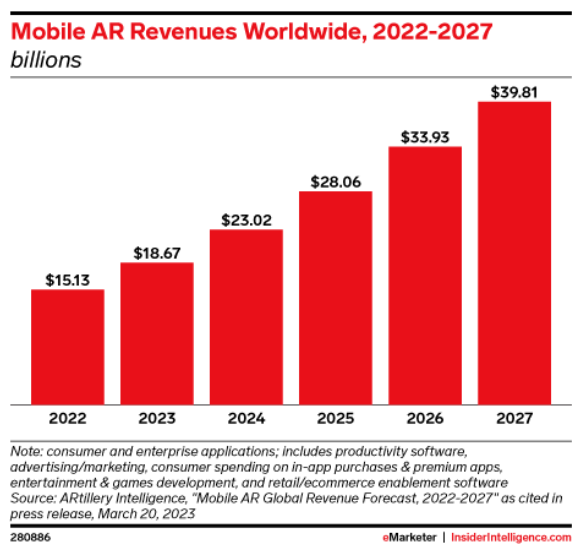 (Source: Insider Intelligence)
Insider Intelligence estimates there will be 90 million monthly AR users in the United States this year, with an increase to 100 million in 2025 and nearly 107 million in 2027. (Virtual reality is also expected to grow, albeit slower than in years past, with 68.9 million in 2023 and 78.5 million in 2027.)
ARtillery Intelligence took a deeper dive into mobile AR revenues (in both consumer and enterprise applications that includes software to advertising/marketing applications) and forecast the $18.67 billion for 2023 to more than double by 2027, when revenues will reach $39.81 billion.
"AR advertising revenues worldwide this year will bring in $3.50 billion, 18.8% of total AR revenues," says Insider Intelligence of the ARtillery Intelligence forecast. "But that's just 0.7% of total mobile ad revenues worldwide, indicating there's plenty of room for growth."
SEE FOR YOURSELF
The Magazine Manager is a web-based CRM solution designed to help digital and print publishers manage sales, production, and marketing in a centralized platform.