Let's check with the data … on checking with data.
A new study on decision-making is highlighting just how overwhelmed and inundated business leaders are with the seemingly endless streams of data coming at them.
Oracle surveyed more than 14,000 people from 17 countries for its "How Data Overload Creates Decision Distress" study, and found that while 97% want help from data, 86% say the sheer volume is making personal and professional decisions more complicated.
Almost three-quarters (74%) have "held back" on making a decision because they didn't know what data to trust, and 85% have suffered from decision distress — "regretting, feeling guilty about, or questioning a decision they made in the past year."
"People commonly make decisions drawing on prior experience," the study says. "However, uncertainty makes what happened before irrelevant, and uncertainty is everywhere. Organizations are changing revenue forecasts mid-quarter due to unexpected economic conditions. Experts in retail struggle to forecast holiday demand. In our personal lives, we don't know if it's the right time to buy a car, a home, or anything else due to the unpredictability that surrounds us."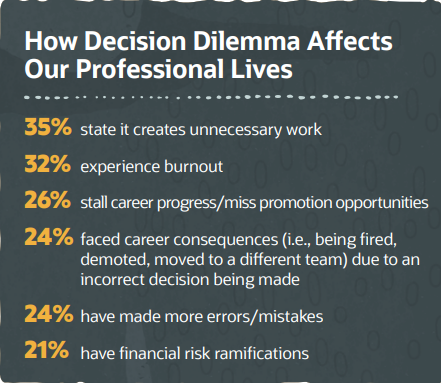 (Source: Oracle)
The survey found that 59% of people face this decision dilemma at least once a day, resulting in 70% giving up entirely on making a decision "because the data was too overwhelming."
Unsurprisingly, Oracle says "it's time for technology to do the hard work for us," pointing to the 64% of those surveyed (and 70% of business leaders) who'd prefer to have a robot make their decisions for them.
"An organization that uses technology to make data-driven decisions," the report found, is:
more trustworthy (79%)
more successful (79%)
one they're more likely to invest in (76%), partner with (77%), [and] work for (78%)
"What business leaders really need is decision intelligence, connecting data to insight to decision to action," the study says. "93% of business leaders believe that having the right type of decision intelligence can make or break the success of an organization and those stakes are too high to ignore."
SEE FOR YOURSELF
The Magazine Manager is a web-based CRM solution designed to help digital and print publishers manage sales, production, and marketing in a centralized platform.