The number of ways in which AI has revolutionized personalization in business are simply too many to applaud here.
And besides, why would I need to anyway?
According to a recent survey of business leaders, 92% of you are well-aware, already using AI-driven personalization to drive growth in your business.
In research entitled "The State of Personalization 2023," Twilio Segment surveyed 500 decision-makers at consumer-facing online companies (as well as more than 3,000 recent consumers) across the globe.
56% of those consumers said they will become "repeat buyers" after a personalized experience — a 7% YoY increase — coinciding nicely with the 69% of businesses increasing their personalization investments despite "challenging economic headwinds."
Most business leaders (80%) said a personalized experience results in increased consumer spending, by an average of 38%.
"Consumers today want to feel valued and understood, and personalization is a key tactic to achieve that," the report says. "By tailoring experiences to the unique preferences and behaviors of each customer, brands can create a deeper connection that translates into increased spending and brand loyalty."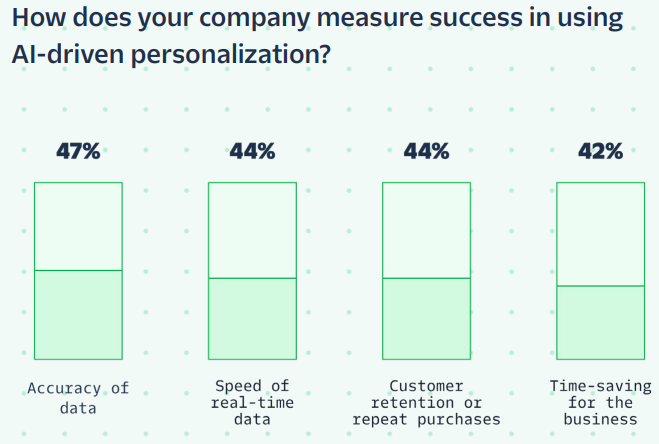 (Source: Twilio Segment)
That's not to say personalization and its ever-evolving technological capabilities don't come without their hurdles. 39% of the companies surveyed struggle with implementation, and half find it challenging to get accurate data, up 10% from last year.
Their biggest obstacles to leveraging AI are lack of people and process training (42%), security or compliance (36%), poor organizational processes (34%), and poor quality data (31%).
But with that brand loyalty and increased spending pointing to solid ROI — as well as data showing 41% comfortable with AI being used to create that personalized experience — those hurdles won't be the only ones needing to be cleared.
"As businesses continue to adopt AI-powered personalization, it's vital to consider the concerns of consumers who may not be as receptive to the technology," the report says. "This finding underscores the need for transparency and education around how AI is being used to create personalized experiences, as well as the importance of respecting consumers' boundaries and preferences."
SEE FOR YOURSELF
The Magazine Manager is a web-based CRM solution designed to help digital and print publishers manage sales, production, and marketing in a centralized platform.