Whether it's B2B or B2C, businesses are adding AI to the equation.
Outreach's latest Sales Confidence Index Report puts 63% of sales leaders as using AI, with 60% of those using it to enhance customer interactions. "Specifically," MediaPost reports, "they deploy it to:"
Update CRM data — 56%

Respond to proposal requests — 46%

Generate emails — 44% 

Organize notes — 39%
On the consumer-side, Instiller recently attempted to see if AI's output could pass the sniff-test with customers. In its spot-the-difference test, the company had a human copywriter and ChatGPT each create three marketing emails — one promotion announcement, one new product launch, and one loyalty plan — for a fake beauty brand. 
(A "made-up makeup startup," perhaps? Ten points, human brain!)
Anyway, after sending both sets of emails to more than 500 Brits, only 1.18% of respondents were able to guess the creator of all six emails correctly. Half (52%) incorrectly guessed the copywriter's emails were AI, and, overall, one in two couldn't tell the difference between the communications.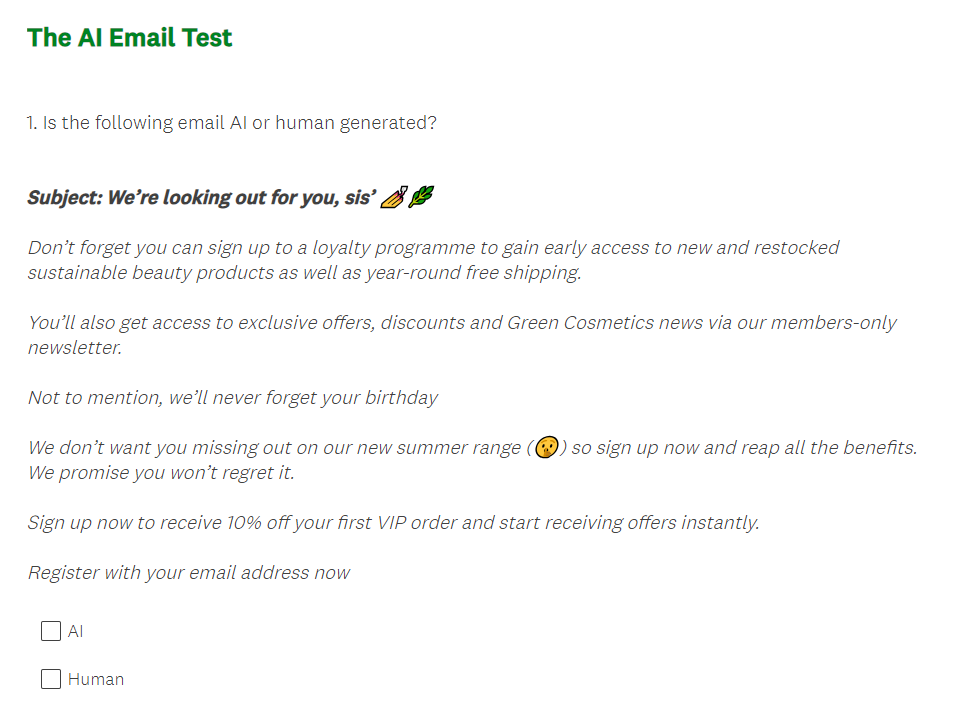 Question 1 on Instiller's AI Email Test (Source: Surveymonkey)
There was slight variation across generations and geography, but the more-telling stats came in regards to how survey respondents, well, responded. 
"When asked if they were unhappy about the idea of AI-generated marketing and communication campaigns, the majority of people (73%) were unphased," Instiller's co-founder Adrian Toal says. "Interestingly, it was actually the younger Gen Z respondents, aged 18 to 24, who had the biggest problem with receiving AI-generated brand communications, with nearly 40% voting "yes" (37.5%), which reflects the notion that Gen Z wants authenticity from brands and businesses."
SEE FOR YOURSELF
The Magazine Manager is a web-based CRM solution designed to help digital and print publishers manage sales, production, and marketing in a centralized platform.