More than 11,000 global consumers were surveyed by Airship for their recent report, The Mobile Consumer 2023, which found consumers to be increasingly willing to share their information for incentives and personalized interactions.
Email addresses are the most freely shared type of information for 86% of respondents, up from 77% last year. The second-most was "your interests relevant to the brand" (78%), overtaking "name" with 77%; both of which were up from 67% last year.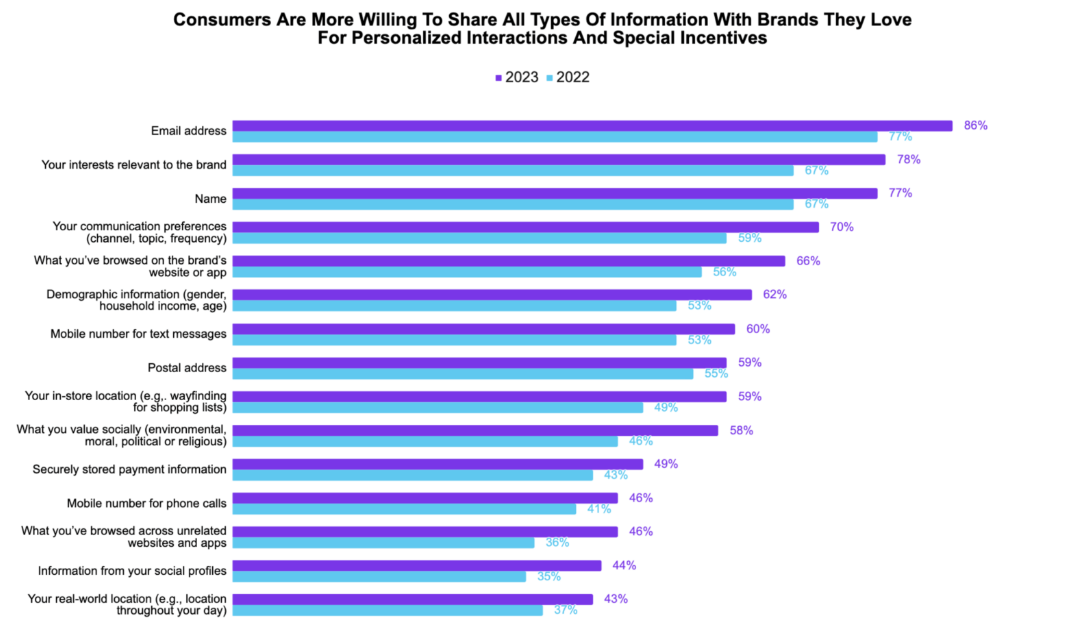 (Source: Airship)
"Rounding out the top five types of information consumers will share the most are 'their communication preferences' and 'what they've browsed on a brand's app or website,' highlighting the importance of a customer-centric approach to brand interactions," Airship's press release said. "In fact, the information seeing the biggest year-over-year gains in consumer willingness to share is 'what they value socially (environmental, moral, political or religious).'"
While Airship's survey found that email addresses were the most freely shared info, it also found that 79% of those surveyed ignore or even delete marketing emails from brands at least half the time or more. 
"Younger generations, led by Gen Z, are less likely than Gen X and boomers to pursue traditional methods of avoiding commercial email — by unsubscribing or deleting emails by scanning sender or subject lines," the press release said. "Instead, they are much more likely to say they don't often check their email, use a secondary email account they rarely check and use both anonymous email addresses (e.g., via Sign In with Apple) or fake ones."
The report puts particular spotlight on the growing use of apps with consumers' favorite brands, which 35% of respondents attribute to "ease of use," 31% to "simplifies my life," and 27% to "saves me time."
"Convenience is indeed king," the report says. "From onboarding customers to getting them to come back for more, it's crucial to build an app experience that's intuitive and easy to navigate, while delivering value. The app experience should make an otherwise time-consuming and laborious task be as simple as clicking a button — and feel intuitive and effortless too."
SEE FOR YOURSELF
The Magazine Manager is a web-based CRM solution designed to help digital and print publishers manage sales, production, and marketing in a centralized platform.