For B2B and B2C marketers alike, email marketing remains the top focus, with more increasing their budget for email marketing than in any other direct marketing channel.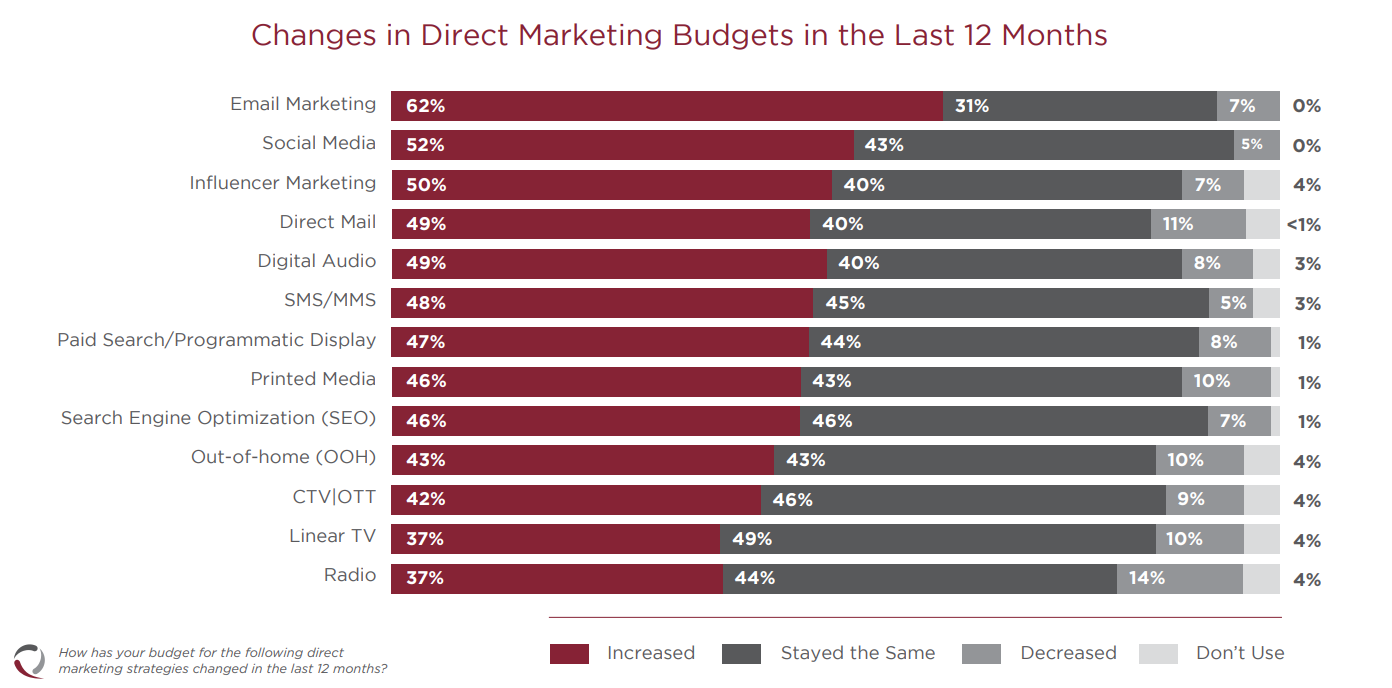 (Source: SeQuel Response)
In new research conducted by ISG Research, SeQuel Response surveyed 250 marketing strategy leaders about budget allocations and changes. In addition to the 62% who increased their email marketing budget over the last year, 52% increased their social media spending, and 50% increased their influencer marketing.
"In challenging environments, it's expected that marketers will demonstrate increased faith in the marketing channels that can be trusted for measurable response rates and conversions," the report says. 
The report, like a recent one released by Winterberry Group and USPS, put focus on direct mail, which 49% of marketers increased their budget for (against 11% who decreased their budget).
"Looking at direct mail specifically," the report says, "the increased spending on mail is well justified by the channel's performance. In our survey, 70% of marketers reported direct mail performance has improved in the last 12 months."
The report says it's not only direct mail's "proven ROI" and funnel-moving abilities that make it strong. In surveying 400 consumers, it found that email marketing had the largest percentage (33%) who felt overwhelmed by the amount of advertising they receive; direct mail had the fourth-smallest, with 15%, behind only billboard ads (8%), print media ads (10%), and radio or digital audio ads (14%).
"Consumers of all ages embrace the offline channel to engage with new brands and services while fighting digital ad fatigue," the report says.
SEE FOR YOURSELF
The Magazine Manager is a web-based CRM solution designed to help digital and print publishers manage sales, production, and marketing in a centralized platform.