Most of us probably have the same personal email address we had two years ago. Chances are we're still getting messages from many of the same brands and shops that we were communicating with two years ago as well.
So what has changed?
Well, according to a new survey from DMA (Data & Marketing Association) UK and Deployteq, 79% of people now use a smartphone to access their email, way up from the 62% in 2021.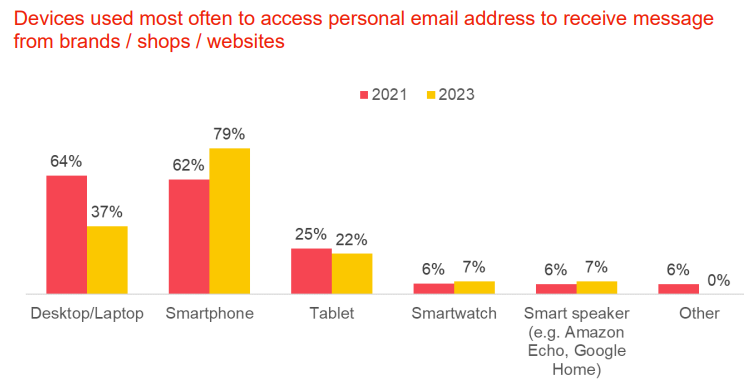 (Source: Deployteq)
At the same time, desktop and laptop use, which had been the No. 1 device used by 64% of survey respondents in 2021, dropped to 37% this year.
The Consumer Email Tracker 2023 study, which surveyed more than 2,000 U.K. adults, attributes a number of factors to explain that growth, including the use of apps to consolidate email accounts, improved user journeys, and general improvements in on-the-go connectivity.
"Brands and marketing agencies are getting better at creating unique, engaging content," the study said in one of its takeaways. "But their designs will need to get even more eye-catching and mobile-ready as competition increases for email users' attention."
In findings that aren't quite as surprising as the drastic switch in devices, the study found that consumers still rank email first for communicating, "ahead of all other marketing channels for pre-purchase (e.g. discounts, offers, product information or reviews); post-purchase (e.g. receipts; order confirmations and delivery details); customer service messages and the delivery of additional benefits (such as competitions and events)."
SEE FOR YOURSELF
The Magazine Manager is a web-based CRM solution designed to help digital and print publishers manage sales, production, and marketing in a centralized platform.