$50 billion … with a b!
Passing the $50 billion mark is a noteworthy one no matter what the context. But when it pops up in the subscription industry, it definitely grabs my attention.
Insider Intelligence released its forecast for OTT video subscriptions, and after a 2022 that saw $44.94 billion in revenue, 2023 is expected to hit $50.56 billion for a YoY increase of 12.5%.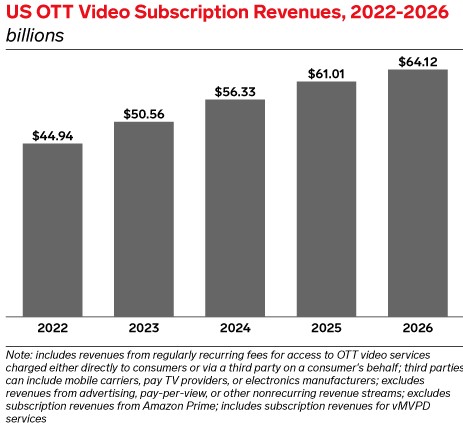 (Source: Insider Intelligence)
Looking even further ahead, revenues will rise to $56.33 billion next year and to $64.12 in 2026.
"Subscription revenues are outpacing viewership for OTT, a result of price increases and existing viewers stacking up on platform subscriptions," Sara Lebow of Insider Intelligence writes. "OTT user growth is slowing because penetration is already so high — nearly two-thirds of the US population are viewers, according to our forecast."
SEE FOR YOURSELF
The Magazine Manager is a web-based CRM solution designed to help digital and print publishers manage sales, production, and marketing in a centralized platform.