It's probably more than just the extra Leap Day that will push it over this threshold, but according to the World Advertising Research Center, 2024 will be the year when global advertising spend surpasses $1 trillion.
Surveying media industry organizations in 100 worldwide markets and analyzing revenue data from the largest media owners, WARC foresees a 8.2% boost from 2023's ad spend of $963.5 billion.
"High interest rates, spiraling inflation, military conflict, and natural disasters have made for a bitter cocktail over the preceding 12 months," says James McDonald, WARC's Director of Data, Intelligence and Forecasting, "but the latest earnings season shows that the ad market has withstood this turbulence and has now turned a corner."
Carrying most of that weight around the corner are five tech companies — Alibaba, Alphabet (Google and YouTube), Amazon, ByteDance (TikTok), and Meta (Facebook and Instagram) — that are expected to see a 9.1% rise in ad revenue in 2023 and a 10.7% rise in 2024, increases that "will yield a share of 51.9% of the market by next year," according to WARC.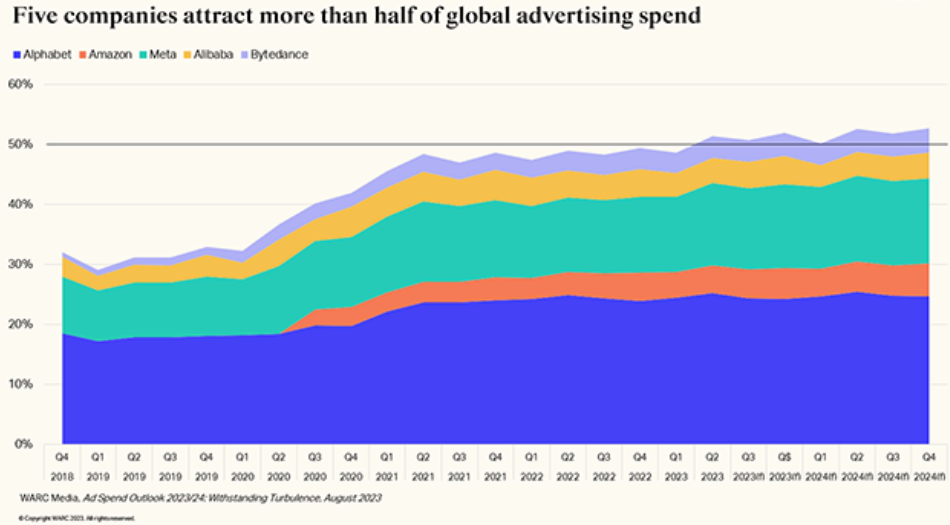 (Source: WARC)
"Our new measurements show how the fortunes of just five companies have a major bearing on the prospects of the industry at large, and that these companies are on course to record oversized gains in the coming months," says McDonald.
According to WARC's estimates, social media is expected to be the fastest-growing channel, making up 21.8% of total spend (64.4% of which will be Meta's).
SEE FOR YOURSELF
The Magazine Manager is a web-based CRM solution designed to help digital and print publishers manage sales, production, and marketing in a centralized platform.