2024 will see an upswing in global search revenue growth, to 12.9% growth from this year's 8.4% growth, but will decelerate annually from there, according to forecasts from New Street Research.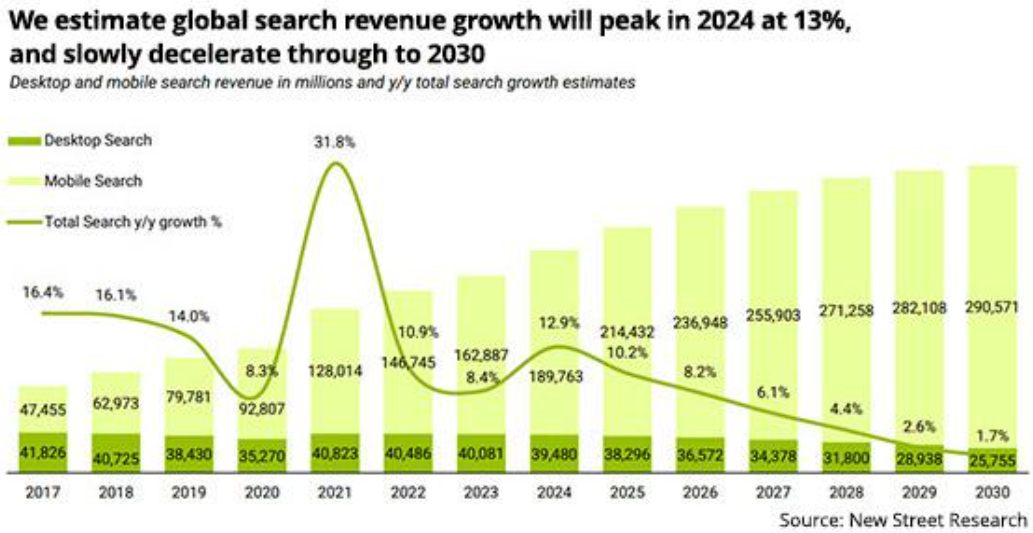 (Source: MediaPost)
MediaPost recently shared the estimates, viewing them in the context of Google's new Search Generative Experience and the search business in which generative AI is quickly entering, saying New Street Research's framework "builds on previous work examining gross-margin impact, the bottom-up search revenue model, and recent AI capex work."
"What has not yet changed is search's basic business and revenue model," writes MediaPost's Laurie Sullivan. "It remains driven by query volume, advertising load, click-through rates, paid clicks and cost-per-click pricing."
New Street Research estimates that "search growth will be driven by continued momentum in mobile," according to MediaPost, with an 8.6% CAGR between now and 2030, during which time mobile will represent 92% of total search revenue.
SEE FOR YOURSELF
The Magazine Manager is a web-based CRM solution designed to help digital and print publishers manage sales, production, and marketing in a centralized platform.