For the first time in almost a decade, the digital advertising beast known as The Duopoly will bring in less than half of all U.S. digital spend this year, with a decline projected to continue into 2024.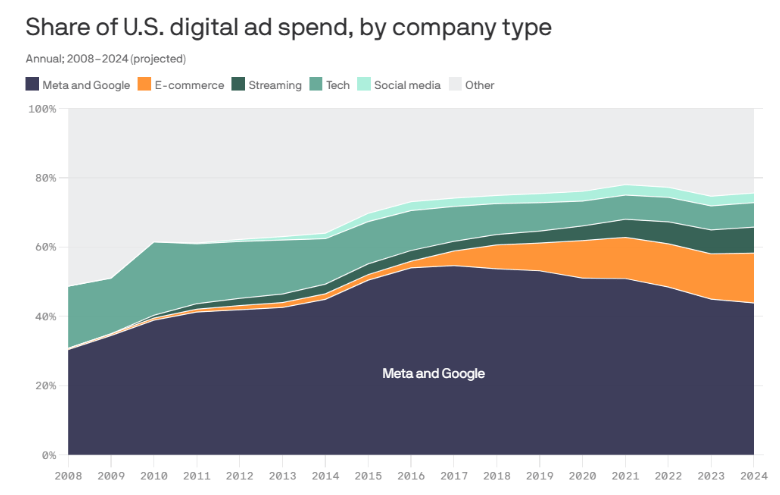 Source: Axios
That behemoth pair, better known individually as Google and Meta, will bring in 28.8% and 19.6%, respectively, according to data from Insider Intelligence. Together, their 48.4% share of the market is down from a 54.7% high in 2017.
"The duo's ad dominance has for years made both companies the target of antitrust investigations and lawsuits," Axios says. "While they still tower over digital rivals, their momentum is starting to slow as competition moves in."
Leading that competition is Amazon, expected to bring in 12.7% by 2024. With what Axios calls "the ubiquity of screens in the home, workplace and on-the-go," targeting customers with digital ads is something e-commerce businesses, streamers, and other competitors can boast more easily.
"Amazon, along with other e-commerce players like Walmart and eBay, has started to build out a significant digital ad network that can be used to boost products within its own marketplace."
Looking ahead, Axios points to Apple's recent tracking policies as well as the legal battles ahead creating further hurdles for The Duopoly.
"Aggressive lobbying against Big Tech's ad dominance, mostly by the digital news industry and smaller technology rivals, will make it harder for Google and Meta to expand their ad businesses through acquisitions," Axios says.
SEE FOR YOURSELF
The Magazine Manager is a web-based CRM solution designed to help digital and print publishers manage sales, production, and marketing in a centralized platform.