Better ads, better planet? 
There's an advertising agency that will no doubt adopt that slogan soon enough (if it isn't being used already), but there may actually be some larger truth to this lofty mission statement, as discovered in a recent MAGNA study.
There's a link between "sustainable advertising practices and positive attention metrics," according to MAGNA's Media Trials' study entitled Attention x Sustainability: The Benefits of a Smaller Carbon Footprint in Media. 
Analyzing more than a billion live-campaign impressions and using predictive eye-tracking on hundreds of display ads, the study found that an ad that's in view for more than 10 seconds produced 64% less carbon emissions than a five-second ad.
Yes — the longer an online ad is viewed, the lower the carbon emissions.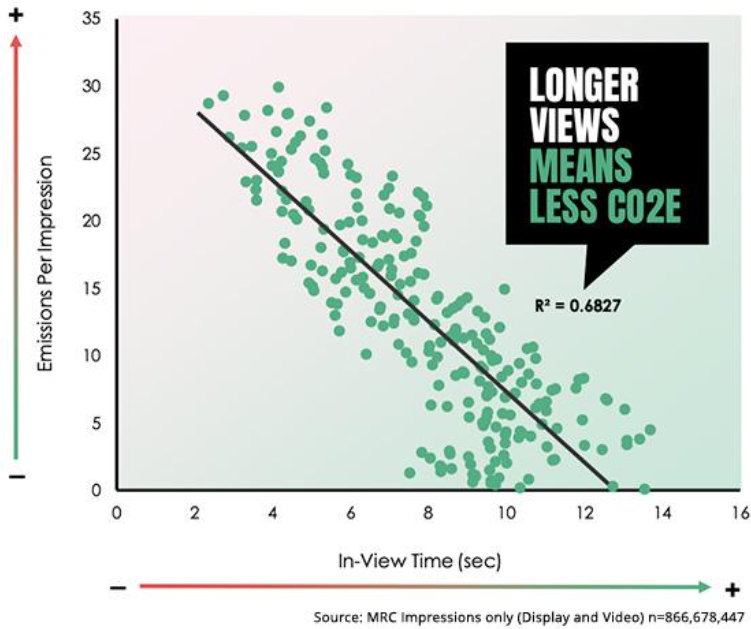 (Source: MediaPost)
"The Scope3 carbon emissions model, which calculates the total grams of carbon dioxide released from digital impression delivery (gCO2e), was the standard measurement used for the study," according to the MAGNA press release. "This correlation between in-view time and carbon emissions is likely related to total ad load on each page, as the more ads that load, the greater the emissions generated. In turn, competing ads will divide viewers' attention."
The study went beyond correlations, too, with actionable findings that can make a difference.
"Eliminating impressions that do not comply with the Media Ratings Council (MRC) standards, such as video and display ads that run below the page break and are out of view, which advertisers do not pay for anyway, will reduce six percent of carbon emissions generated by online advertising," the press release says. 
"To put this in tangible terms, based upon a Statista digital ad-impressions report, this six-percent reduction is akin to removing 34,144 cars from the road for a year."
SEE FOR YOURSELF
The Magazine Manager is a web-based CRM solution designed to help digital and print publishers manage sales, production, and marketing in a centralized platform.