For years, Mirabel's Marketing Manager blog has been providing tips, best practices, how-to's, explainers, and thorough breakdowns of every marketing topic under the sun so that businesses and brands of all sizes can make the most of their efforts.
About the only thing the blogs haven't addressed is the cost of an outside agency — and there's a huge, almost prohibitive reason for that.
In fact, the Association of National Advertisers, 4A's, and Advertiser Perceptions recently collaborated to put a spotlight on that very reason, with a study entitled "The Cost of the Pitch." After interviewing more than 300 brand marketers and agency execs, they found that most brand-side marketers (59%) say cost is the most important factor considered when selecting an agency.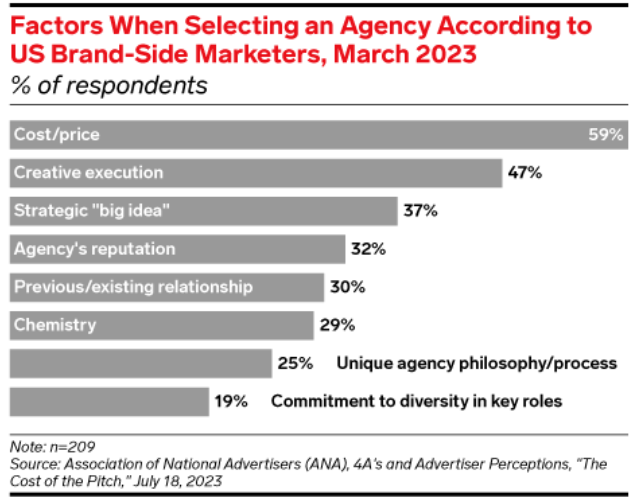 (Source: Insider Intelligence)
The research found that the total average cost for a client seeking a new pitch is more than $400,000 after factoring in staff time and changes, disruptions and delays, consultants, compensation, and more. And that number jumps to north of a million when assuming three pitching agencies.
"The findings from this research identified a significant cost to the client when they run a review, as it is a time-consuming and resource-intensive process," the ANA's site says. "The cost implications, potential for disruptions in daily work, and delays in campaign and product launches, as well as the evident impact on partner relationships, should not be taken lightly."
Still, the benefits, both short-term and long-term, shouldn't be ignored completely. Half of the respondents said the biggest short-term benefit of a review is a potential new agency's motivation to deliver. Cost-saving and better pricing was the second biggest short-term benefit.
In regards to the long-term, the top three benefits were improved sales and revenue (46%), improved branding (45%), and new strategic direction (44%). 
"It is a bit surprising to see 'cost savings/ better pricing' rank so low in regard to long-term benefits at 40 percent, considering the high ranking as a short-term benefit," the study says. "This could be an indication that some clients are sacrificing long-term growth for short-term financial gains."
SEE FOR YOURSELF
The Magazine Manager is a web-based CRM solution designed to help digital and print publishers manage sales, production, and marketing in a centralized platform.