DoubleVerify has checked back in with advertisers and publishers to see where they are in preparing for the cookieless future.
Comparing their recent findings to their first report from early 2022, DoubleVerify found that "deprecation concerns are top-of-mind, but there are signs of progress and optimism."
Of the more than 400 publishers surveyed around the world for DoubleVerify's "Post-Cookie Questions: How Advertising Strategies and Sentiments Are Evolving" report, those "very concerned" about the impact of cookie deprecation decreased by 42.6% YoY, while those who said "not at all concerned" increased from 3.3% to 7.2%.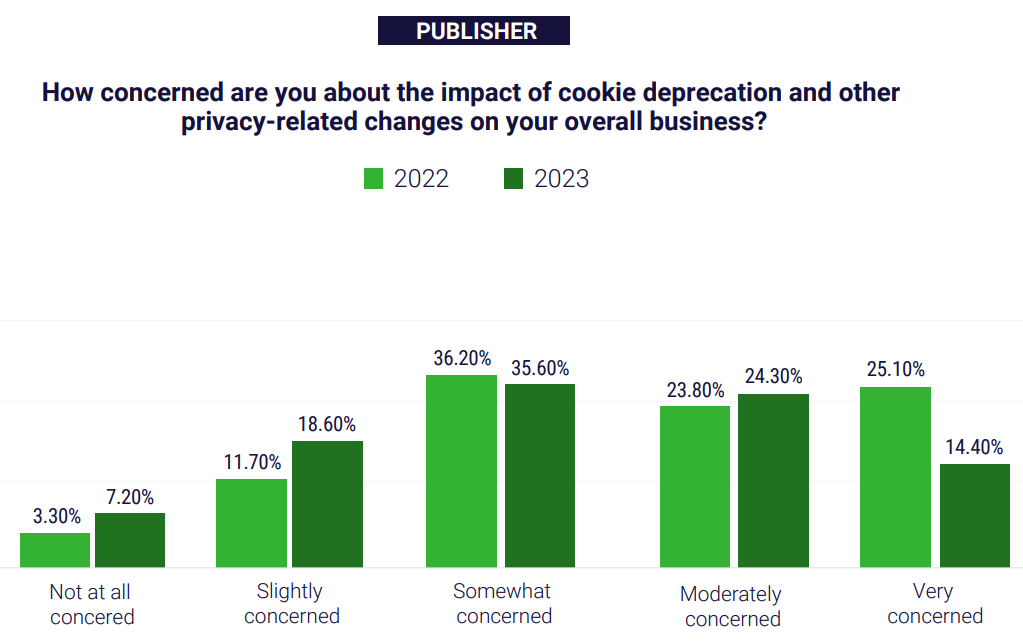 (Source: DoubleVerify)
While nearly 60% are still somewhat or moderately concerned, the DoubleVerify report says these changes "suggest that the industry is coming down to earth from the initial shock, and getting real about finding solutions."
"One of the sharpest differences YoY was in publisher revenue expectations in a post-cookie world," the report says. "In 2022, 63.8% of publishers thought their revenue would increase after third-party tracking ended, falling to 48% in 2023."
For the 400-plus advertisers surveyed, the primary concern — "multiple browsers phasing out third-party cookies" — increased from 38.5% to 45.1% since last year, mostly attributed (like so many other concerns) to the general uncertainty.
While some of those surveyed have solutions in place, many others are still testing or putting off any processes.
"This corresponds with a strong feeling from buyers and sellers (47.8% and 44.1% respectively) that Google will issue another delay to the deprecation process ahead of its self-imposed 2024 deadline," the report says. "It wouldn't be the first time they've done it, after all."
The other area where publishers and advertisers were in lockstep was in terms of direct relationships and partnerships. 80.7% of publishers said that once cookies are deprecated, direct relationships will become more important. "Furthermore," the report says, "83.7% of advertisers said they will only partner with publishers that have robust first-party data to share, which is often enabled through direct relationships."
"Opportunities are abundant for publishers and advertisers to align in new and impactful ways, and now is the time to cultivate direct partnerships."
SEE FOR YOURSELF
The Magazine Manager is a web-based CRM solution designed to help digital and print publishers manage sales, production, and marketing in a centralized platform.