The latest installment of the 2022 Magazine Media Factbook was recently released, highlighting what the News/Media Alliance calls "the continued enthusiasm for magazine media, as well as the strong credibility and trust magazine media enjoy with their readers."
Amongst the main points, overall audience grew to 222.2 million readers (across print and digital) in 2021, a year in which new titles doubled to 122. In looking at reader preferences and proclivities, the Factbook says most readers in every age group interact with magazines on social media, and 58% of 18-34-year-olds said they love the touch and feel of a printed magazine.
Looking at advertising in magazines, the Factbook found that the number of magazine website advertisers increased 23% from 2020 to 2021.
"Magazines provide an ideal environment for advertising that inspires action, and the Magazine Media Factbook confirms that through its in-depth research statistics and insights," says David Chavern, president and CEO of News/Media Alliance, the newly formed organization following New Media Alliance's July merger with MPA – The Association of Magazine Publishers.
"Our members are trusted sources of information that readers want and need, with thoughtful, relevant and interesting ads that make readers feel heard and understood," Chavern says of the group's 2,000-plus members and brands in the magazine and news publishing industries. "That translates to more sales and a greater return on investment for marketers."
Magazine readers as a whole are above-average spenders across a number of purchasing categories.
One Factbook takeaway about advertising's effect includes how 90% of 18-34-year-old women "took action" after seeing an advertisement in both the magazine and its website. Considering the findings that devoted magazine readers are "wealthier, enjoy exclusive luxury products and services, and are more likely to pay premium prices in certain retail categories," that's a promising high-ceiling heading into the new year.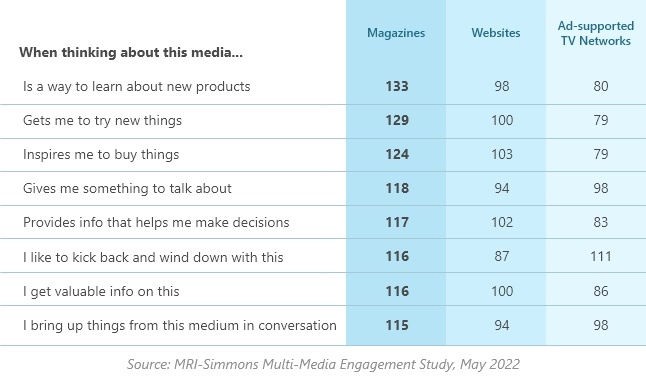 SEE FOR YOURSELF
The Magazine Manager is a web-based CRM solution designed to help digital and print publishers manage sales, production, and marketing in a centralized platform.