More and more, marketers are clicking Like, hitting that Subscribe button, and opening up more of their budgets to influencers.
CreatorIQ surveyed brand and agency marketers late last year and found that 67% had increased their spend on influencer marketing from the year before.
"Even with an estimated market size of $16.4 billion, influencer marketing remains an ever-evolving industry," the report says. "At the helm of this expansion is the growing creator economy, a complex ecosystem of brands, agencies, creators, and consumers."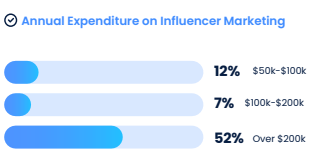 Brand Annual Expenditure on Influencer Marketing (Source: CreatorIQ)
More than half of the brands surveyed (52%) said their annual expenditure on influencer marketing was over $200,000. 
Paid advertising was the most popular influencer marketing engagement (79% for brands, 80% for agencies) and the most effective strategy for agencies (53%). For brands, the most effective strategy was sending products and/or gifts to creators (33% to paid advertising's 28%).
"Brands will continue to tap nano- and micro-influencers for niche and regional campaigns, due to these smaller scale creators' higher engagement rates," the report says. "Look for marketers to incorporate nano- and micro-influencers into more concrete influencer marketing strategies that maximize budgets."
SEE FOR YOURSELF
The Magazine Manager is a web-based CRM solution designed to help digital and print publishers manage sales, production, and marketing in a centralized platform.