Meta has threatened to pull news from its platforms if the California Journalism Preservation Act passes.
Ahead of today's vote by the California State Assembly on AB 886, which would require platforms such as Google and Facebook to pay publishers a "journalism usage fee" of 70% for local content, Facebook's parent company Meta said it would sooner remove news than "pay into a slush fund that primarily benefits big, out-of-state media companies under the guise of aiding California publishers."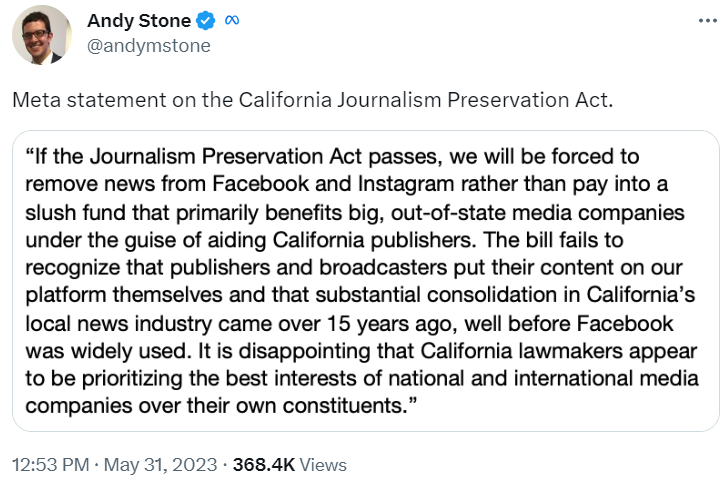 That statement, tweeted by spokesperson Andy Stone, hits many of the same beats his December statement hit when Congress was considering a Journalism Competition and Preservation Act as part of its defense-spending legislation.
What Stone says California's bill "fails to recognize" — just as Stone said about Congress' bill shortly before it was nixed — is that "publishers and broadcasters put their content on the platform themselves."
Assemblywoman Buffy Wicks, who sponsored AB 886, called the threat a "scare tactic that they've tried to deploy, unsuccessfully, in every country that's attempted this."
In her own statement calling Meta's threats "undemocratic and unbecoming," News Media Alliance's Executive Vice President Danielle Coffey recalled Facebook's threats before Australia passed its own similar law. (Facebook did in fact block news at the time, but a compromise was eventually met.)
According to Coffey, that law resulted in $140 million to news outlets as well as increased jobs, showing there is "a demand and economic value for news."
"We have seen in their playbook before," Coffey said, "and they have been publicly admonished in other countries for this behavior, including Canadian Prime Minister Trudeau who criticized Meta's threats, stating that it showed how 'deeply irresponsible and out of touch they are.'"
According to NPR, Google declined to comment on California's bill which, if passed, would then move on to the state Senate.
SEE FOR YOURSELF
The Magazine Manager is a web-based CRM solution designed to help digital and print publishers manage sales, production, and marketing in a centralized platform.