The Fall edition of The CMO Survey, a study of hundreds of marketing leaders about "the future of markets, track marketing excellence, and improve the value of marketing in organizations and in society," was recently released.
No surprise: AI came up.
Overall, the survey, a collaborative effort by Deloitte, the American Marketing Association, and Duke University's Fuqua School of Business, found hope about the economy — 49% felt "more optimistic," compared to only 30.1% in the spring — but "inflation and its attendant uncertainty continues to dampen marketing spending." Marketing budgets as a share of company budgets dropped to near pre-pandemic levels of 10.6% in 2023, with a spending rise of 2.6% "reflecting a 75% drop in growth compared with the figure a year ago (10.4%)."
"Despite inflation hitting marketing spending this past year, CMOs seem to be more optimistic about the coming year, buoyed by stronger financial, customer and brand performance," says Fuqua marketing professor and study author Christine Moorman.
The study says that optimism is tied to performance which has remained strong, with profit growth strengthening from 5.6% in 2022 to 8% this year, company sales growth at 10.8%, and increases in customer retention, customer acquisition, and brand value (up 9.7% from last year's 6.3%).
"B2C Services companies report the highest rate of optimism, with 72% reporting feeling more optimistic," MarTech reported about the survey. "It was followed by B2B product marketers at 67.1%, B2B services at 66% and B2C products at 64.5%."
The survey noted that, "with economic uncertainty, DEI initiatives took a hit." Spending on DEI (or Diversity, Equity, and Inclusion) slowed to 2.3% annual growth, down from 10.7% in September 2022, with less than 50% of those surveyed saying it will be a priority.
"One reason for weaker DEI investments is that companies have not yet established a process to review and/or evaluate marketing decisions from a DEI perspective," Moorman said. " Without such a process in place, it is unlikely that DEI efforts in marketing will succeed."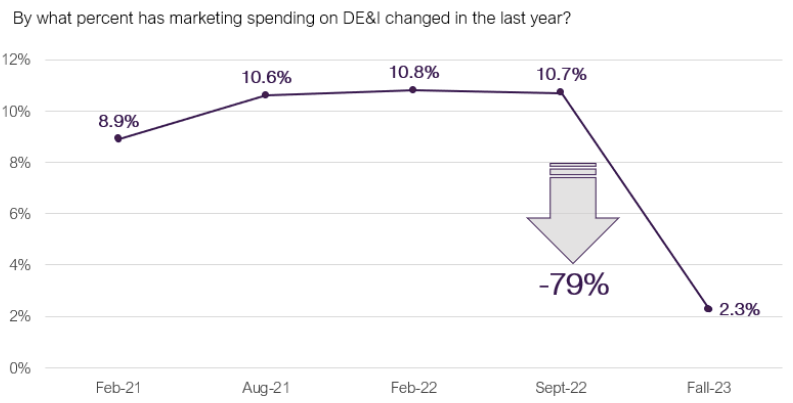 (Source: The CMO Survey)
When it comes to AI, the survey found that 94.1% of those surveyed have started integrating the technology in their marketing processes in the last 3 years, with 60.4% starting in just the last 12 months. These efforts — which, for more than half of the respondents, have included using AI for blogs, website content, social media and email content — have led to a 6.2% rise in sales, a 7% rise in customer satisfaction, and a 7.2% drop in marketing overhead costs. 
"Marketers can increase use of AI to improve marketing ROI by optimizing the content and timing of digital marketing, for programmatic advertising and media buying, for predictive analytics for customer insights, and for targeting decisions," Moorman says. "These are all currently underutilized, with only one third of marketing organizations using AI for these purposes."
SEE FOR YOURSELF
The Magazine Manager is a web-based CRM solution designed to help digital and print publishers manage sales, production, and marketing in a centralized platform.