Earlier this summer, when Google gave The New York Times a sneak preview of its news-story-generating AI product, the presentation went over like a lead balloon.
Perhaps that reaction had more to do with the reported tone-deafness of Google's "unsettling" pitch than it did the receptiveness of newsrooms to AI technologies, however, as more than 75% of news organizations are using AI in "at least one of the areas across the news value chain of news gathering, production, and distribution," according to a new survey.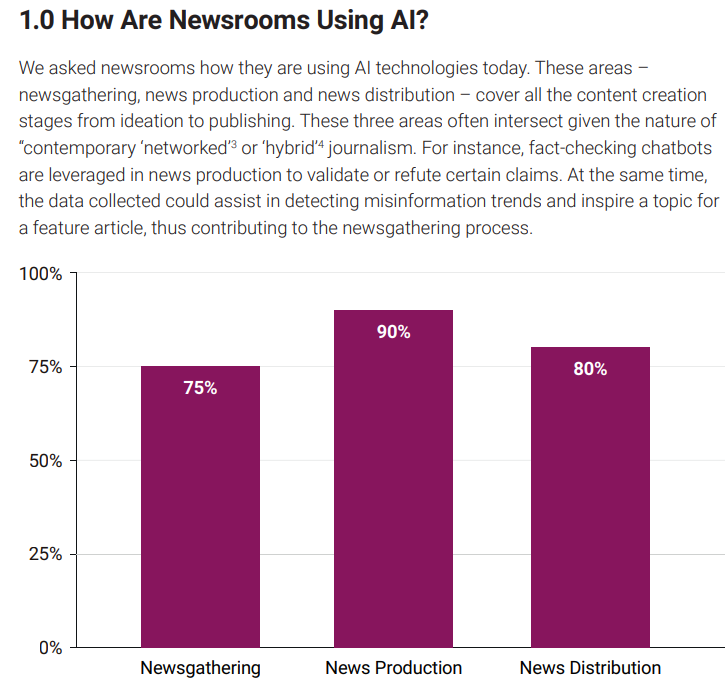 (Source: JournalismAI)
Generating Change, a new report from JournalismAI at the London School of Economics and Political Science (LSE), took a look at how newspapers, magazines, publishing groups, broadcasters, and news agencies from 46 countries are using AI. "Around 85 percent of survey respondents — including journalists, technologists and managers at news organizations — have at the very least experimented with genAI to help with tasks such as writing code, image generation, and authoring summaries," reports LSE.
Most respondents predictably said enhancing productivity and increasing efficiency were their drivers for adopting AI. "They said they hoped to automate monotonous and repetitive tasks," the report says, "thereby streamlining workflows and allowing journalists to engage in 'more creative, relevant, and innovative work.'"
The report says around a third of newsrooms "expressed confidence" in being able to deal with the challenges of AI adoption, though more than 60% were "concerned about the ethical implications of AI integration for editorial quality and other aspects of journalism."
"Journalism around the world is going through another period of exciting and scary technological change," says Charlie Beckett, co-author of the report and Director of JournalismAI professor. "Our survey shows that the new generative AI tools are a potential threat to the integrity of information and the news media. But they also offer an incredible opportunity to make journalism more efficient, effective and trustworthy."
SEE FOR YOURSELF
The Magazine Manager is a web-based CRM solution designed to help digital and print publishers manage sales, production, and marketing in a centralized platform.