The unbiased reviewers of Capterra know plenty about software, so when the site surveys nearly 200 of those software purchasers — all marketers for small to midsize businesses (SMBs) — for the 2023 Marketing App Sprawl Survey, you know the results are going to be valuable.
Not only did two-thirds of respondents say app sprawl has an impact on their companies (using on average only 62% of their applications regularly), but they estimate $43,500 in annual spend on software apps that aren't regularly used.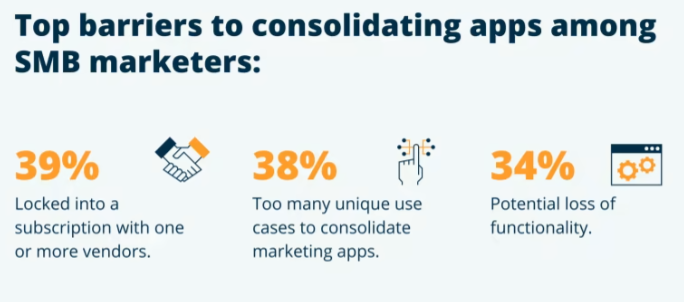 (Source: Capterra)
"While software has undoubtedly transformed the role of marketer, the sheer number of apps can lead to lower productivity, sunk time, and drained budgets," writes Capterra's Meghan Bazaman. "Additionally, navigating multiple apps is especially challenging for SMBs that may lack the IT resources to maintain them or integrate them with current systems."
87% of marketers said their companies have between one and 10 apps specifically for marketing purposes, with 40% of marketing apps not used regularly on a daily or weekly basis. Capterra says the hype around AI should only bring more applications to juggle. 
Instead of buying more apps, Capterra suggests, companies should "invest in continuous tech training to set up marketing teams for success and allow more users to be equipped to use the software your company has already invested in."
If only those trusted Capterra reviewers had a solid all-in-one unified platform with top-ranked training to recommend …
SEE FOR YOURSELF
The Magazine Manager is a web-based CRM solution designed to help digital and print publishers manage sales, production, and marketing in a centralized platform.