CMOs have always found a way to do more with less, so Gartner's latest findings about marketing strategy trends might not come as a surprise to them, but it's a reality we're all better off knowing (and accounting for).
Gartner's annual 2023 CMO Spend and Strategy Survey questioned more than 400 marketing leaders across North America and Europe, and found that 71% believe they don't have the budget to execute their full strategy for the year. Whereas their budget made up 9.5% of total company revenue in 2022, their 2023 budget has fallen to 9.1%, down from both last year as well as pre-pandemic trends.
"Suppressed budgets, increasing costs, and lower productivity are squeezing CMOs' spending power," says Ewan McIntyre, Chief of Research and VP Analyst, Gartner Marketing. "As volatility becomes the new normal, many CMOs are pricing disruption into their 2023 plans."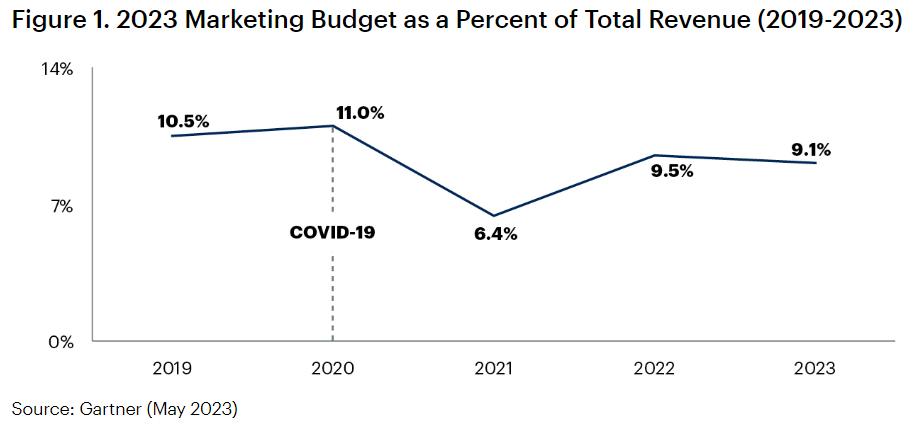 (Source: Gartner) 
In terms of budget allocation, paid media makes up the largest resource (25.6%) of overall 2023 budgets, followed by marketing technology (25.4%), labor (24.6%), and agencies (23.3%).
Within paid media, social advertising and digital video advertising are the top channels seeing the largest increases in investment in 2023, with more being budgeted by 53% and 51% of respondents, respectively.
On the flip side, more respondents (26%) are decreasing their investment in search advertising than any other channel.
"In 2023, CMOs need to become a new type of enterprise leader," McIntyre says. "This goes beyond serving at the helm of the brand but also assuming a more business-focused role that pivots into a period of investing for profitability versus growth." Those that carry on status-quo will face significant challenges in the near-term."
SEE FOR YOURSELF
The Magazine Manager is a web-based CRM solution designed to help digital and print publishers manage sales, production, and marketing in a centralized platform.