The customer, they say, is always right. 
So if the customers surveyed this month by CCW Digital in their annual Consumer Preferences Survey are correct, then marketers have a lot of work to do.
More than half (57.06%) of consumers surveyed said their customer service experiences have gotten worse over the last year. That 3.87% felt their experiences improved is hardly the consolation prize.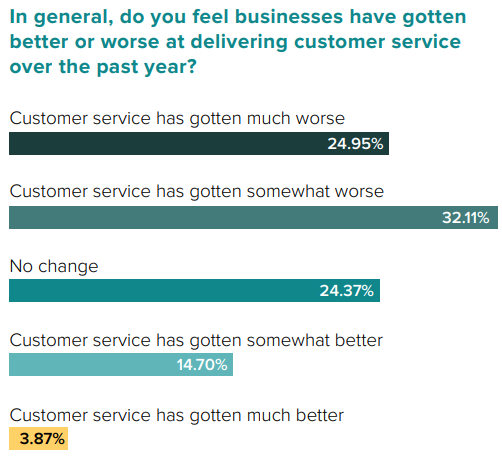 (Photo: CCW Digital)
"The findings of our study send a clear message to C-suite executives: it's time to refocus on customer centricity and prioritize delivering exceptional, personalized experiences that align with customer values," says Mario Matulich, president at CCW's parent company, Customer Management Practice (CMP). "What makes the lack of improvement so concerning is that customer experiences are already weak. Consumers are not faulting brands for failing to move from 'good' to 'great,' but rather for allowing inefficient, impersonal experiences to persist at a time when customer centricity should be a driving force."
CCW Digital highlights personalization, speed, convenience, empathy, and channel accommodations as the main pain points for brands, and underscores them all with a reiteration of how pivotal customer satisfaction is, pointing to the 90% of respondents who are more likely to support brands with quick, easy, and convenient customer service. 
Marketers know it's more than just customers being right; it's that they're the constant drivers for improvement.
"Ignoring these insights puts your brand at risk of falling behind in an increasingly competitive market," says Matulich.
SEE FOR YOURSELF
The Magazine Manager is a web-based CRM solution designed to help digital and print publishers manage sales, production, and marketing in a centralized platform.