Take note, email marketers who also have to occasionally put on the customer-service hat.
While email may be supremely effective for most marketing campaigns, it may not serve as the be-all, end-all communication channel for resolving customer issues. In fact, it may be the worst.
In the second part of its latest study, The State of Customer Service Experience, The Northridge Group asked 1,000 customers about issue resolution, and found that email ranked last as the slowest channel, with 84% saying resolutions take a day or more. Only 6% said it takes a matter of minutes.
Compare that to the fastest issue resolution — "Chat with Agent" — which 43% said takes minutes, 28% said within an hour, and 29% saying a day or more. It surpassed the previous fastest route to resolution — phone call — which 42% said takes minutes.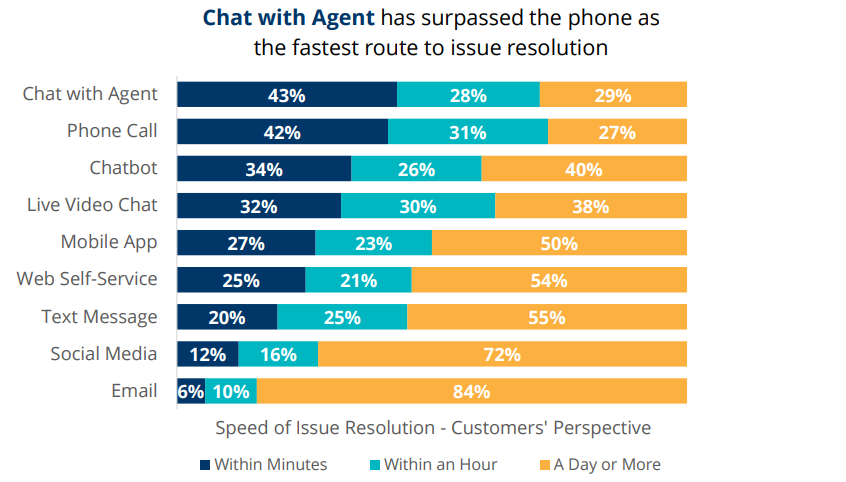 (Source: Northridge Group) 
Chatbot and live video chat were the third- and fourth-fastest routes to issue resolution, highlighting the study's larger point that live agent chat "should now be considered an investment priority."
"The beauty of live agent chat is that it offers customers the human touch along with the likelihood of quick issue resolution," the study says. "At the same time, it provides businesses with higher productivity at a lower cost than phone calls."
The study says that, in 2019, 40% of companies offered chat (live agent or chatbot) in some capacity. Today, that number is 62%.
"Customers and businesses alike are increasingly gravitating to the live agent chat service channel," the study says, "which we believe has the potential to deliver better efficiencies and experiences for all."
Not only do I personally agree with that, but so too do many of our clients here at Mirabel Technologies. Over the last few years, we've proactively done what many of these numbers are now showing is successful — expanding our staff and adding live chat to improve how we serve clients. Their satisfaction and continued business with us is the ultimate reward, but this year, those clients nominated Mirabel's Customer Success team for a Customer Service Award in the 21st Annual American Business Awards.
And we won!
We are honored to be the winner of a Silver Stevie Award, and will consider it a challenge to keep the ever-moving target that is Client Satisfaction our highest priority.
SEE FOR YOURSELF
The Magazine Manager is a web-based CRM solution designed to help digital and print publishers manage sales, production, and marketing in a centralized platform.