I've written about ChatGPT on the Magazine Manager blog before, specifically on how it compares to and might ultimately surpass Google in terms of Search. Now, a new survey by Ipsos asked American adults how they feel about AI-generated content, and across a wide spectrum of media, more than half of the 1,109 respondents prefer their content made by humans.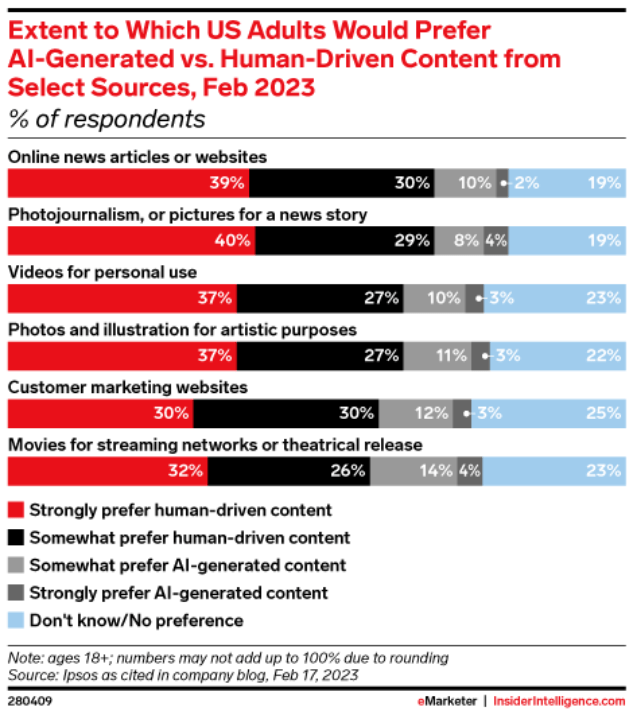 (Source: eMarketer)
When it comes to online news articles and websites, 69% preferred human-driven content. (Same for photojournalism: 69%.) "But for marketing websites and movies," eMarketer writes, "US adults are slightly more open to AI-generated content."
For customer marketing websites, 15% preferred AI-generated content. (Human-driven content was preferred by 60%, and the remaining 25% of respondents didn't know or had no preference.) As eMarketer points out, technology has "carved out a role for itself with its relatively low cost and ability to personalize creative using first-party data."
The survey comes at a time when so many of our headlines, tech and otherwise, are dominated with enthusiasm and alarm about AI's potential. Pew Research Center found that many American are aware of the common situations in which they might encounter AI, such as chatbots and product recommendations, but only 3 in 10 were able to identify each and every one of the survey's examples, which included an email service labeling an email as spam and a security camera sending an alert.
"Awareness of common uses of artificial intelligence is a first step toward broader public engagement with debates about the appropriate role — and boundaries — for AI," writes Brian Kennedy, Alec Tyson, and Emily Saks in the Pew Research Center article.
In regards to that spectrum of enthusiasm and alarm, 15% of those surveyed in December said that they are more excited than concerned about AI's increased use in daily life, while 38% are more concerned than excited. Just under half (46%) had an equal mix of concern and excitement.
A recent survey by SEO specialist Kevin Indig has 11.5% of consumers willing to buy an AI-recommended product without further research, against 16.1% who would not. "The majority of participants seem to be torn," Indig writes.
In marketing, where acceptance of AI-generated content is more tolerated, there does feel like there's more excitement than concern in the potential. A Chatmeter survey of consumers who had used reviews to help make decisions — almost all of whom had posted a review themselves — found that 39% liked the idea of using tech like ChatGPT for review information.
"Consumers want to engage and want to do so across a multitude of platforms," says Cynthia Sener, Chatmeter's president, Go-to-Market. "It's critical for marketers to arm themselves with technology that can optimize both solicited and unsolicited customer feedback. Consumer preferences and habits are evolving, but the right tools can help translate the data into a direct competitive advantage."
SEE FOR YOURSELF
The Magazine Manager is a web-based CRM solution designed to help digital and print publishers manage sales, production, and marketing in a centralized platform.