In its 6th year of compiling revenue-marketing insights, Demand Spring has seen steady growth in familiarity and understanding of the term.
Unfortunately, establishing "marketing maturity" with revenue marketing strategies and tactics hasn't had the same overwhelming growth.
In its 2023 Revenue Marketing B2B Benchmark Report, Demand Spring found that 97% of marketers surveyed are familiar with revenue marketing and its focus on revenue as the ultimate goal, up from just 64% as recently as 2018. However, 35% said they're lacking in revenue marketing maturity. 46% rated their revenue marketing maturity as moderately mature, and 19% rated theirs as very mature.
"It suggests that organizations have established some level of marketing maturity," the report says. "However, it also indicates that there is ample opportunity for growth and improvement in developing more advanced Revenue Marketing strategies and tactics."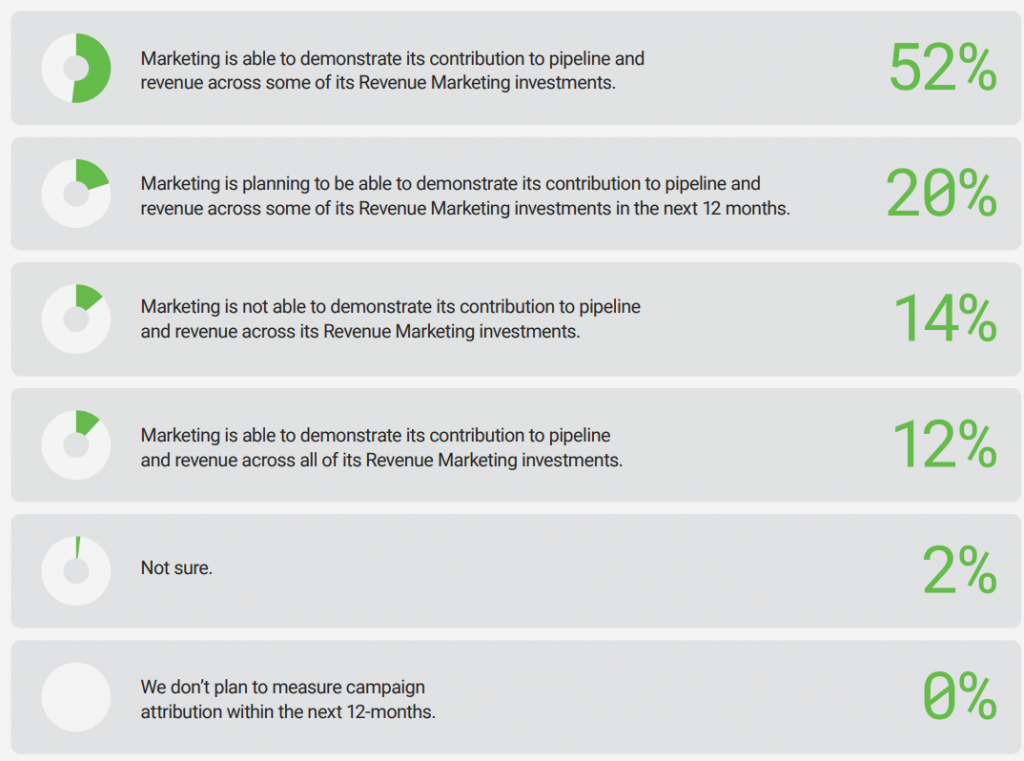 (Source: Demand Spring)
85% of respondents believe their revenue marketing priorities are aligned with the goals of their businesses, "indicating that these marketers feel confident that their marketing strategies are contributing to the overall success of their business." And moving forward, 66% of respondents said their top priority would be "improving lead/account conversion rates," 64% said "generating demand to acquire new customers," and 62% said "improving the ability to measure and analyze marketing impact."
As for their obstacles, 30% cited marketing and sales alignment, 29% said poor data limiting marketing, 27% said talent, and 26% said budget.
"Marketing and sales teams often struggle to forge a productive, synergistic partnership," the report says. "Making revenue and growth targets a shared responsibility for both teams can improve performance and create a more productive culture. Shared accountability for these targets leads to more effective collaboration and communication, and ultimately to higher conversions and improved customer experience."
SEE FOR YOURSELF
The Magazine Manager is a web-based CRM solution designed to help digital and print publishers manage sales, production, and marketing in a centralized platform.