LinkedIn just announced a ton of B2B marketing tools it will be launching, and it's no surprise why marketers are excited.
Social media gets results.
In fact, Wpromote and Ascend2 recently collaborated on the 2023 State of B2B Digital Marketing report, surveying 348 B2B marketers and finding social media to be a "full-funnel priority."
"Social media was the most effective channel for driving B2B revenue last year, and that hasn't changed," the report says. "In fact, even more marketers are now jumping aboard: a full 60% named social as the top channel for 2023 vs. 50% in 2022."
Half of those surveyed said social media was the biggest contributor to achieving their top-of-funnel goals (more than any other tactic, and up 3% YoY), and 46% said the same for achieving their bottom-of-funnel goals (again, more than any other tactic, and up 10% YoY).
"Social is becoming a true full-funnel powerhouse for B2B marketers," the report says of social media's first appearance topping the bottom-funnel channels. "This is likely at least partially due to the intense digital transformation that accelerated through the pandemic and has continued apace; as B2B buyers have demanded a more B2C-esque experience, brands have risen to the challenge by prioritizing digital throughout the funnel."
And as "improving customer service" rose in the ranks as 2023's biggest marketing challenge — up two spots from 2022's survey — 70% of those surveyed said social media would be seeing a budget increase, more than any other channel.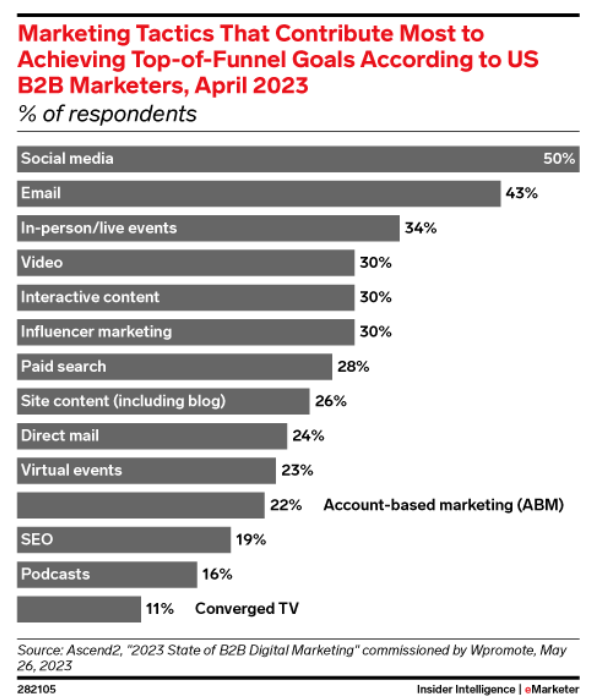 (Source: Insider Intelligence) 
In breaking down the report's findings, Insider Intelligence added their own telling insight from their B2B Marketing Trends to Watch for 2023 report, specifically how the modern B2B Buyer is largely 26-40 years old (59%). "Millennials and Gen Zers are becoming more dominant in the B2B buying process," Insider Intelligence says, "expecting digital-first experiences that mirror their B2C journeys."
SEE FOR YOURSELF
The Magazine Manager is a web-based CRM solution designed to help digital and print publishers manage sales, production, and marketing in a centralized platform.