The Magazine Manager blog doesn't normally dive too deep into the streaming world, but a recent Marketing Brew article shared something too fascinating to ignore.
"Every single premium subscription streamer saw churn rates in June 2023 increase compared to the year prior — with the exception of Peacock, which saw churn rates decline 2%, according to data from Antenna."
The reason? Good ol' fashioned email marketing.
"We know that email, in particular, is a channel that works," says Annabella Goff, Peacock's senior director of CRM.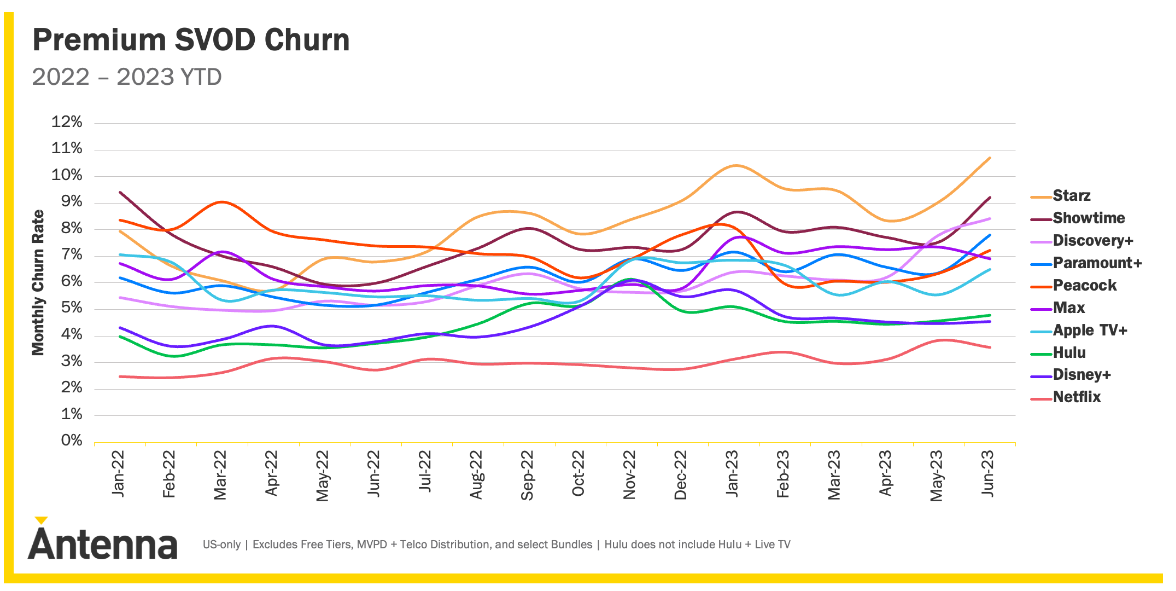 "Weighted Average Category churn has increased +34.5% YoY from 4.6% in June '22 to 6.1% in June '23. Compared to June 2022, every Premium SVOD with the exception of Peacock has seen an increase in churn." (Source: Antenna)
Marketing Brew quotes Goff as saying its users are sent 3-5 emails per week depending on their activity, which Marketing Brew calculates to several billion emails sent annually.
"Late last year," Marketing Brew writes, "an email campaign in which more than 40 million users received year-in-review breakdowns of their viewing activity on Peacock translated to a 20% reduction in churn rate among paid subscribers in a 30-day period, as well as a 6% higher upgrade rate for free users who moved into Peacock's paid tier, Goff said."
Goff says Peacock tracks and analyzes viewing behavior when users are signed in, then sends program recommendations to more than 500 separate audience segments. And like any good marketer, they rely on results more than simply open rates.
"Goff and her team track open rates to determine if they've stuck the landing, but they are less interested in tracking clickthrough rates — primarily because most people are watching on large-screen devices, not where they check their email. Instead, the team measures the seven-day lift on viewership of individual titles highlighted in emails, as well as any lifts in viewership among users targeted in email campaigns. Peacock consistently sees double-digit lifts on both, Goff said."
SEE FOR YOURSELF
The Magazine Manager is a web-based CRM solution designed to help digital and print publishers manage sales, production, and marketing in a centralized platform.