More than 300 media executives from more than 50 countries and territories were surveyed in this year's "Journalism, Media, and Technology Trends and Predictions" report from The Reuters Institute for the Study of Journalism. And as can be expected, the results should prove enlightening to publishers as they traverse 2023, particularly with an eye toward technology.
"News organizations that have not yet fully embraced digital will be at a severe disadvantage," says Nic Newman, Senior Research Associate, in the report's Executive Summary. "The next few years will not be defined by how fast we adopt digital, but by how we transform our digital content to meet rapidly changing audience expectations."
In addition to putting a spotlight on the various pressures that Big Tech will feel this year, Newman's overview highlights the advances — and the accompanying existential and ethical questions — of innovations such as artificial intelligence, which he says "offers the chance for publishers (finally) to deliver more personal information and formats, to help deal with channel fragmentation and information overload."
Looking at the numbers crunched, the report found that 80% of publishers said investing in subscription and membership will be one of their most important revenue priorities.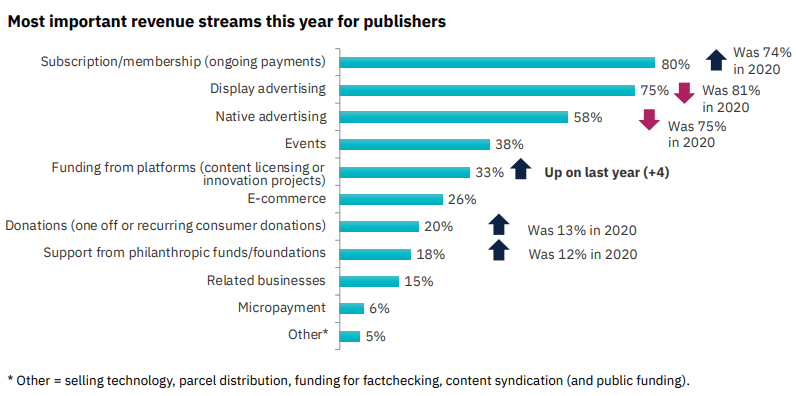 (Source: Reuters Institute for the Study of Journalism)
Just three years ago, that was the third-highest priority behind display advertising and native advertising. "Despite the squeeze on consumer spending," the report says, "over half (68%) still expect some growth in subscription and other paid content income this year."
The retention of existing subscribers will also be a focus in 2023 for publishers, with "hope they can keep some growth through special price offers or by bundling more premium value such as newsletters and events."
Ultimately, Newman concludes that the "prevailing mood" of publishers is of uncertainty and concern about the coming year, particularly with negative economic indicators and widespread news avoidance and fatigue. "Companies that have already completed their digital transition and have a robust subscription businesses or diversified revenue remain in the best position to ride out the storm," he says, "but those that are over-reliant on print or advertising have a tough few years ahead."
"The next few years will be defined more by how we can transform our digital content into something that feels more relevant and more useful to different groups. In this process new technologies can be our ally in tailoring content more precisely to different audience needs."
Publishers — are you putting a higher priority on subscriptions in 2023? Are you looking at added bonuses you can offer existing subscribers? Let us know in the comments below.
SEE FOR YOURSELF
The Magazine Manager is a web-based CRM solution designed to help digital and print publishers manage sales, production, and marketing in a centralized platform.