A report from Merkle is again shining a light on brands and marketers as they operate amidst ongoing privacy issues, though the surprising takeaway may just be the seemingly lack of concern some are showing.
The Q4 2022 Performance Media Report surveyed 250 "marketing decision-makers" across a variety of industries to gauge their mood and methods. Of those, only 29% said they strongly agreed with the statement: I'm concerned about the impact of the cookieless future on my business.
"Since our previous survey," the report says, "brands have not made much progress on their businesses' readiness for first-party data capture and strategy. Twenty-four percent of respondents were still 'not yet discussing' or 'starting conversation but not taking action,' and the number of brands 'beginning to take action' was just one point different."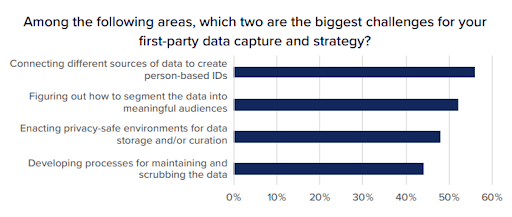 SOURCE: Merkle's Performance Media Report, Q4 2022
Those surveyed noted that the two biggest challenges for first-party data capture and strategy were "connecting different sources of data to create person-based IDs" (56%) and "figuring out how to segment the data into meaningful audiences" (52%).
Segmenting first-party data in a single, unified platform is a task that the best CRMs are capable of, but the challenge of implementing and committing to the strategy is one that all platform users face. Even as Google continues to punt on the complete elimination of third-party cookies, brands shouldn't, as the report warns, "get lulled into a false sense of security."
"Big changes are coming and getting consent management and privacy solutions right must remain top priorities."
For more information on Q4 marketing and ad spend trends, download the full report at merkle.com.
SEE FOR YOURSELF
The Magazine Manager is a web-based CRM solution designed to help digital and print publishers manage sales, production, and marketing in a centralized platform.