Customer relationship management is an important part of any successful business, and the publishing industry is no exception.
In general, a CRM can improve all your publication's functions, including:
Managing contacts, new and old
Improving production time
And much, much more!
A CRM for magazine publishers takes the specific needs of publishers into account. They include industry-specific features, like subscription management, ad invoicing, and even flat-planning, to separate themselves from generic CRM software.
(If you're not sure what qualities to look for in magazine publishing software, check out this article.)
Are you ready to leverage the power that comes with a magazine CRM software? Here are 5 platforms worth considering:
1. The Magazine Manager

The Magazine Manager by Mirabel Technologies (www.mirabeltechnologies.com) was one of the first web-based CRMs made specifically for the publishing industry.
It's an enterprise-level magazine management software used by over 17,000 publications and media products in 22 countries. It has the most positive reviews by software industry review site Capterra and offers a suite of compatible products.
The popularity of the software stems from a rich features suite and its understanding of the publishing vertical.
Some of The Magazine Manager's features include the following:
In addition to these magazine-specific features, The Magazine Manager unifies sales, billing, production, and digital marketing data into one robust platform.
Users of The Magazine Manager frequently point out that the integration of publishing production and order data gives this publishing CRM a significant advantage over generic customer relationship management platforms.
All in all, if you're looking for a CRM solution that can address all areas of your publication, The Magazine Manager is the perfect choice.
2. Salesforce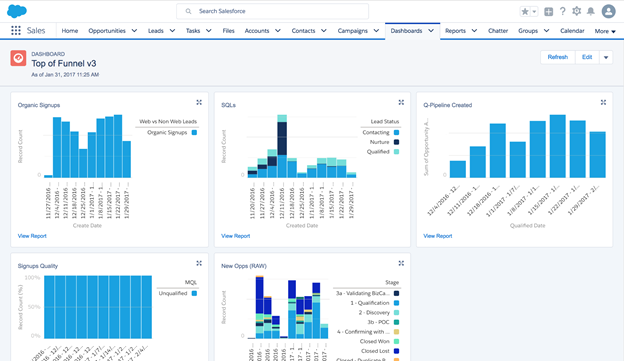 One of the biggest players in the CRM industry is Salesforce (www.salesforce.com). It's a cloud automation software that's built to handle enterprises.
Some of its key features include the following:
Contact/account, pipeline, and task management
Territory and quota management
Desktop integration
Reporting
Customer contract management
Forecasting
Though this software isn't specifically designed as a CRM for magazine publishers, Salesforce addresses media-specific pain points through its sister product Media Cloud.
Media Cloud makes it easy to monetize and grow media and entertainment companies. It's capable of managing subscriptions, as well as ad and content sales.
Additionally, the digital tool provides process automation tools and industry-specific data models to simplify everyday publishing operations.
If you run a larger magazine or expect your magazine to see exponential growth over a short period of time, Salesforce is the ideal choice. It's a very powerful system that encompasses all your business needs into one easy-to-use platform.
However, Salesforce's robust library of features is best suited for those who have technical experience or ample time to learn all it has to offer.
Otherwise, for a smaller publication with less resources, users may not be able to take full advantage of the platform.
3. LaunchPad Media Management
Similar to The Magazine Manager, LaunchPad is a CRM that's specifically designed to support print and digital publishers. Its basic features include the following:
Prospect management, an opportunity pipeline, and sales forecasting
Mobile access to customer records, invoices, sales history, and analytics reporting
Real-time production run sheet and orders
Digital file management, flat planning, and versioning
Google Ad Manager integration and a Media Planner
Invoicing and accounting integrations
Sponsorship and exhibit management for events
Additionally, the publishing software is equipped with a workflow that allows publishers to manage every step of their process, and an ad CRM, where users can manage ad clients more efficiently.
However, LaunchPad has limitations as far as support staff and app integrations.
Overall, it's a very capable magazine CRM that provides publishers with solutions to their most common pain points.
4. HubSpot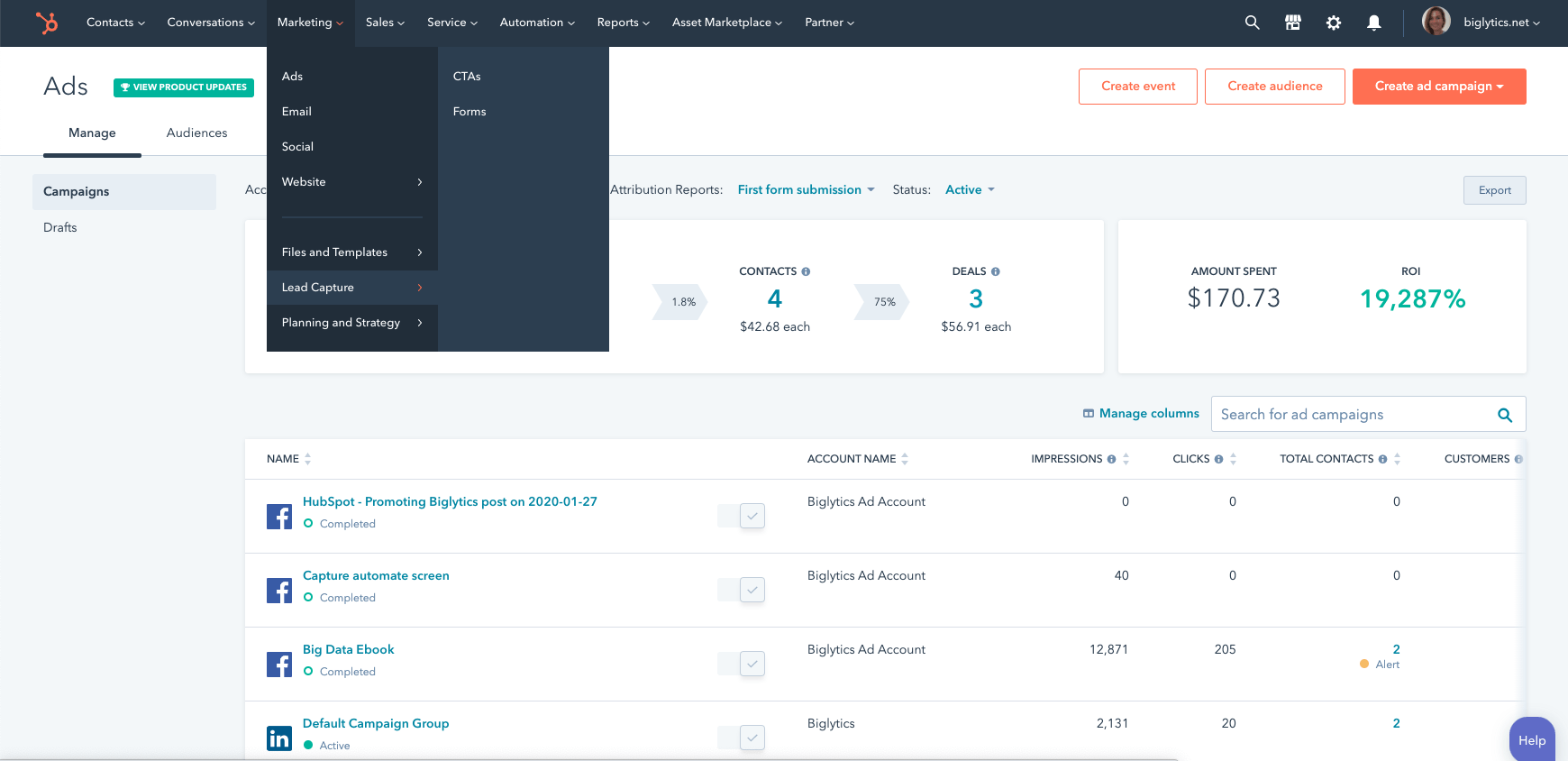 HubSpot's platform is built around its marketing automation, specifically the "inbound marketing" strategies it innovated.
The free Marketing Hub features:
email marketing

landing pages

contact management

traffic and conversion analytics
HubSpot's CRM gives marketing and sales teams many features that translate to their publishing needs, even if the software isn't designed specifically for the industry.
The question, then, is whether the quick-to-climb cost of their add-on options and extra sales tools makes the CRM prohibitive for publishers.
5. Pipedrive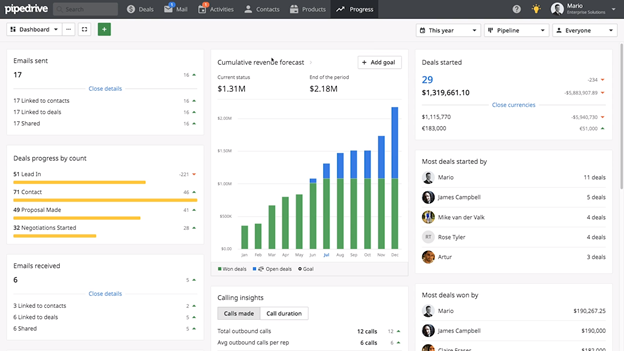 Pipedrive (www.pipedrive.com) is a CRM solution for sales teams in small to medium-sized businesses. They host fairly sophisticated CRM tools on an uncomplicated interface — all at a decent price point.
Fundamental features of the software include the following:
Deal and contact management
Data importing and exporting
Customizable pipelines
Meeting scheduling
Reports for deals, sales activity, recurring revenue, and revenue forecast
Opting for a more generic system means that users don't get all the publisher-specific features that other platforms on this list have.
Yet, if you're simply looking for a CRM to handle basic workday operations, then Pipedrive might be a good choice.
What to Consider when Choosing a CRM
With tons of CRM software available to choose from, how do you know which one is right for your business?
When choosing a CRM for your publication, be sure to consider the following:
i. Company size
While platforms like Workbooks are made to support small to medium-sized businesses, platforms like Salesforce are more suited for enterprises.
Opting for a CRM that's too robust as your publication is still growing can result in a platform that you don't have the manpower to take full advantage of.
On the other hand, choosing a software that's suited for small businesses may leave much to be desired if your publication is more established.
That being said, it's important that you're honest about your business' size when choosing a CRM.
It's also important to take your company's potential growth into account when choosing a CRM software. If your publication is growing at a tremendous rate, choose a CRM that can handle its future size.
ii. Complexity of the software
Initially, it seems desirable to opt for the platform with the most extensive features list or biggest brag about AI capabilities. However, this may not always be the best option for your business.
Opting for a simpler solution doesn't mean you're compromising quality. Establish a list of features your business cannot go without, a list of necessities. Everything outside of that list should be seen as a bonus, but not a need.
As long as the CRM is equipped with the features your business absolutely needs, you should be in good shape moving forward.
iii. Integrations
The integration capabilities of the CRM you're considering must be one of the key factors guiding your decision-making process.
Third-party integrations make it easy to import existing data from other platforms into your CRM. This is crucial, as it allows you to manage data from all channels in one convenient place.
You can also maintain existing magazine layouts and invoice templates, which would otherwise be tedious to recreate.
If you plan to continue using existing tools for flat-planning, subscription management, or email marketing, make sure that the CRM you choose can integrate with them.
If not, you run the risk of losing time, money, and irreplaceable data.
iv. Budget
This is the biggest factor to consider when making any company decisions, and CRMs are no different.
There's no need to push your budget to its limits by opting for the most expensive and robust CRM out there.
As long as your CRM is capable of the features that your business needs, you should be able to leverage it effectively.
Choose a CRM that's within your budget, and remember that you can always upgrade to a more complex system as your business, and budget, grows.
Conclusion
A CRM can provide tremendous value to your publishing business.
It streamlines processes and automates cumbersome everyday tasks. It can even help you save time and money and generate more paid subscriptions.
Remember to choose the CRM that best suits your business needs, size, and budget.
If you're ready to get started with a robust CRM designed specifically for publishers, check out The Magazine Manager. Click below to get started.
SEE FOR YOURSELF
The Magazine Manager is a web-based CRM solution designed to help digital and print publishers manage sales, production, and marketing in a centralized platform.