TikTok recently announced an ad program called Pulse Premiere, an expansion of its previous Pulse platform that will give advertisers choice and control where ads are placed and, as they said in their announcement, "help brands stay on the pulse of the most culturally impactful moments on the platform."
According to TikTok, Pulse campaigns increased "brand recall" by 9.8% and awareness by 6.8%. With Pulse Premiere, advertisers can match their ads to content in a variety of categories, "for specific tentpole events as well as evergreen, ongoing content."
Publishers will also have more opportunities to "monetize their content on TikTok directly through a revenue-sharing model and … amplify existing partnerships with media on TikTok."
So far, Conde Nast, Buzzfeed, Hearst Magazines, Dotdash Meredith, Vox Media, and NBCUniversal have already been announced as inaugural partners.
TikTok's announcement comes amidst growing concerns about privacy and the app's ties to China, including last week's announcement by Montana that it would be banning the app; TikTok filed a lawsuit against the state on Monday.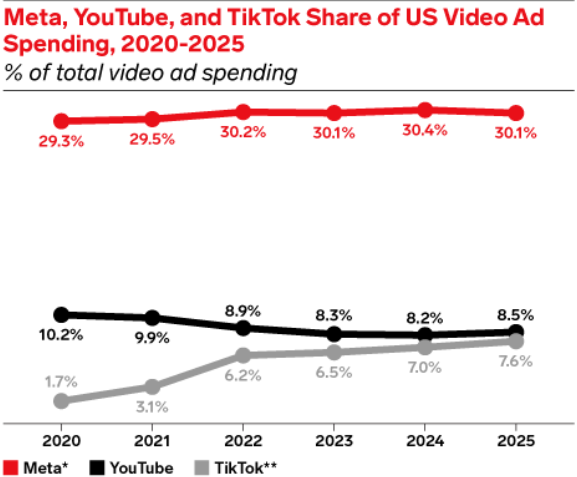 (Source: Insider Intelligence)
But alongside the controversy comes more numbers showing its meteoric growth, including a recent Insider Intelligence forecast that, by 2025, TikTok will have a 7.6% share of U.S. video ad spending, up from 6.5% this year. It's still a ways away from Meta's 30.1% projected share for 2025, but right on the heels of YouTube's projected 8.5% (which itself is only slightly up from 8.3% this year).
Guaranteeing suitable space for premium publishers also addresses what TechCrunch described as "potential concerns over ad placement amid user-generated content that, in years past, has caused disruptions to YouTube's ad revenue."
SEE FOR YOURSELF
The Magazine Manager is a web-based CRM solution designed to help digital and print publishers manage sales, production, and marketing in a centralized platform.