Last week, TikTok announced its Search Ads Toggle, which lets advertisers serve ads that will appear in user feeds alongside organic search results. The new feature "leverages advertisers' existing In-Feed Ad creative," TikTok says, allowing brands to "extend the reach of their campaigns to high-intent users who are seeking information relevant to their business, driving incremental engagement and revenue potential."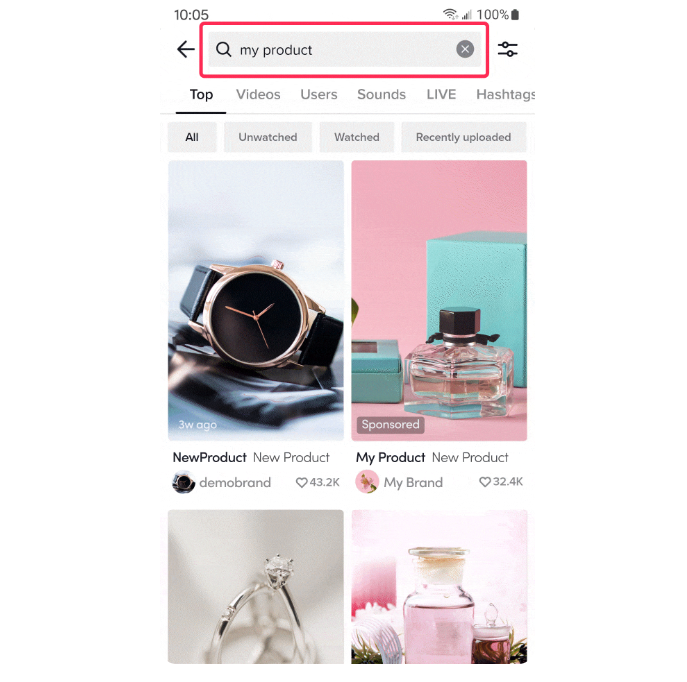 Sponsored content as it would appear in-feed (Source: TikTok)
Ads, which will be labeled as sponsored, will appear among queries in the app's For You feed. In its announcement, TikTok says 70% of ad groups see "more efficient conversions coming from search ads," providing Clinique UK (with a 441% conversion rate increase) and DIBS Beauty (with a 22% more efficient CPA) as examples of brands who've already found success with the feature.
News of TikTok's latest feature was met with a variety of reactions, from disappointment ("having an ad-free search bar was fun while it lasted") to skepticism ("keyword queries and hashtags are often pretty useless, at least in my experience"). 
MediaPost noted that, between factors like a negative-keyword option and the reliance on relevant queries, there's "no guarantee that enabling the Search Ads Toggle will result in ads being served." Insider Intelligence says the feature "should allow the app to make inroads into search marketers' budgets — and catch up to players like Instagram and Pinterest, who've had this feature for a while."
But with a billion-and-counting monthly active users and an ever-increasing importance to publishers, it'll be interesting to see how seismic TikTok's next big move actually is.
SEE FOR YOURSELF
The Magazine Manager is a web-based CRM solution designed to help digital and print publishers manage sales, production, and marketing in a centralized platform.