Are you hitting the sweet spot?
Because as far as posting on LinkedIn goes, I just did!
Sprout Social reviewed the social media engagement of more than 400,000 profiles and heat-mapped the best times for the highest engagement on LinkedIn, Facebook, Instagram, Twitter, Pinterest, and even TikTok.
On LinkedIn, for instance, the best times to post on Company pages are Tuesdays and Wednesdays from 10 a.m. to noon.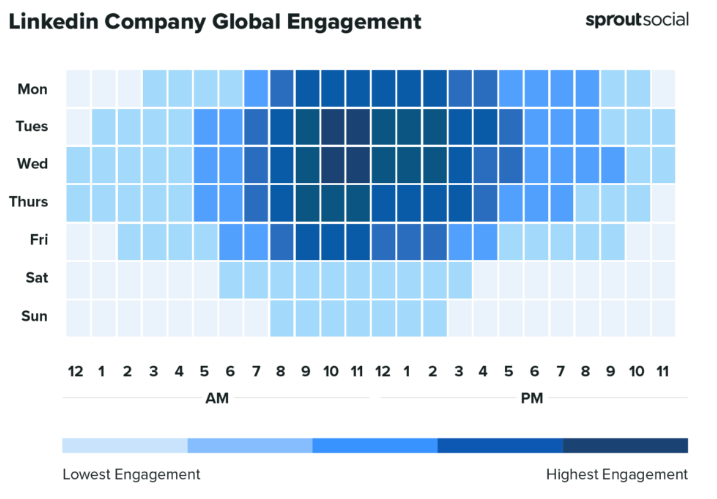 (Source: Sprout Social)
"Because LinkedIn content is centered around professional thought leadership and career growth," Sprout Social says, "it makes sense that a majority of audiences engage with this content throughout their working day. By midday, there's buzz on the platform."
LinkedIn's engagement is consistent with the best times to post on social media, in general. According to Sprout Social data, those times are:
Mondays: 10 a.m. – noon
Tuesdays: 9 a.m. – 2 p.m.
Wednesdays: 9 a.m. – 1 p.m.
Thursdays: 9 a.m. – noon
Fridays: 9 a.m. – 11 a.m.
Sundays, unsurprisingly, are considered the worst days to post on all social media platforms.
As far as other outlying engagement times, Pinterest's Mondays are considered as bad as Sundays, Facebook's engagement appears to start earlier on most weekdays (8 a.m.), and TikTok's best times are later in the day (beginning at 2 p.m. on Tuesdays and Wednesdays, and 3 p.m. on Thursdays).
"Each social platform has its benefits depending on your goals, content type, and audience," Sprout Social says in its report, recommending social media data analysis to drill down into KPIs if engagement isn't where it needs to be.
"Of course, knowing which days you get the most engagement helps you reach those goals as well."
SEE FOR YOURSELF
The Magazine Manager is a web-based CRM solution designed to help digital and print publishers manage sales, production, and marketing in a centralized platform.