For the first time in nearly a year — or, as many insiders are characterizing it, "far too long" —  YoY ad spending in the United States actually rose, up 2.5% in May, according to Standard Media Index's U.S. Ad Market Tracker.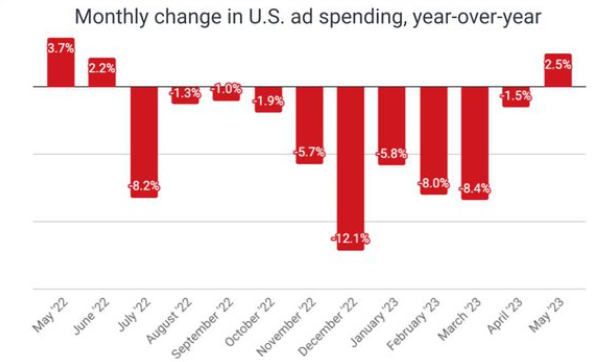 SMI's U.S. Ad Market Tracker (from MediaPost)
It is the first expansion since June 2022's 2.2% growth, which was followed by the -8.2% dip in July.
MediaPost's Joe Mandese called the growth "the first material sign that the U.S. ad marketplace is pulling out of a recession that began in July 2022." 
Additionally, digital media share of total media spending rose to 60%, a share increase up from 56% a year ago (in May 2022) and from 47% three years ago (in May 2020).
SEE FOR YOURSELF
The Magazine Manager is a web-based CRM solution designed to help digital and print publishers manage sales, production, and marketing in a centralized platform.