When it comes to knowledge about email deliverability, not-knowing seems to be the only thing everyone knows.
For its 2023 State of Email Deliverability report, Mailgun by Sinch surveyed nearly 2,000 of its customers and other professionals responsible for hitting send for their brands and companies. More than a quarter (27%) are unsure of their delivery rates, more than a quarter (27%) couldn't explain their organization's email infrastructure, and almost 25% weren't sure if they've been recently blacklisted.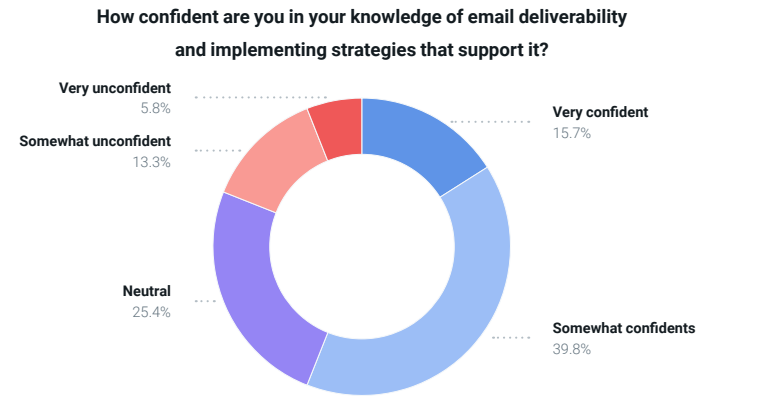 (Source: Mailgun by Sinch)
"We heard from people who told us they abandoned the [survey] process because they simply didn't know enough to answer everything," the report says. "The uncertainty isn't exactly surprising given the variety of businesses, email program complexity, and send volumes. Still, all these things are important to know, especially if you place importance on getting to the inbox."
The report spells out some of the tangible consequences, from lack of email list hygiene (which 38.7% rarely or never practice) to ignorance of sender reputation (which 38% don't monitor). In terms of cleaning lists, more than 50% aren't taking advantage of these automated processes.
"Paying attention to list hygiene is important for email deliverability, but it also helps email teams get a more accurate picture of how their campaigns perform." the report says. "If you're sending emails to invalid addresses, outdated contacts, and inactive subscribers, your metrics will suffer."
Of the benefits seen by those who clean their lists at least quarterly, "fewer unsubscribes and spam complaints" was the biggest benefit for 28.5% and "better engagement metrics" was next for 24%.
"You will definitely see conversion and engagement rates from email increase once you remove dead weight from your list."
SEE FOR YOURSELF
The Magazine Manager is a web-based CRM solution designed to help digital and print publishers manage sales, production, and marketing in a centralized platform.