Echobox recently released its Publishing Trends Report 2023, summarizing the "challenging year" that was 2022 but also looking optimistically ahead, particularly at how those circumstances have "driven innovation at an astonishing pace."
And whether they know it or not, savvy publishers may already be utilizing the most-forward thinking innovation in audience development.
Traffic Concerns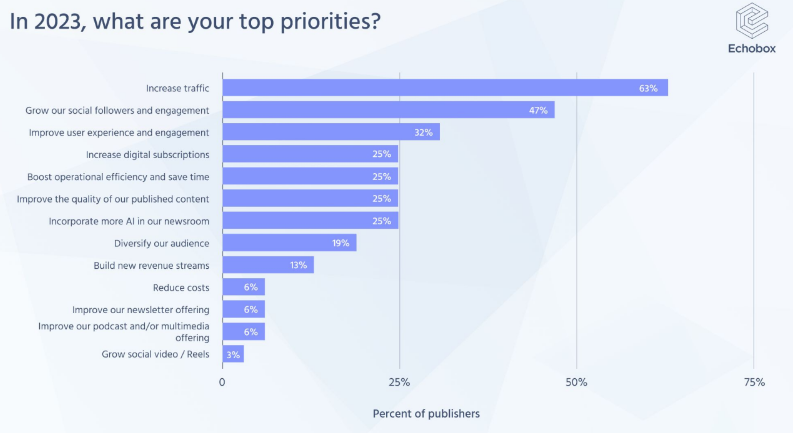 (Source: Echobox)
Declining traffic continues to be an issue for publishers, with 47% saying it's their biggest challenge. In fact, the only challenge that outranked it was "staying ahead of Facebook algorithm changes" (53%), with the platform remaining "by far, publishers' largest source of social referral traffic."
In ranking 2023's top priorities, 63% of publishers said they are focused on increasing traffic, with 47% looking to grow their social media followers and engagement.
"This in itself is perhaps reassuring to publishers, who after years of continuous upheaval may finally have found a measure of equilibrium," the report says. "It is often said that what businesses abhor most is uncertainty, and if these results are anything to go by, it seems that businesses are becoming more sure of their path forward with the establishment of longer term targets for growth."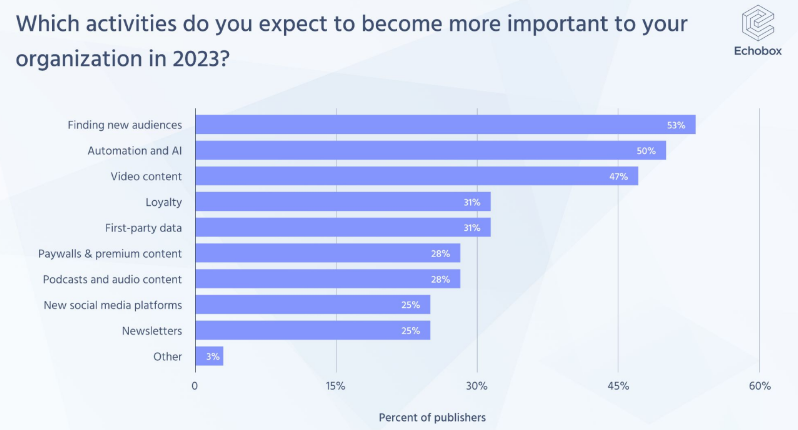 (Source: Echobox)
When asked about which activities they expected to become more important in 2023, most publishers had their traffic concerns in mind, as 53% said finding new audiences. 
Additionally, 50% said automation and AI, while 47% said video content.
AI in Publishing
Along with half of the surveyed publishers expecting AI and automation to be more important, only 13% said it was not very (or not at all) important. When it came down to whether the success of ChatGPT and DALL-E had changed the way publishers thought about using AI, it was almost split down the middle (48% said yes, 52% said no).
"Publishers reported seeing many possibilities in ChatGPT in particular, from helping to provide background information for current events pieces to developing ideas for content," the report says. "No doubt it will take time for these new applications to prove their dependability, as well as a series of high-profile early-adopters to demonstrate their utility and reliability and spur on uptake in the industry more broadly."
New Video Pivots
That 47% who said video would be more important to them in 2023 underscores, according to the report, "broader industry-wide efforts to bring in younger followers." TikTok, for instance, soared up the ranks to No. 2 (at 59%) behind Instagram (66%) as the social media platform that would be more important in the coming year. 
"Just last year, TikTok languished [between] Twitter and LinkedIn in importance, with only 20% of publishers thinking it would play a more considerable role in their strategy," the report says. "Fast forward one year, and that portion has nearly tripled."
Continued Newsletter Growth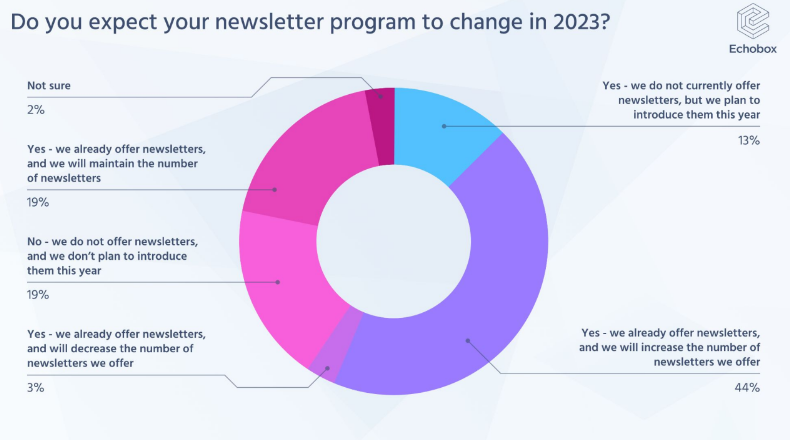 (Source: Echobox)
While the report says newsletter strategies have slowed from their "phase of rapid expansion," more than half of the publishers surveyed said they're expanding their newsletter offerings, along with 19% maintaining the number of newsletters they currently offer.
"In last year's report, nearly one-quarter of respondents planned to start producing newsletters, whereas only 13% plan to start in 2023," the report says, "perhaps reflecting publishers' successful endeavors in 2022 to launch a newsletter program."
The report highlights how newsletters in particular give publishers an opportunity to gather first-party data, explaining, perhaps, how customer-data protection wasn't any more important to publishers this year than it was last year.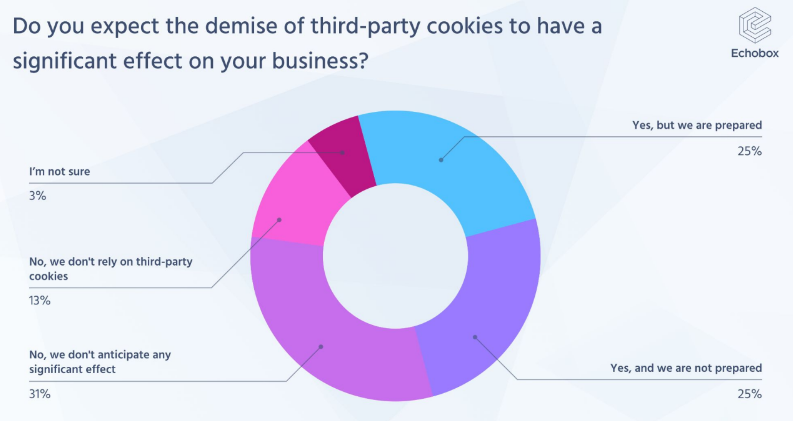 (Source: Echobox)
"The use of newsletters as data-collection tools could also potentially explain why although a small majority of publishers believe that the demise of third-party cookies will be significant for their business, only a quarter feel ill-prepared," the report says.
Sure, everyone has AI and video leading the wave of the audience-expansion future, but leave it to the tried-and-true newsletter to really set up forward-thinking publishers for success.
SEE FOR YOURSELF
The Magazine Manager is a web-based CRM solution designed to help digital and print publishers manage sales, production, and marketing in a centralized platform.