Content is king, as they say, but recent research by Toolkits and National Research Group has found a hierarchy even on that tier.
36% of consumers surveyed said they trust brand-published content more than content from traditional media sources and organizations. That includes newspapers, magazines, TV, and news sites.
"Only 26% said they trust brand content less than they do content published by media companies," writes Toolkits' Shareen Pathak. "The rest — 38% — said they were unsure."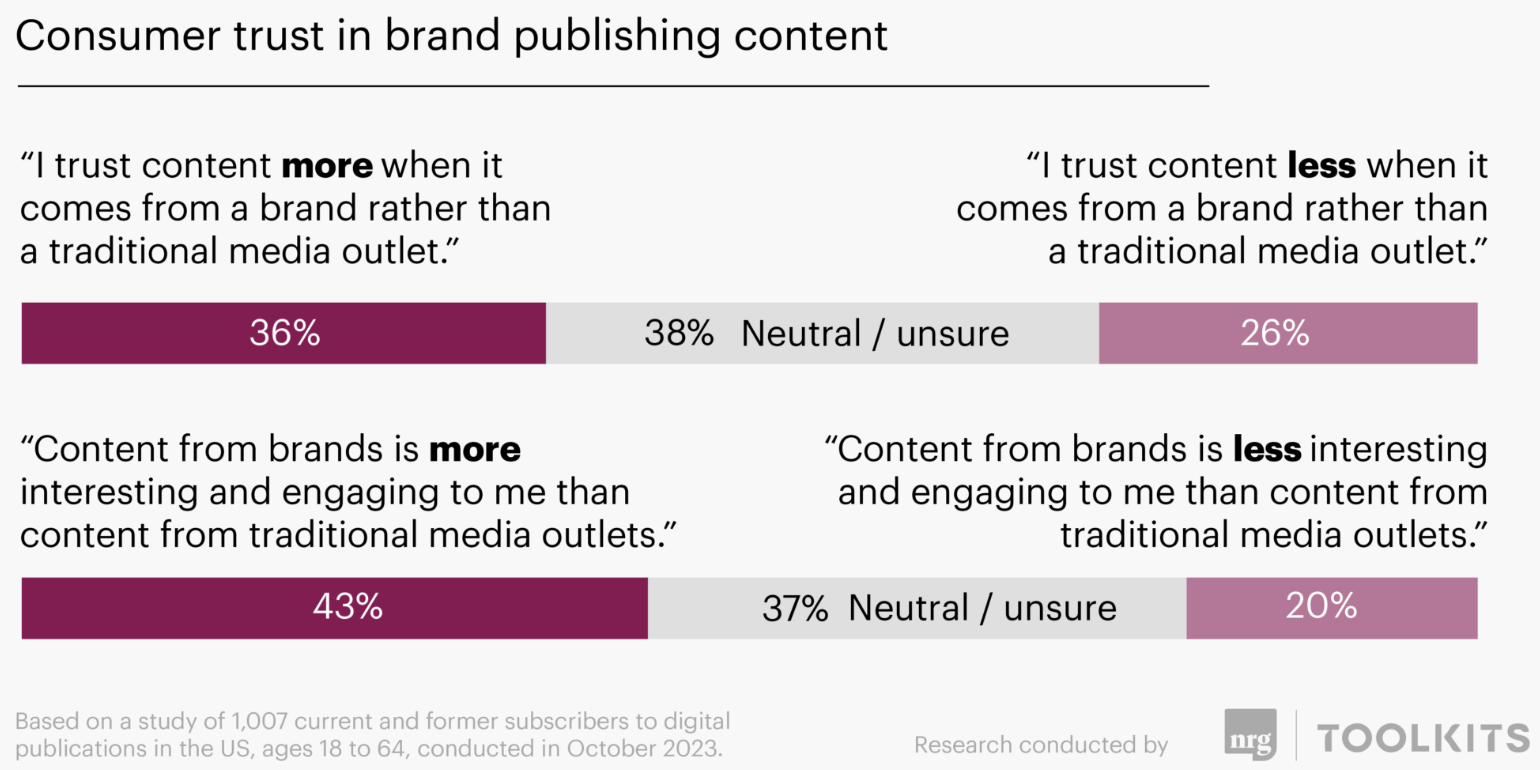 (Source: Toolkits)
More than 1,000 digital content consumers with a current or previous digital publication subscription were surveyed in October. Not only did more trust brand content, but more (43%) found that content more interesting and engaging than content from traditional media organizations. (20% found brand content less interesting and engaging.)
"The data dovetails with research suggesting trust in mainstream media in the U.S. is declining," writes Pathak, pointing to a recent Gallup report saying the 32% of Americans who trust mass media to report the news fully, fairly, and accurately matches their lowest-ever reading (from 2016, "amid the throes of the Presidential election").
Toolkits says the response shows that brands, despite often having different metrics of performance for the content they create, can still produce content that's not only high-quality, but trusted as well. There's also a shift in brand publishers prioritizing audiences' interests as they are "increasingly distancing their output from so-called content marketing, eschewing product-focused content."
"In an era where generative AI soars in popularity and audiences are inundated with content, quality has become the key differentiating factor for brand publishers — more so than volume," writes Pathak. "Brands are finding that high-quality content can help boost credibility and legitimacy, bring down acquisition costs, retain customers and contribute to the bottom line."
SEE FOR YOURSELF
The Magazine Manager is a web-based CRM solution designed to help digital and print publishers manage sales, production, and marketing in a centralized platform.