If you were one of the first 100 million people who signed up for Threads in its record-breaking first few days earlier this month, then you witnessed (and contributed to) the most threatening shot across Twitter's bow yet — the formidable debut of a text-based social media app from the Big Tech family that already boasts Facebook, Instagram, and WhatsApp as big growth-driving brothers.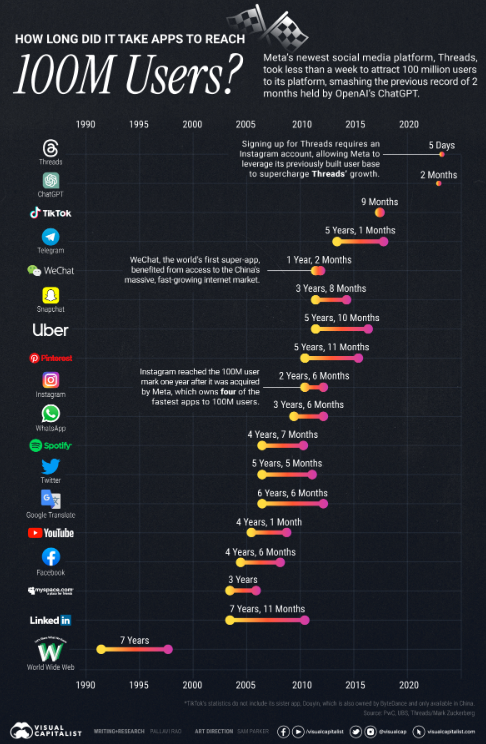 (Source: Visual Capitalist)
And if you were one of those 100 million, the question Meta might ask you now is where did you go?
According to estimates from analytics firm SimilarWeb, daily active users dropped by more than half in one week (from 49 million to 23.6 million), with engagement down from a high of 21 minutes on July 7 to 6 minutes on July 14.
Even when taking into account SimilarWeb's focus on Android usage, the findings echo similar drops to what other data analysts are reporting … and what users are experiencing.
"While third-party estimates are never totally reliable, these figures seem consistent with my own Threads experience," The Verge's Casey Newton writes. "In those first few days, nearly everything I posted generated hundreds of likes and new followers; my phone vibrated so much that I could watch its battery drain in real time. This week, though, the response has been notably more muted."
Newton makes the comparison to "notorious flop" Google+ and its fall despite 90 million users, but has confidence in Threads' ultimate success in "fully supplanting Twitter in the role that company once played in shaping public conversation," pointing to the high-profile users Threads attracted, to the many growth levers Meta has access to, and to that initial demand.
"Until this month, it was unclear that tens of millions of people even wanted something Twitter-like in their lives," Newton writes. "Twitter itself has been in a period of steep decline, and the various clones that have sprung up in its wake have stalled out in the low millions of users. That Threads attracted so many downloads in so short a period offers compelling evidence that lots of people have been waiting for a company to do public conversations the right way."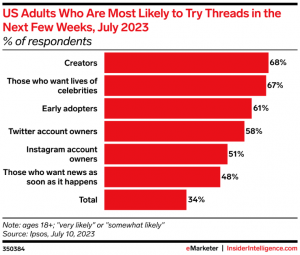 (Source: Insider Intelligence)
Insider Intelligence says the decline in user engagement "could spell trouble for advertising potential," but also notes Threads' initial splash and what that subsequent 5% decrease in Twitter web traffic could mean as Twitter's ad sales continue to plummet.
"That reduction in traffic could cost Twitter nearly $75 million in worldwide advertising revenues this year and $140 million in 2024, based on our latest forecast," Insider Intelligence says.
SEE FOR YOURSELF
The Magazine Manager is a web-based CRM solution designed to help digital and print publishers manage sales, production, and marketing in a centralized platform.