I recently wrote about technology officers prioritizing AI in their budgets, which feels like a pretty large step toward broader acceptance. Another even-bigger picture is emerging with the recent release of McKinsey's "The Economic Potential of Generative AI: The Next Productivity Frontier," which estimates AI's impact on the global economy to be somewhere in the range of $2.6 trillion to $4.4 trillion in economic benefits, annually.
"By comparison, the United Kingdom's entire GDP in 2021 was $3.1 trillion," according to the key findings in the report, which analyzed 63 use cases spanning 16 business functions. "This would increase the impact of all artificial intelligence by 15 to 40 percent. This estimate would roughly double if we include the impact of embedding generative AI into software that is currently used for other tasks beyond those use cases."
Most of the use cases (about 75%) fell into the categories of customer operations, marketing and sales, software engineering, and research and development, but the "significant impact" would be felt across all industry sectors. "Current generative AI and other technologies have the potential to automate work activities that absorb 60 to 70 percent of employees' time today," the report says. "In contrast, we previously estimated that technology has the potential to automate half of the time employees spend working."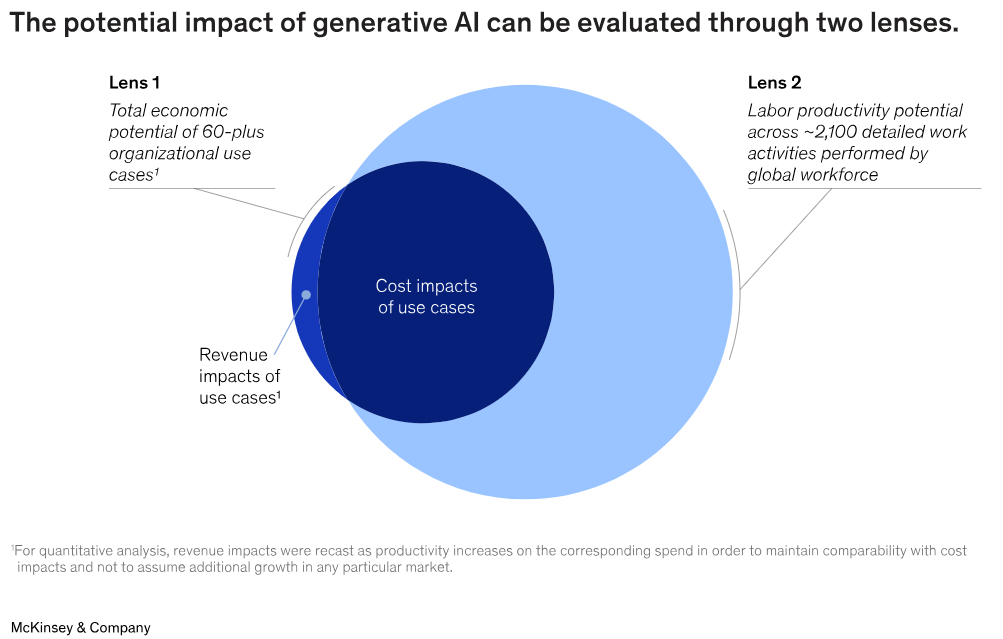 (Source: McKinsey)
In highlighting generative AI's value and the choices that more business stakeholders are being faced with, the authors of the report didn't tiptoe around AI's "potential to dramatically transform how we work and our purpose in society."
"Companies, policy makers, consumers, and citizens can work together to ensure that generative AI delivers on its promise to create significant value while limiting its potential to upset lives and livelihoods. The time to act is now."
SEE FOR YOURSELF
The Magazine Manager is a web-based CRM solution designed to help digital and print publishers manage sales, production, and marketing in a centralized platform.