Yesterday, I wrote about the near-crippling effect that streams upon streams of relentless data can have on business leaders and their decision-making.
At the same time yesterday, Integrate was releasing its new research focusing on B2B marketing budgets, which found that nearly half of B2B marketers say their biggest challenge is indeed the difficulty of using data effectively, suggesting, Integrate says, "an increasing need for marketers to 'defend the spend' to finance departments and C-level executives."
The survey, entitled "The State of B2B Marketing Budgets 2023," shows that 90% of the 524 respondents consider data compliance and accuracy to be a priority, but only 60% say "their data is connected to a great extent, suggesting room for improvement."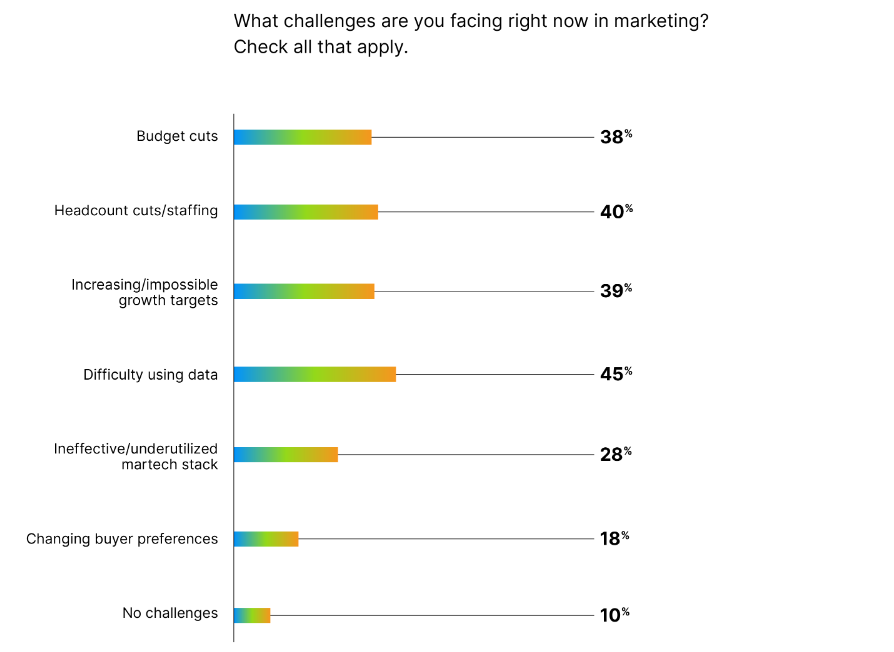 (Source: Integrate)
That room for improvement, of course, has its own hurdles; after data-difficulty, the next biggest challenges were staffing cuts (40%), increasing growth targets (39%), and budget cuts (38%).
"Today's B2B marketers are in the unenviable position of making the unpredictable predictable in an uncertain market, and that means recalibrating everything from their goals to their focus," says Integrate's Colby Cavanaugh. "This research suggests that today's marketers are incredibly resilient, and they're adapting by being flexible and leveraging both what they know works and investing in creative new solutions to drive pipeline."
Despite all of this, the survey found that 85% of marketers are optimistic about 2023, and nearly three-quarters will meet or exceed their 2023 goals.
Compared to last year's results, marketers are investing more in customer marketing, marketing technology, and product marketing/strategy … and less in ABM, communications, and demand generation.
SEE FOR YOURSELF
The Magazine Manager is a web-based CRM solution designed to help digital and print publishers manage sales, production, and marketing in a centralized platform.